11 Tips To Save on Electricity and Slash Your Utility Bill When Cooking Holiday Meals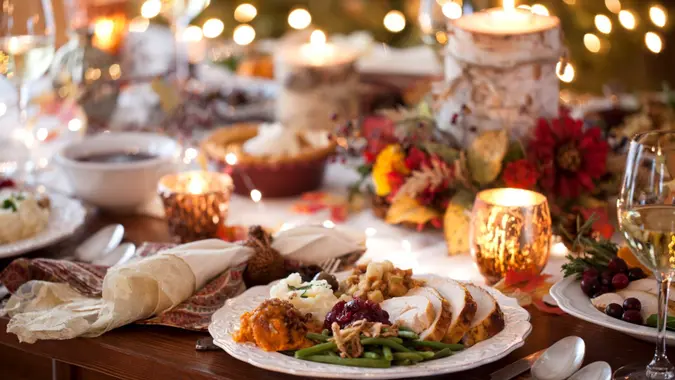 Liliboas / Getty Images
Between Thanksgiving, Christmas and all of the holiday parties that take place during this festive time of year, you might be cooking more than usual. Unfortunately, this can also mean higher utility bills — something that so many Americans are already struggling with.
Fortunately, there are some things you can do to save on your utility bills this holiday season if you'll be cooking and hosting. Here are some money-saving tips to consider.
Use Energy-Efficient Appliances
The appliances you use to cook your meals will greatly affect the amount of electricity you are using. Michelle Stanley, finance expert and founder of The William Stanley Group, recommends using these energy-efficient appliances when preparing holiday feasts.
Pressure Cooker
A pressure cooker can cook foods quickly, meaning you'll use less energy. Consider using a pressure cooker to prepare meats, stews and soups.
"Think of a pressure cooker as a culinary sprinter that gets to the finish line faster and uses a fraction of the energy," Stanley said. "It's perfect for those hearty holiday meats and stews, giving you more time to spend with your loved ones instead of the oven."
Slow Cooker
Although slow cookers are — well, slow — they use very little energy. Use a slow cooker to make casseroles, soups and stews.
"The slow cooker gives you a delicious return using very little energy," Stanley said. "It's all about low energy consumption, even though it's on for hours. Pop in your ingredients in the morning, and by dinnertime, you're ready to feast."
Make Your Money Work for You
Microwave
If you're only reheating small portions, use a microwave instead of the oven.
"Microwaves are the unsung heroes of energy efficiency," Stanley said. "They're perfect for reheating or cooking smaller meals without heating up the whole oven."
Steamer
Steaming vegetables instead of boiling them will utilize less energy.
"Using a steamer allows you to maintain the nutrients of vegetables without using a lot of energy," Stanley said. "It's a simple swap that saves you energy and gives you crisper results."
Implement Efficient Cooking Techniques
The way you prepare your holiday meals also has a big effect on how much energy you use.
Cook in Batches
Cook larger quantities of food and freeze the leftover portions for later. This way, you're using the oven or stove less frequently.
"Batch cooking is best for managing both time and energy," Stanley said. "Cook once but eat multiple times, all while saving energy."
Make One-Pot Meals
Look for recipes that you can make in only one pot or pan to significantly reduce cooking time and energy use. Use lids to retain heat and cook food faster.
"Not only do they make washing up a breeze, but with a lid on, you're trapping heat and flavor and cutting down your energy usage significantly," Stanley said.
Don't Pre-Rinse Dishes
If you're using a dishwasher, pre-rinsing your dishes is a waste of energy, especially with more modern machines.
"No one enjoys pre-rinsing," Stanley said. "Luckily, modern dishwashers are designed to tackle even the grimiest of dishes, so skip the rinse and save both water and energy."
Make Your Money Work for You
Choose Energy-Efficient Recipes
You might not be considering energy efficiency when creating your holiday menu, but if you aren't, you're missing out on another opportunity to save.
Skip the Meat
Vegetarian recipes often require less cooking time, making them more energy-efficient. For the holidays, you might make a vegetable stew or a bean-based chili.
"Vegetarian dishes can be vibrant and inviting, and they usually cook much faster than meats," Stanley said. "This is a win for your energy bill and a win for offering your guests something different."
Opt for Cold Appetizers and Sides
Salads and cold appetizers and sides require no cooking at all.
"Cold dishes can be show-stoppers on your holiday table, and they're kind to your wallet since they require zero energy to cook," Stanley said.
Prepare Grilled Foods
If weather permits, consider choosing a recipe or two that can be made on the grill.
"Save energy costs by grilling outside instead of using appliances indoors," Stanley said. "Not only will your food taste different, but it can also bring your family together while you cook."
Make No-Bake Desserts
You don't need to use an oven to make a tasty dessert. Consider making a trifle, fruit salad or no-bake cheesecake.
"End your meal on a high note with no-bake desserts," Stanley said. "They're just as decadent and a sweet finale that doesn't add to your energy tab."
More Energy-Saving Tips
Stanley offered the following tips to make your food prep even more energy-efficient:
Cook during off-peak hours: "If your energy rates dip during certain hours, take advantage. Enjoy the same great food at a much cheaper price."
Use energy-efficient lighting in your kitchen: "A well-lit kitchen doesn't have to be expensive. LED lighting is a simple switch that keeps things bright and your bills light."
Use a thermos for hot drinks: "A thermos is the best choice for enjoying hot drinks throughout the day. Boil once, pour and enjoy for hours without the constant need to reheat."
Make Your Money Work for You
More From GOBankingRates