5 Ways You're Wasting Money This Holiday Season — And How To Reign It In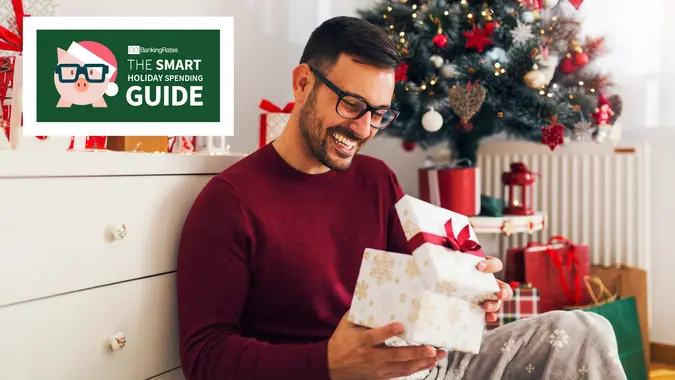 Jelena Danilovic / iStock.com
If you're looking to part ways with your hard-earned cash, the holiday season offers no shortage of opportunities — but there are ways to stop too much of your money from falling into the hands of Jeff Bezos or the Walton family. The runup to the winter holidays is littered with cash-gobbling traps just waiting for you to stumble into. If you catch yourself making any of the following unforced holiday errors, stop yourself before you waste money that isn't really buying you anything.
Save More: 6 Holidays Purchases That You Should Only Make at Costco
For All Your Shopping: 4 Costco Items That Have Remained Cheap for Years
You Take the Doorbuster Bait
Although Black Friday made them famous, doorbusters have become a standard feature of all the season's many lesser sales events, which now start popping up in early October. If you take part in a sale that's using deeply discounted limited-quantity products to whip shoppers into a frenzy, be leery of joining the scramble to get your hands on one.
Make Your Money Work for You
"There's always that one doorbuster item that seems like the price is too good to be true," said sales expert Kendrick Shope, founder of the Authentic Selling Process. "The truth is, there's a reason for that. It's usually an item that either isn't selling well, is plagued with problems, or doesn't live up to its hype. The allure of snatching up an unbelievable deal might be more of a headache than it's worth in the long run."
Tips: From Airfare to Gifts to Your Tree, How To Save on Every Aspect of Holiday Spending

You're Not Reading the Fine Print
Another common mistake is to head into a sale after giving the ad only a passing glance.
"When that flat-screen TV is advertised for $500 off, read the fine print," Shope said. "Is it limited to the first 20 customers through the door? Is it only a special offer from 4 a.m. to 5 a.m.? There are big savings on Black Friday and throughout the holiday season, but the really deep discounts usually are more limited than people realize."
Make Your Money Work for You
The importance of reading the fine print extends to the details of the store's return policy, too.
"Many holiday season specially priced items don't come with the same return policy as items bought the rest of the year," Shope said. "In fact, some of the bigger sale items might be an 'all sales final' item or have a very limited window for returns. Also very important this year is that some items like clothing or household goods may have very limited return policies due to COVID. So, always double-check and make sure you know what you're getting into. Nonetheless, always give a gift receipt when the purchase is for someone else."
Cut Costs: Wrapping Paper, Greeting Cards and More Holiday Items to Only Buy at Dollar Stores

You're Not Using the Right Money-Saving Shopping Tools
People spend hours strategizing during the holiday season, comparison shopping and browsing for deals. They could save themselves a whole lot of time and money just by using a few free tools.
Make Your Money Work for You
"Get a barcode scanner on your smartphone and use price-comparison websites," Shope said. "Let's say you're in Walmart and see a blender you want to gift someone. How do you know if you're getting the best price of all the major retailers? Install an app that scans the barcode and tells you the price at all other retailers. There are many apps you can download such as RedLaser, ShopSavvy, and Flipp. Also, don't forget about price-comparison Internet shopping sites like PriceGrabber.com."
Prepare: Shipping, Wrapping & More Extras To Account For in Your Holiday Budget
You're Not Staying in the Loop
You can save money all season long — not just when gift shopping, but on things like ornaments, decorations, food and supplies — by asking your favorite sellers to keep you up to date on their ever-changing offers.
"Make sure you are following your favorite retailers on social media and that you've signed up for email alerts," Shope said. "These stores are always looking to grow their following and increase their fan base. In exchange, some of them will let you in on secret sales taking place or they might extend special coupon codes that nobody else will know except their social media followers and those who opt in to receive emails. This year, Facebook and Twitter are still popular, and of course, don't forget about Instagram."
Important: The Ultimate Holiday Etiquette Gift Guide
You're Making Yourself a Target
Finally, keep in mind that the winter holidays are the busy season not only for retailers and shoppers, but for criminals — particularly those waiting for you to make a mistake online.
"Shop safe," Shope said. "Tis the season for giving, but cybercriminals are lurking and just waiting to grab hold of your credit card information. When shopping online, make sure you are connected to a secured wi-fi connection. Also, make sure the website address begins with 'https://' instead of the standard 'http://'. Finally, cybercriminals have created clone websites of the originals that look identical but are off by a single letter in the address. Double-check the website address to make sure you are where you want to be. The bottom line: use caution when shopping online."
More From GOBankingRates
Make Your Money Work for You