4 Costco Items That Have Remained Cheap for Years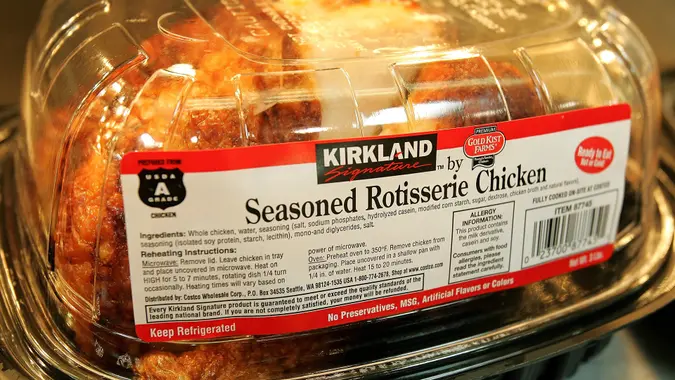 Tim Boyle / Getty Images
What inflation? Costco has kept its prices low on many popular items for years on end, particularly its food items. So if you're looking for a bargain, look no further than these four Costco items that have remained cheap for years.
Related: The 6 Best Deals From Costco's November Coupon Book
Budget: 20 Ways To Pay Less at Costco
Kirkland Signature Seasoned Rotisserie Chicken
Costco's rotisserie chicken has cost $4.99 for a dozen years, Mashed reported. Costco chief financial officer Richard Galanti told The Seattle Times in 2015 that the warehouse club sells its chicken at a loss to keep customers coming through the door.
"When others were raising their chicken prices from $4.99 to $5.99, we were willing to eat, if you will, $30 to $40 million a year in gross margin by keeping it at $4.99," Galanti said at the time. "That's what we do for a living."
Hot Dog & Soda Combo Meal
Costco's classic hot dog and soda combo meal costs just $1.50 — the same price it was 30 years ago, Pop Sugar reported. And it's likely to remain that way for the foreseeable future, as long as co-founder Jim Sinegal has a say. Costco CEO Craig Jelinek shared the following anecdote during a 2018 Issaquah Chamber of Commerce luncheon: "I came to [Jim Sinegal] once and I said, 'Jim, we can't sell this hot dog for a buck fifty. We are losing our rear ends.' And he said, 'If you raise the effing hot dog, I will kill you. Figure it out,'" he said, according to 425Business. "That's all I really needed. By the way, if you raised [the price] to $1.75, it would not be that big of a deal. People would still buy. But it's the mindset that when you think of Costco, you think of the $1.50 hot dog."
Make Your Money Work Better for You
Find Out: How Much Does a Costco Membership Really Save You?
Kirkland Signature Pumpkin Pie
For years, Costco sold its giant pumpkin pie for $5.99, but in 2021, the price was raised by $1, People reported. Still, $6.99 is an excellent price for a 58-ounce, 12-inch pie. Costco typically sells 6 million of the seasonal favorite dessert each year.
Costco Pizza
The pizza sold at the food court has remained a very affordable option over the years. You can get a massive slice for $1.99 or an entire 18-inch pizza for just $9.95. And the price is the same whether or not you get toppings.
More From GOBankingRates