I'm a Personal Finance Expert: Why You Should Start Your Holiday Shopping Now To Save Money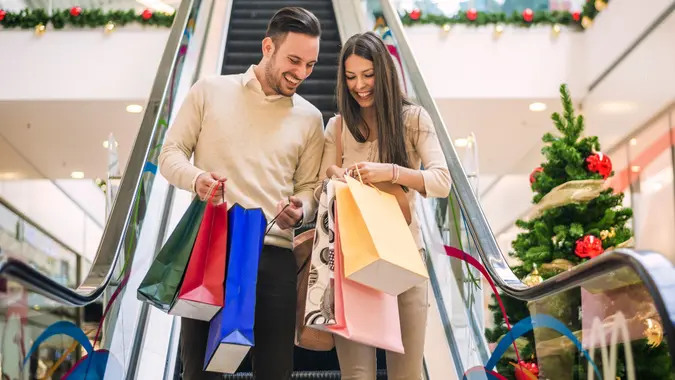 Ivanko_Brnjakovic / iStock.com
The holidays are a time of celebration and cheer for many people, but they often come with a hefty price tag. In fact, the National Retail Federation (NRF) forecasts that the average person is going to spend just over $832 this winter holiday season on gifts and celebrations. This amount isn't too far off from previous years.
Because the holiday season can be expensive, many people experience financial stress around this time of year. Not only can holiday shopping put a serious strain on their wallets, but it can also dampen their overall experience.
Fortunately, there are ways to lighten the financial burden when shopping for the holiday season, one of which is to start your shopping now. GOBankingRates spoke with Samantha Landau, consumer expert at TopCashback USA, and Brad Godwin, senior vice president and head of partnership at Shopkick, about the benefits of shopping for the holidays early. Here's what they said.
You'll Have Time To Make a Budget-Friendly List
Having a holiday shopping list can save you a lot of time in the store, but getting started early can also help ensure you have enough time to come up with gift ideas for your friends and family. Plus, having a list can keep you from going over your budget.
Make Your Money Work for You
"The first step to getting organized this holiday season is to build a list of what you're planning to buy," said Landau. "This can help you avoid buying items last-minute and can keep you on track with your budget."
And once you've got a working list in order, you can then take your time hitting the stores.
"Early holiday shopping allows consumers to take advantage of all their time before the holidays and jot down gift ideas for each person on their list," added Godwin. "Having a clear idea of what they want to buy can save them time and help them stick to their budget."
Shopping Early Can Help You Find Some Great Deals
Another advantage of creating a list and starting your holiday shopping early is that you're more likely to catch early shopper deals and discounts that way. You might also be able to buy gifts and holiday décor before they get marked up or go out of stock.
Landau noted that your holiday shopping list doesn't have to be comprehensive, but having one can make it easier to research and record current or upcoming deals.
"While the list does not need to include everything at this point in time, it's good to get a general understanding of how much you plan on spending and how many people you are buying for," said Landau. "You can use this list to research if there are any noteworthy deals, which can help you determine if it's worth buying early or waiting for a sale."
Make Your Money Work for You
You Can Save Money While Having Peace of Mind
If you've ever waited to shop for the holidays until the last minute, you probably know how stressful it can be trying to find gifts for people at a reasonable price point. But when you shop early, you can avoid the stress of trying to find the perfect gift, while potentially easing the financial strain.
"According to a recent survey conducted by TopCashback, nearly one-third (31%) of Americans have already started their holiday shopping this year," said Landau. "Knowing that you've got the perfect gift can be a great relief as we head into the hectic holiday season. Plus, it gives you more room to spread out your budget over the coming weeks in order to make holiday expenses a bit more affordable."
Preordering Could Save Money and Time
The winter holidays are a prime time for exciting new items to hit the shelves. But while these items might make for great gifts, you're probably not the only person who thinks so.
If you start shopping now, you could benefit from preordering some of these new goods. In some cases, preordering also comes with a price discount. That's why Landau suggested researching what's coming out and putting in an order now.
"If a new or popular gift is on your shopping list this holiday season, research to see when it is available for purchase," said Landau. "Buying it in advance may save you money and stress. And while pre-orders may seem like a guarantee that you'll get the product, you'll still want to purchase the item as soon as possible to avoid the pre-sale running out of supplies."
Make Your Money Work for You
It Gives You More Time To Compare Prices and Deals
Another reason why it's smart to start your holiday shopping early is that it gives you more time to compare prices of different gifts across retailers.
"Buying gifts in advance means that consumers don't have to always settle for the first deal they come across," said Godwin. "There is time to compare prices across different retailers to ensure they're getting the best value for their money."
You Can Take Advantage of Cash Back
Cash-back rewards, often gained from using a credit or debit card, can be a fantastic way to save money when holiday shopping. The same goes for free browser extensions dedicated to finding you the best deals on your online shopping.
"When shopping online for your holiday gifts, make sure to use a cash-back site, like TopCashback, which guarantees the highest percentage of your money back at over 7,000 retailers nationwide, including Macy's, Walmart and Sephora," said Landau.
Other free browser extensions that can help you save money include Honey and CamelCamelCamel, the latter of which can also track the costs of items over time.
You Might Be Able To Avoid Shipping Costs
If you plan to shop online, you may need to pay for shipping and handling costs. The closer it is to the holiday season, the more likely you are to have to pay for expedited shipping to ensure the gifts you've purchased arrive in time. Not only can this be a hassle, but it can also be stressful and costly.
Make Your Money Work for You
But by shopping early, you can avoid some or all of the cost of shipping.
"A major perk to shopping early for the holidays is consumers don't feel rushed to receive their items," said Godwin. "They can pick their gifts up in store when possible, and if they need anything shipped, they can choose the longest and least expensive option because their gift will still arrive well before it is needed."
The cost-savings potential here is particularly significant if you're an avid online shopper. It's also beneficial if you don't have Amazon Prime or if you don't qualify for free shipping at retailers like Walmart or Target.
You May Still Benefit From Price Adjustments
One downside of shopping early for the holidays is that certain items might go on sale soon after purchase. For example, Landau noted, you might score some great deals if you wait to shop until late November.
The good news is that some stores offer price adjustments or will refund the extra money you spent on items that later become cheaper. You'll typically have a brief window to take advantage of this, though — usually no more than 14 days from when you purchased the item.
More From GOBankingRates