5 Affordable Ways To Upgrade Your Bathroom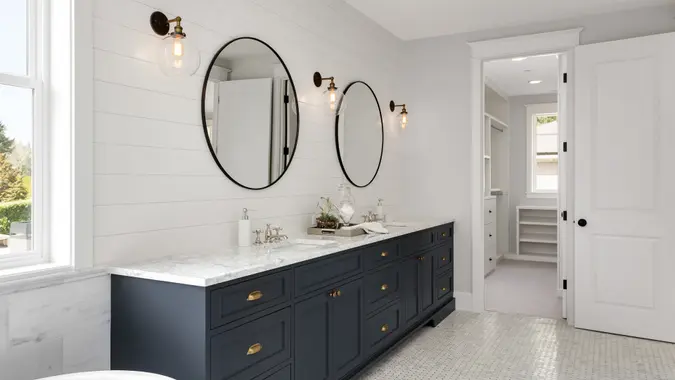 ©Shutterstock.com
Your bathroom needs an update, but you don't have the time or money to invest in a full remodel. Instead, you're hoping to refresh the currently tired space with a few quick and easy upgrades.
Other Rooms: 8 Affordable Ways To Upgrade Your Primary Bedroom
And More: 7 Affordable Ways To Upgrade Your Kids' Bedrooms
Whether this is the only bathroom in the house or one primarily used for guests, you want it to look like a million bucks — without actually spending much money. This might seem impossible, but there's actually no shortage of updates that can be made in a weekend's time to make the space feel brand new.
Ready to get started? Here are five affordable improvements that will transform the look and feel of your bathroom.
Tips: Here Are 34 Tips To Make Household Items Last
Swap Out Your Old Faucet
No matter how hard you try, you can't seem to get years of calcium buildup off your bathroom faucet. Not only does this make it appear perpetually dirty, but if the style is also dated, that can give your entire bathroom a tired look.
Thankfully, you can get a new faucet, without replacing the entire vanity. Determine what type you need — i.e., single-handle, centerset or widespread — then start shopping.
Make Your Money Work for You
Home Depot sells the Glacier Bay Constructor Four-Inch Centerset Two-Handle Bathroom Faucet for $19.99. Alternately, you can also get the Eight-Inch Widespread Two-Handle Bathroom Faucet With 50/50 Pop-Up in Brushed Nickel for $63.03.
Obviously, you'll save money if you're handy and can complete this project on your own. However, if you need to hire a plumber for installation, expect to spend around $85 to $105 per hour, according to HomeAdvisor.
Learn: Avoid These Home Renovation Horror Stories
Paint the Cabinets
Your bathroom cabinets take up a considerable amount of real estate, and to be honest, they're an eyesore. Whether they're built into the wall or part of the vanity, an outdated style or years of visible wear and tear have taken a toll.
However, this is nothing that a little paint can't fix. The choice is yours to choose a new color or simply refresh the existing hue, so do what makes you happy.
Plan to spend approximately $125 to $250 on this project, according to Fixr. However, this estimate includes labor, so if you're willing to invest the time to do it yourself, you can likely spend a fraction of this amount.
See: 5 Affordable Ways To Make Over Every Room in Your House
Make Your Money Work for You
Give the Walls a New Look
The rest of your bathroom might look amazing, but tired wallpaper or a less-than-flattering paint color covering the walls will ruin the entire space. Luckily, this is an easy fix.
The possibilities for a wall refresh are endless, so consider your desired bathroom theme. You might paint the walls a Zen blue for a spa feel or hang textured wallpaper for a glamourous vibe — whatever works for you.
On average, you can plan to spend $250 to paint your bathroom — including labor and materials — according to Fixer. Notably more expensive, the cost to wallpaper an entire bathroom ranges from $650 to $1,200, but you could save money by only doing one accent wall.
Find: 26 Home Makeover Ideas That Each Cost Less Than $500
Invest In Chic Storage Options
There's no shame in having tons of toiletries. This only becomes an issue when they're on display for everyone to see — which is exactly what's going on in your bathroom.
Keep your things, but neatly tuck them out of sight by finding stylish storage solutions that perfectly fit your space. This could involve anything from finding better ways to make use of space in your existing bathroom vanity to hanging a new wall cabinet.
Make Your Money Work for You
Amazon sells the Avaspot Under Sink Organizer for $23.99. You could also opt for the Project Source Bathroom Wall Cabinet at Lowe's for $74.98. Additionally, if your shower itself needs more storage, Wayfair offers the Pyron Tension Pole Shower Caddy for $35.99.
Discover: Home Improvements That Are Not Legal To Do Yourself
Get New Curtains
Sometimes a simple change can make a massive difference. If your bathroom window coverings have been hanging longer than you can remember, they're likely dated and faded.
Simply investing in a new pair of bathroom curtains can give the entire room a more modern look. Making the switch will only take a few minutes, serving as one of the easiest updates you can perform.
Sold as a two-pack, you can get SKL Home Holden Window Curtain Tiers, available in several colors, at Bed Bath and Beyond for $17.99. Amazon also offers waterproof Valea Home Blackout Curtains in a variety of colors, starting at $14.99.
More From GOBankingRates
Make Your Money Work for You