10 Best Home Warranty Companies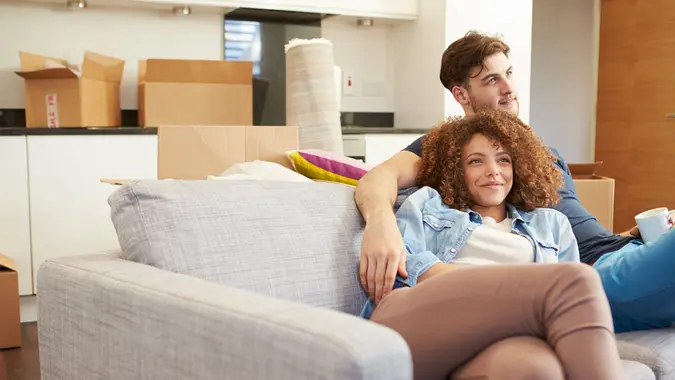 Monkey Business Images / Shutterstock.com
Your home is one of the most important investments you'll ever make, so make sure you have the best home warranty and service plan to take care of any home appliance breakdowns and heating or cooling system issues. Several home warranty coverage plans are available from reputable companies that provide extensive coverage on major appliances and systems outside of normal wear and tear. Home warranty plans are designed to provide repair and replacement services that can potentially help you save thousands of dollars on home maintenance costs.
A Closer Look at the 10 Top Home Warranty Companies
Whether you're building a new home or moving into a new place, protect your investment with the right home warranty coverage. When considering a home warranty plan, you might be wondering:
What does a home warranty cover, exactly?
How much does a home warranty cost?
What is the best home warranty company?
What are the top-rated home warranty companies in my state?
These are all important questions for a homeowner or homebuyers to ask when searching for the best home warranty. To find out the answers, here's information on the top 10 home warranty companies based on coverage, plan limitations, costs and Better Business Bureau ratings. Keep in mind that on top of any service fees you might pay, you'll also have to pay a monthly cost to enroll in the plan, which will vary based on location and property details. You might also be responsible for a deductible should you file a claim.
Best Home Warranty Companies
Company
Coverage
Limitations
Fidelity National Home Warranty
Standard coverage includes plumbing, garage door openers, ceiling fans, hot water pumps, and more
Coverage only for parts specifically mentioned in standard list
Old Republic Home Protection
Covers cost of major systems and appliances to repair or replace
List of limitations include damage caused by people or pets and missing components
One Guard Home Warranty
Covers appliances such as dishwashers and trash compactors and systems such as heating and air conditioning systems Optional coverage available
No coverage for non-mechanical parts or components that don't contribute to the primary function of the covered system or appliance
2-10 Home Buyers Warranty
Coverage for breakdowns of home's major systems and appliances including air conditioners and dish washers
Also offer structural warranties for up to 10 years from structural damage
Depends on coverage and add-ons
First American Home Buyers Protection
Basic plans cover kitchen appliances, electrical and heating systems
Coverage might vary by region and whether the home is involved in a real estate transaction
No coverage for items broken prior to plan
TotalProtect Home Warranty
Coverage for unknown pre-existing condition coverage, rust and corrosion, no annual aggregate caps
Optional coverage for kitchen, electrical and gas, plumbing, heating and cooling, laundry
No coverage for non-mechanical items, such as the home's structure
Home Warranty of America
Coverage can include unknown pre-existing conditions, plumbing systems, garbage disposal, trash compactors and more
Dollar amount limitations vary by item
American Home Shield
Systems plan coverage includes key house systems such as air conditioning, electrical, plumbing, and water heaters
Appliances plan coverage includes refrigerators, dishwashers, and trash compactors
Add-ons available
Limitations vary by item
Choice Home Warranty
Coverage for air conditioners, plumbing, cooktops, dishwashers, clothes washer and dryer, and more
No coverage for any known or unknown pre-existing conditions
Home Service Club
Coverage for unknown pre-existing conditions, plumbing systems, garbage disposal, trash compactors, and more
No coverage for non-warranty issues such as maintenance or physical damage
All covered items must be located within main foundation of home
Information accurate as of Nov. 19, 2017.
Make Your Money Work for You
Fidelity National Home Warranty
Cost: $65 service call feeBBB Rating: A+
Fidelity National Home Warranty provides coverage for all types of mechanical, plumbing and major appliance repairs that your homeowners insurance likely doesn't cover, including issues like furnace failures and clogged pipes. You're responsible only for a service call fee of $65, which covers the diagnosis and repairs. The company promises a fast response time to service calls and affordable service plans. Additionally, if it can't provide a fix for an item that's covered, it will replace the item at no additional cost.
Old Republic Home Protection
Cost: $65 service call feeBBB Rating: A+
Old Republic Home Protection service plans also cover things that typically aren't included in a homeowners insurance policy, such as a broken dishwasher and air conditioning issues. The plans' costs depend on the type of home you need coverage for and your location.
The BBB-accredited company manages service requests 24/7/365; Customers can call a toll-free number or go online to make a service request. Depending on where you live, the company covers parts, labor and systems replacement, and it works with a network of qualified, independent service providers.
Find Out: Hidden Sources of Income Lying Around Your House
One Guard Home Warranty
Cost: $69 service call feeBBB Rating: A+
You can choose from three different coverage plans with One Guard Home Warranty: appliances, your main home systems or both. Service fees are a flat $69 for all plans.
The appliance plan covers all kitchen appliances, including the garbage disposal, washer and dryer and trash compactor. The system plan includes the air conditioning, heating and plumbing systems, water heater, smoke detectors and even the garage door opener. The best value plan covers everything included in both the system and appliance plans.
Make Your Money Work for You
2-10 Home Buyers Warranty
Cost: Approximately $50; stated on contractBBB Rating: A
2-10 Home Buyers Warranty offers both systems and appliances coverage and a structural warranty for your home. The home warranty service agreement covers breakdowns of all major systems, including air conditioners, electrical systems, heating and plumbing. It also covers kitchen appliances, including dishwashers, refrigerators, microwaves and ovens.
For people investing in a new-construction home, opt for 10 years of structural damage with one of 2-10's structural warranties. These HUD-approved plans cover things like foundation systems, columns, beams and roof-framing systems.
First American Home Buyers Protection Corporation
Cost: $50 to $100 service call feeBBB Rating: B
When you're looking for a basic home and manufacturer warranty for your new home purchase or want a warranty for an existing home, you can choose from several service plans from First American Home Buyers Protection Corporation.
The basic plan provides coverage for kitchen appliances, clothes washers and dryers, and ceiling fans, but you can upgrade your plan to cover items like pool and spa equipment, central air conditioning or plumbing. Plus, service calls are unlimited and the company is available 24/7. A bonus: As long as your system or appliance was in working order before you bought your plan, you'll have coverage regardless of the system or appliance's age.
Learn: 6 Ways to Prep Your Home for Natural Disasters
TotalProtect Home Warranty
Cost: $60 service call feeBBB Rating: B
You can choose from TotalProtect Home Warranty's appliances, systems or combo plans. The appliances plan covers items like your refrigerator, cooktop, built-in microwave and built-in trash compactor. The systems plan covers the garbage disposal, air conditioning and heating systems, and all plumbing and electrical. The combo plan covers everything that's included in the other two plans.
Make Your Money Work for You
The company offers a 180-day workmanship guarantee and works with over 40,000 pre-screened service technicians around the country. Plan pricing depends on where you live, and the guarantee covers repairs — at no extra cost — for problems that recur within six months of the repair or replacement.
Home Warranty of America
Cost: $60+ service call feeBBB Rating: B
Home Warranty of America offers 13-month Premier or Premier Plus plans. Premier Plus includes coverage for over 30 items, including toilet replacement up to $500 and all plumbing issues. You can purchase additional coverage beyond a manufacturer warranty for a second refrigerator, pool and spa, septic system and roof leaks. The company also offers a GreenPlus program for Energy Star-qualified products, including the dishwasher, refrigerator and washing machine.
The customer service department, available anytime, can handle service requests and claims, as well as troubleshoot problems over the phone, which could end up saving you a service call.
American Home Shield
Cost: $75, $100 or $125 trade service call feeBBB Rating: B
As the largest home warranty provider in the United States, American Home Shield has been covering homeowners since 1971. AHS offers three different plans that cover systems, appliances or both, including air conditioning, electrical, heating, plumbing, water heaters and garbage disposals. In addition, you can build your own plan to get the exact coverage you need and take advantage of optional coverage for pools and spas, well pumps and septic pumps.
Read: What Does Homeowners Insurance Cover?
Make Your Money Work for You
Choice Home Warranty
Cost: $60 service call feeBBB Rating: C+
Choice Home Warranty offers two plans — basic and total — to provide coverage for things like heating systems, whirlpool bathtubs, water heaters, garbage disposals and ceiling fans. The Basic Plan does not cover air conditioning systems, refrigerators or washers and dryers. You can get optional coverage for things like a second refrigerator, sump pump, septic system and a pool or spa.
Choice Home Warranty's claims hotline is available 24/7 online or over the phone, and the company will dispatch a local, licensed and insured technician right away. The service-call fee is a flat rate regardless of how much the repair or replacement costs.
Home Service Club
Cost: $65, $95 or $125 service call feeBBB Rating: C
Home Service Club's home protection plan covers all types of repairs and replacements regardless of the age, make or model of household items. A home inspection isn't required before purchasing a warranty, and standard coverage includes all major systems and appliances.
You can purchase comprehensive coverage that includes services like pest control, alarm wiring, water leaks and gas leaks. Plus, if you have a jetted bathtub, pool and spa equipment or additional clothes dryers and washers, you can purchase optional coverage for each item.
Learn About: 8 Energy-Saving Tips and Tricks That Will Save You a Bundle