Best Ways To Get Your House Feeling Like Home in a Budget-Friendly and Fast Way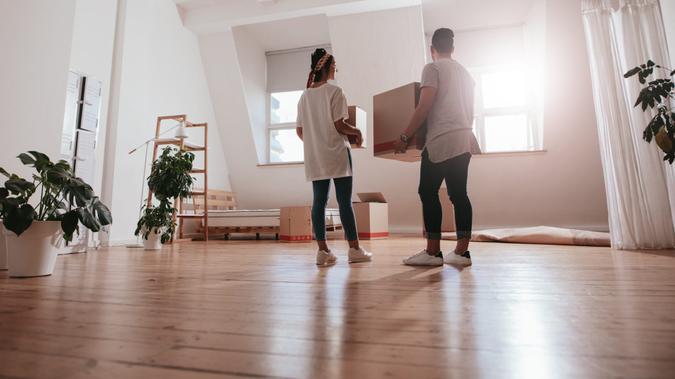 jacoblund / Getty Images/iStockphoto
With the pandemic, many things ground to a halt, but it didn't keep people from moving. Last year, millions of people left their home states for the Carolinas, Tennessee, Florida, Arizona and Texas, according to the 2021 US Migration Report. And the freedom of remote working allowed 20% more Americans to move than did in 2020.
Cut Costs: Unplug These Appliances That Hike Up Your Electricity Bill
Find Out: 10 Kitchen Renovations That Will Hurt Your Home's Value
For some people, like military families or others who move frequently for their jobs, moving is a way of life. Unfortunately, so are bare, white walls, unfamiliar smells and empty, echoing spaces.
When you move frequently, you don't want to invest too much money into your new space because you'll be moving out — probably sooner than later. However, that doesn't mean you have to live in a place that you dread spending time in. Instead, you can couple many of these ideas with a $100 bill, and quickly start making noticeable changes that will make your house feel like a home — all without busting your budget.
Make Your Money Work for You
Add Some Paint
Cost: $15-$50 per gallon of paint
Brittany Hovsepian, co-found and co-owner of The Expert Home Buyers, one of the premier real estate investing companies in the Central Savannah River Area, suggests adding some color to the walls to make your house feel like home.
"One of our favorite ways to make a home feel like yours that can easily be done in a weekend — and won't break the bank —  is paint," Hovsepian said. "Even more specifically, if the home already is a nice neutral color, accent walls. Painting one wall, or entire rooms, a color of your specific choosing and liking is an easy way to make your house feel like it truly belongs to you, and wasn't created for resale value."
Poll: Do You Think the Government Should Increase SNAP Benefits?
Create a Gallery Wall
Alene Laney, personal finance writer and journalist at Pennies to Paradise, recommends creating a gallery wall with a few inexpensive shelves from IKEA.
"One of my favorite budget decor items is a picture shelf from IKEA," Laney said. "The MOSSLANDA picture ledge is only [$10], goes up quickly, and can be used in a lot of different ways. You can put several of them together to make an attractive and personalized gallery wall very quickly."
Make Your Money Work for You
Dress Up the Windows
"Drapes can instantly make a space feel more homey and put together," said Meilian Clark of Affinity Management.
"You can source from places like Amazon or Ikea, but honestly I would go to TJMaxx or HomeGoods — you can get 2 panels for under $20, so that's a no-brainer."
Add Decorative Baskets
"Baskets are all the rage right now and for good reason — they provide a ton of storage for unsightly items," Clark said. "Put one by the backdoor to collect shoes. Put one in the living room to hold extra blankets. Put one under the console table to hide kids' toys."
Plug In a Diffuser
Paige Bryant, founder and owner of Love Minnesota Adventure, has moved six times in the past 10 years and has a few quick things she does upon moving to make a new place quickly feel like home. "The first is plugging in my diffuser somewhere in a central part of the home where I hang out the most — usually, either the kitchen or living room," she said. "I put a favorite essential oil in, and instantly, the place is transformed into something more familiar and comforting."
Make Your Money Work for You
Hang Pictures
Bryant has another easy and budget-friendly tip for making your house feel homier.
"The second is utilizing pictures that make you happy," Bryant said. "Find pictures you can hang on the fridge simply with tape or a magnet, and if you have more of a budget, buy some cheap picture frames and place pictures around your home."
Add Cozy Blankets and Throw Pillows
"Another way to make it feel like home is to add soft blankets and throw pillows," said Tyler Forte, co-founder and CEO of Felix Homes. "It can be difficult to feel relaxed in a new home at first, but having these elements will help you find your favorite place to relax. Cozy blankets always make a space feel more inviting and peaceful."
Add Some Greenery
James Chapman, director at Bella Bathrooms, recommends putting greenery and fresh blooms in your space to make it quickly feel like a home.
"You can add a plant to your bathroom to create a tranquil and calming space," Chapman said. "It creates a laid-back vibe and brings a pop of color into the room. Bringing nature indoors can impact your mood and reduce stress. You can opt for low-maintenance houseplants that can survive even if you don't have a green thumb. You can put small-scale plants on an empty shelf or the countertop, or you can opt to buy a hanging plant that can easily brighten up your space."
Focus On Things You Cherish
Milana Perepyolkina, an international bestselling author and owner of Gypsy Energy Secrets, suggests accenting rooms and comfortable spaces in your new home with things you already own and love.
"The fewer possessions you have in your apartment or house, the better," Perepyolkina said. "Make sure your home has only the most valuable items that you cherish and use often; keep only one or two items on top of the tables, shelves and nightstands. Filling your home with the items that you love the most ensures that you get that feeling of comfort each time you enter your home. Think soft and subtle fabrics (nothing too bright or dark), eliminate all sharp corners, add pillows, throws, area rugs. Add plants and fresh flowers. Display a colorful teapot, a collection of herbal teas and a jar of honey in your kitchen. Leave your favorite book, warm slippers or wool socks, and a soft blanket at the place where you like to read. Diffuse clove essential oil. Soon you will not want to leave your home!"
More From GOBankingRates
Make Your Money Work for You