High Utility Bills? 7 Ways an Energy Audit Could Save You Money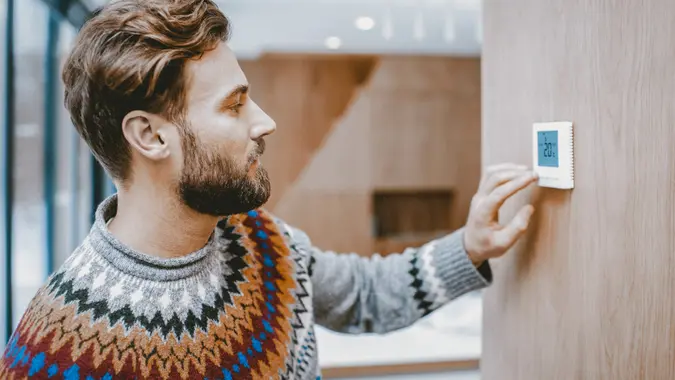 RossHelen / Getty Images/iStockphoto
If you polled homeowners on their least favorite things to do, paying monthly utility bills would probably rank right up near the top. Seeing that bill in your inbox or mailbox can be a major cause of anxiety — especially if you're on a tight budget and worry that the bill will be a lot more than you expected.
That's why reducing utility bills is a high priority for many consumers. If you want to cut down your energy and water usage (and bills), one option is to get an energy audit.
Energy audits provide an easy way to identify changes you can make to save money. The process typically involves finding a trusted professional auditor who conducts different tests at the home to identify areas of improvement, according to Energy.gov.
Auditors, also known as energy assessors, measure a home's energy consumption by making room-by-room examinations of the entire property and reviewing previous utility bills.
By using energy assessment tools and referencing historical billing information, energy assessors can "discover where in the home energy is used inefficiently and how that affects your monthly utility bills," according to a recent blog on the My Home by Freddie Mac website.
Make Your Money Work for You
For example, a blower door test can help you find air leaks in your house that make heating and cooling unnecessarily expensive, Energy.gov noted. A thermographic inspection can find spots in your home that leak heat and could use more insulation.
To prepare for an audit, My Home by Freddie Mac recommends creating a list of questions or potential issues you've noticed around the house and gathering copies of your monthly and yearly energy bills. You should be able to find your billing history online, or you can contact your energy provider directly. Here's information you'll want to give your assessor in advance:
How many people live in your home
How many are home during typical working hours
The average thermostat setting during each season
Whether some rooms are used more than others, and which ones
Once you've had an audit, there are numerous ways you might save money on your energy bills by identifying problem areas and taking steps to correct them. Keep in mind that you might have to invest money in repairs or new equipment, so you need to figure out how much you are willing to spend. But the longer-term savings could be significant.
Take Our Poll: What Do You Plan To Use Your Tax Refund For?
Here seven ways an energy audit can help you save money on future utility bills:
Preventing air leaks and protecting against drafts
Curbing heat loss through new and better insulation and by sealing ducts
Installing "smart" technologies such as home ventilation systems, programmable thermostats, power strips and electric vehicle charging port(s)
Replacing current HVAC systems with high-efficiency air conditioning/heating units
Installing solar-powered water heaters
Installing low-flow water fixtures
Replacing old, inefficient windows with energy efficient windows
Make Your Money Work for You
More From GOBankingRates
Make Your Money Work for You