11 Home Décor Items To Always Buy at Thrift Stores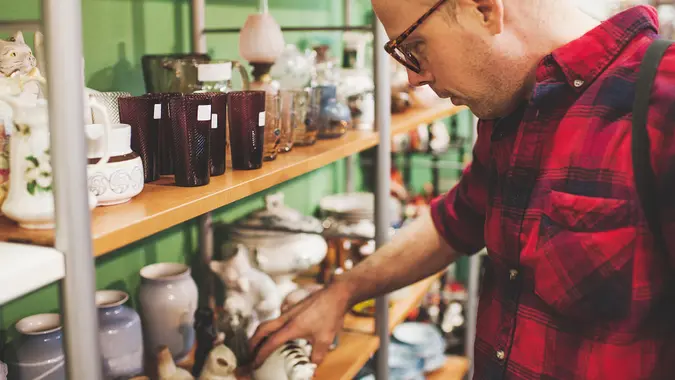 knape / iStock.com
Thrift shopping is a great way to spruce up your home decor without breaking the bank. What's great about thrift stores is that many of them also have an eclectic collection of items that you can either use as-is or alter in some way to make them suitable for your home. Not only does this give you a huge amount of creative freedom when picking out your home decor, but it's also a fun way to design a home that has a look that's uniquely yours.
Whether you're a thrift shopper yourself, or you're starting to see the value of thrifting, here are some of the top home decor items that you should buy the next time you go shopping.
Big Furniture
"If you're looking to furnish your home, you can find some incredible deals at thrift stores on dressers, dining tables, chairs, and more," said Samantha Landau, consumer expert at TopCashback. Other pieces of furniture you can find include coffee tables, bedside tables and even ottomans.
"Sometimes, these items need a bit of refurbishment or additional pieces before they can be functional, but that isn't always the case," Landau said. "For example, you may be able to find a nice wooden dining table at a Goodwill without the chairs, or you may get lucky and find a full dining set that includes chairs — so it's important to be patient when thrifting for larger furniture items because you never know what's going to be in stock when you go to shop."
Make Your Money Work for You
Mirrors
Mirrors are another essential part of any home's decor. They can go in the bathroom, hallway, master bedroom, guest room or even in the living room. And if you're looking for an assortment of designs and shapes, thrift stores won't disappoint. You may need to buff or repaint the frames, depending on what you're going for and the current quality.
Lamps and Other Light Fixtures
Not only are lamps and other light fixtures a common feature in thrift stores, but they're also a fun way to decorate your home. You can often find simple table lamps or standing lamps, but your local thrift store may also have fun or funky options in various colors and shapes.
Artwork
The types of art you can find when thrifting range from clay bowls to acrylic or watercolor paintings to figurines. Whatever the case, many thrift stores carry different types of artwork that you won't see anywhere else. And since art is a key part of making your home unique, chances are you'll be able to pick out some pieces that nobody else has.
Picture Frames
Picture frames can be pricey, especially if you go to a big retailer like Michael's or Hobby Lobby. The cost depends on things like the frame size and material. For example, a simple 5-by-5-inch picture frame from Michael's costs around $5. Larger picture frames or ones made with higher quality materials tend to come with a higher price tag.
Make Your Money Work for You
But if you go to a place like Goodwill, you can typically save money on picture frames. This is especially beneficial if you have a lot of photos that need frames, or if you want something with a different style.
Holiday-Themed Decorations
Thrift shops are a good place to find items that are meant for a holiday that's already passed. Instead of paying full price for things like Christmas lights, an artificial tree or holiday-themed decor, you can hit up a local thrift store and start preparing for the next holiday.
The same goes for off-season items as many thrift stores carry off-season home decor and other items. For instance, you may be able to find a winter tablecloth in spring or a fall-themed kitchen mat.
Vases and Pitchers
From hard plastic to glass to ceramic, thrift shops often have vases — some of which have a distinctly vintage look. Some also carry pitchers, which you can either use to water your plants or hold flowers and other small household plants.
Dishes and Other Kitchenware
Whether you're looking for a new coffee mug with a neat design or you're ready to replace your current serving dishes with something different, check out the local thrift store. You can find anything from vintage styles to modern ones.
Other types of kitchenware to scope out the next time you go shopping include cutting boards, coffee pots, plates, bowls, glasses and other kitchen appliances or accessories.
Make Your Money Work for You
Suitcases and Bags
When you think of home decor, you might not immediately think of suitcases or other types of luggage. But you can add a lot of style to any room with some strategically-positioned suitcases and bags. You can use them to store old mementos or sentimental family items. Or you can prop them open and put your keepsakes on display.
Baskets and Bins
Bins and baskets come in a variety of shapes, sizes and styles, so there's a good chance you'll see something you like when thrifting. For example, you might find a set of wicker baskets that you can keep towels, pillows or sheets in. Or you could score a couple of bins for your child's — or pet's — toys.
Rugs and Mats
Nothing ties a room together quite like a couple of well-placed rugs and mats. As with any fabric, you'll want to thoroughly clean any of these that you pick up second-hand. And you may need to keep an eye out for stains, holes and other signs of wear and tear. But otherwise, thrifting can do wonders for your home decor.
Where To Go Thrift Shopping
When it comes to thrift shopping, there are plenty of cool places to check out. "The typical thrift stores, like Goodwill and Salvation Army, are a great place to start, but you'll also want to consider any locally-run thrift stores," Landau said. "These local stores often give you the best finds when it comes to home decor because people who are donating items typically associate Goodwill and Salvation Army as clothing-only thrift shops. And sometimes, these thrift chain stores only accept clothing depending on the size of the store, so keep that in mind as you're hunting for home decor deals."
Make Your Money Work for You
Another option is the Facebook Marketplace, since you can often find furniture, home decor, dishes and similar items there. A lot of people selling on this platform are in a rush, and so they sell these goods at a steep discount — especially if you're willing to pick them up.
"Regardless of where you end up thrifting, you might not find what you're looking for on your first trip, so you'll want to regularly stop in to see what they have," Landau said. "You should also consider expanding the range of local thrift stores that you visit to a 50-mile radius, for example. This will give you plenty of options to find the best items for your needs, style and budget."
More From GOBankingRates