9 Home Upgrades for Under $250 That Add the Most Value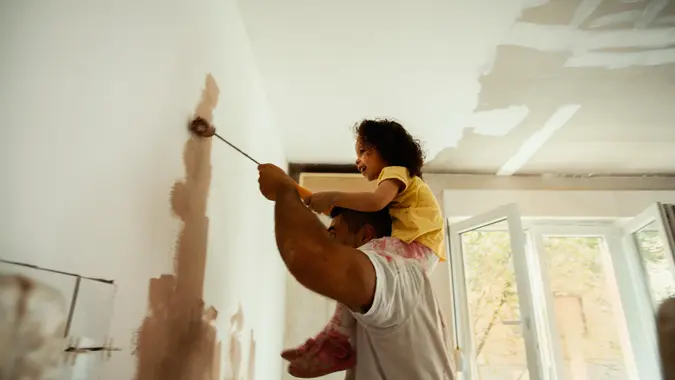 Vesnaandjic / Getty Images
If you find yourself looking at the things you'd like to renovate around your house but can't quite afford to change them at the moment, you might be pleasantly surprised to learn that a little bit of money can go a long way. Making positive changes to your home doesn't always have to involve doing a major overhaul. GOBankingRates asked experts which simple home upgrades you can make for under $250 that will have the best impact on your space.
Replace Outdated Doorknobs and Cabinet
Start by replacing outdated doorknobs and cabinet hardware, said Jonathan Faccone, realtor and founder of Halo Homebuyers.
"You can find a great selection of knobs and pulls for under $25 each at big box stores, and even vintage or antique-inspired hardware for less than $250," Faccone said. "They'll instantly freshen up the look of any room, and can even add a bit of personality to your space."
Change Up Your Curtains
A nice set of curtains can freshen up a room's atmosphere instantly.
"Swapping out old curtains for something new and exciting is a great way to upgrade the look of any room," Faccone said.
He recommends that you spend most of your money here on high-quality fabric and colors that will complement the existing furniture or wall color.
Make Your Money Work for You
"I believe that curtains are one of the most important elements in a room, so it's worth investing in some good fabric," he said.
Add Fresh Paint
A new coat of paint can give life back to any room in your house.
"If you're willing to put in a bit of elbow grease, painting your walls is one of the best ways to upgrade any room," Faccone said. "Choose a bold color, like navy or deep green, and pair it with white to make the colors pop. It's also a great way to add dimension and texture to your space," he said.
Upgrade Lighting
Another simple but dramatic fix is to change up your lighting.
"Upgrading a home's lighting is a good starting point to upgrade its appeal," said Josh Steppling, a real estate broker with the Josh Steppling Group at EXP Realty. "A stylish pendant light hanging over your dining table or warm high-hats take a home from dated to modernized. By upgrading your lighting fixtures, you can instantly add charm and sophistication to any room."
Add a Backsplash or Mosaic Tile
If you're tired of looking at the same old walls in a room like the kitchen or bathroom, Steppling recommends that you add a beautiful mosaic or subway tile backsplash to liven it up.
"Not only does it become a focal point, but it also saves you from the headache of stubborn stains."
Make Your Money Work for You
Decluttering and Organizing
Not every home upgrade has to involve adding something new to your living space. Sometimes a simple decluttering can transform your whole perspective on a room. You can get rid of items you no longer need or use and find proper places for everything.
"One of the simplest and most effective ways to improve the appearance of your home is by decluttering and organizing," Steppling said. "Clear countertops, tidy shelves, and organized closets can make a world of difference in creating a clean and appealing environment." 
You could even have a little yard sale to make some extra money to put back into future upgrades.
Rearranging Furniture 
On this same token, sometimes a room feels off because of how the furniture is laid out.
"Experiment with different furniture layouts to find the most visually pleasing and functional arrangement," Steppling suggested.
Whether you move a sofa to a different wall or swap chairs between rooms, simple changes can create a fresh perspective and improve flow within your space.
Add Natural Light
Another simple and free way to change the feel of a room is to open up your curtains and blinds to let natural light in, Steppling said. "Natural light has a way of making spaces feel brighter, larger and inviting. It can also enhance the colors and textures in your home, creating a more lively atmosphere."
Improve Your Landscaping
Mixing things up in your landscaping can not only make you appreciate your home more, but it can also increase your home's "curb appeal" should you ever decide to sell, according to Ryan Farley, the CEO of LawnStarter.
"Something as simple as planting some native wildflowers along sidewalks and paths can create a gorgeous, natural and pollinator-friendly burst of color for your yard," said Farley.
He suggested that anything you can do to mix up a traditional front lawn can make your yard look more interesting and appealing.
More From GOBankingRates