How Much It Costs To Prep a Well-Stocked Emergency Kit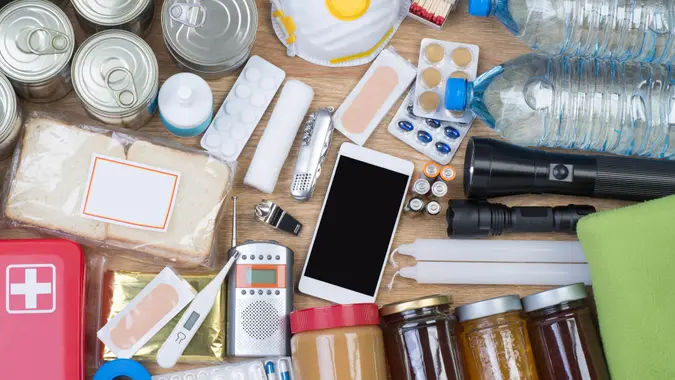 ©Shutterstock.com
Hopefully you won't need to use it, but it's still important to have one: an emergency kit. With natural disasters on the rise, you could say having a ready-to-go emergency kit is more critical than ever. 
Stimulus Checks: Mark These Dates on Your Calendar Now
See: If Your Credit Score Is Under 740, Make These 4 Moves Now
It's common sense that an emergency kit is essential in every household, yet most of us are lacking in this department. According to a survey by ValuePenguin, 66% of Americans don't feel fully prepared for natural disasters. 
What does emergency preparedness look like, or more pointedly, what exactly does an emergency kit need? What sorts of documents and items should one have inside an ER kit, and, in all, how much does it cost to put together a kit that will get the job done? 
Bottled water: Have a case of bottled water at the ready. This is best to buy in bulk at Walmart or Costco. Jugs of water are also good to have. 
Food: This is a matter of preference, really, but be sure to go for nonperishables such as canned chicken, canned beans, beef jerky, dried fruits and peanut butter. 
Can opener: For all those canned nonperishables, you'll need a high-quality manual can opener. Don't go for the cheapest kind. A decent one will run around $15 on Amazon. 
Flashlight: Go big and go bold with a flashlight or two. You can get a heavy-duty waterproof one on Amazon for $55. 
Wind-up radio: A wind-up radio will enable you to hear important news announcements for your location. They cost around $35. 
Hand sanitizer: We all know the importance of hand sanitizer these days. Consider picking up a bottle at Walmart or Costco on your next trip, if you don't already have a stockpile. 
Map: GPS is all the rage, but if your phone is dead or towers are down, you will be out of luck. Buy a map of your area at a gas station, or just print some out at home. 
Phone charger: You may already travel with one of these anyway. Needless to say, you'll want one of these in your kit. Prices depend on what phone you have. 
Fire extinguisher: Now we're getting into a bit more serious territory. A fire extinguisher will set you back around $40. 
Lighter and matches in a waterproof container: You can pick up a couple lighters at your local convenience store, and buy matches in bulk at Costco. Make sure to seal them in a waterproof container. Or just buy this firestarter kit on Amazon for $19.    
Sleeping bag: Go for a good sleeping bag if you can afford it, like this waterproof one for $119 at L.L Bean. 
Swiss Army knife: Of course you need one of these multipurpose tools! You can get one for $18 on Amazon. 
Pair of durable shoes: Price depends. 
Make Your Money Work for You
Other items:
Medical documents and other crucial forms such as life insurance paperwork and birth certificate   
ID 
Prescription medications, antibiotics, etc.  
Essentials for kids and infants, (e.g., diapers, formula). Prices vary and depend on your needs, but try to have at least a week's worth of goods on hand. 
It's tough to put a price on an emergency kit because so many of the items depend on your specific needs. That said, you can expect to spend hundreds of dollars on a comprehensive emergency kit that will tide you over until you get back to safety. 
More From GOBankingRates
Prices are accurate as of Nov. 4 and are subject to change.
Make Your Money Work for You