How To Give Your House a Refresh Without Breaking the Bank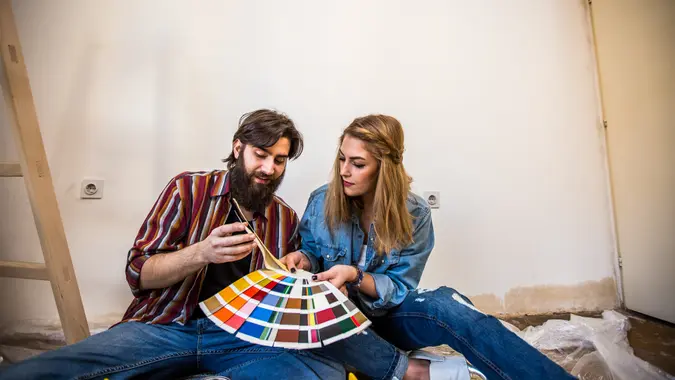 miodrag ignjatovic / Getty Images
Major home renovations can cost upwards of tens of thousands of dollars.
Read More: 10 Kitchen Renovations That Will Hurt Your Home's Value
Learn: Here's How Much Cash You Need Stashed if a National Emergency Happens
Fortunately, you don't need to spend that much to breathe some new life into your home. Here are a few ways to give your house a refresh without breaking the bank.
Refresh Your Home for Less Than $100
Even if you only have a small budget for home improvements, there are a number of home upgrades you can make for less than $100. One inexpensive project that can up your home's resale value is repainting kitchen or bathroom cabinets.
Poll: Do You Think States Should Suspend Their Gas Taxes?
"Painting outdated cabinets white or light gray can increase a house's value by thousands of dollars, and it is no secret that kitchens and bathrooms sell homes," said Kevin Bazazzadeh, owner of the real estate investment company Brilliant Day Homes. "You will have no problem buying a brush or two, a small roller and a couple of gallons of good paint for $100 or less. A weekend and a little elbow grease can bring new life to an older kitchen and earn you some quick equity if you are trying to sell the house or a fresh look if you plan to keep it."
Make Your Money Work for You
More home upgrades you can make for less than $100:
Replace kitchen hardware
Add solar lights
Switch out lightbulbs to LED lights
Limewash your fireplace
Wall-mount your TVs
Repaint your front door
Change out light fixtures
Freshen up landscaping
Upgrade your bathroom mirror
Refresh Your Home for Less Than $500
If you have a little more wiggle room in your budget, consider tackling one of these home makeover ideas that cost less than $500. One project that can make a big difference is upgrading all of your light switches to dimmer switches with motion sensors.
"Buyers today want energy-efficient homes," said Sam Perks, a real estate broker with Re/Max House of Real Estate in Fort Lauderdale, Florida. "In low-traffic areas, a motion sensor switch can save a lot of energy that would otherwise be wasted when lights are left on."
More home makeover ideas that cost less than $500:
Repaint your garage door
Paint an interior room
Add wallpaper to create an accent wall
Buy new textiles
Change out window treatments
Add some new art
Upgrade your nightstand
Upgrade your bedding
Replace or darken brass fixtures
Install a ceiling fan
Install floating bathroom shelves
Powerwash your home's exterior
Buy indoor plants
Make Your Money Work for You
Refresh Your Home for Less Than $1,000
You can make some pretty major upgrades to your home without blowing your budget, even if your budget is $1,000. Removing an interior wall to create a more open floor plan can make a huge difference in the feel of your home, and also increase its resale value. Once you get the sign-off from a structural engineer, expect to pay $109 to $233 for labor costs and up to $300 for debris disposal fees, according to Homewyse estimates.
More budget-friendly home upgrades:
Get your windows professionally cleaned
Repair window shutters
Freshen up your landscaping
Upgrade kitchen appliances
Upgrade interior doors
Update your staircase
Refresh Your Home for Less Than $5,000
There are a number of easy home renovations you can make for $5,000 or less. For example, you can install new hardwood flooring for an average cost of $4,700, according to the National Association of Realtors. Or, you can repaint several of your interior rooms — this project costs an average of $200 to $1,000 per room, according to HomeAdvisor.
Make Your Money Work for You
More home renovations you can make for $5,000 or less:
Replace your garage door
Replace your entryway door
Upgrade your insulation
Refinish hardwood floors
Install new carpet
Always Look For Ways To Save
If you're extra scrappy, you may be able to renovate your entire home for under $10,000. This will require some creativity and DIY work, but it is possible to give your whole home a refresh for less than you think. Two major ways to do this are to tackle some projects yourself and to look for ways to save on material costs, such as buying salvage materials or opting for the less expensive material choice.
More From GOBankingRates
Make Your Money Work for You