How To Make Your Cheap House Feel Expensive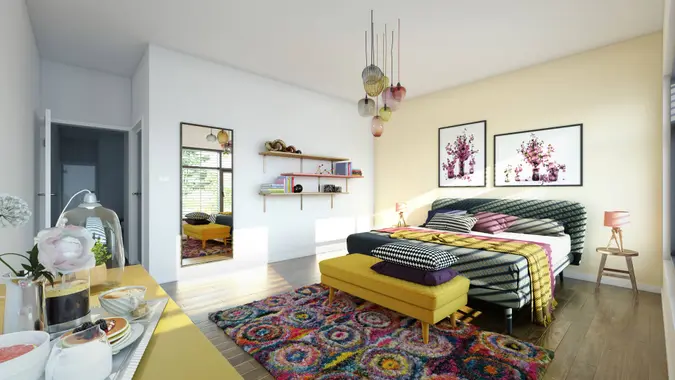 Bulgac / Getty Images
Just because you're on a budget doesn't mean that your home can't look nice. There are many things you can do to make your home look expensive without breaking the bank. Here are some of the best ways that you can make a cheap house look expensive. 
Find the Right Design Style
Interior design can be both an art and a science. While certain design choices will look old in a few years, others will be timeless. It's important to find an interior design style that appeals to you and fits your personality. 
Focus on the Focal Points
In any room, there are always a few key elements that draw the eye and define the space. Investing in these focal points can create an expensive appearance, even if the rest of the room is decorated on a budget. For example, in your living room, you may focus on one of these features:
Fireplace: Add a sophisticated fireplace mantel, either in a classic wood finish or a modern, sleek design, depending on your chosen style. This can be done affordably with pre-fabricated kits or by repurposing reclaimed wood. Costs range from around $280 to $870, depending on the materials you choose and whether you do the installation yourself.
Large window: Install floor-to-ceiling curtains in the style of traditional quality fabric, such as velvet or silk. You can often find affordable alternatives ($25 to $100) that mimic the look and feel of these fabrics.
Artwork: Invest in a single, large statement piece of art, rather than cluttering the walls with multiple smaller pieces. You may be able to find a pre-owned art piece on local buy-and-sell groups, buy affordable prints online or even create your own canvas art for a personalized touch.
Make Your Money Work for You
Good To Know: 5 Kitchen Appliances That Just Aren't Worth the Money
Lighting Is Key
The right lighting can completely transform a space, making it feel like a completely different room. To achieve this effect, consider the following strategies:
Layered lighting: Incorporate a mix of ambient and accent lighting by combining multiple light sources to create depth in your space. Consider warm white bulbs and color accents to bring a cozy feel to your home.
Dimmers: Install dimmer switches ($10 to $50 per switch) on your light fixtures to allow for mood lighting and control over the intensity of the light.
Statement lighting: Invest in one or two eye-catching light fixtures that serve as focal points, such as a chandelier, a unique floor or table lamp, or a pendant light in the kitchen. Cheaper lamps and fixtures can cost anywhere between $20 and $300. Look for sales or second-hand options to find affordable yet impactful pieces.
Renovate on the Cheap
While you may not have the budget to completely renovate your home with top-of-the-line materials, you can still strategically incorporate classy design elements for an expensive feel:
Flooring: Replace worn or outdated flooring with affordable alternatives that mimic the look of high-end materials, such as luxury vinyl planks or ceramic tiles that resemble hardwood or natural stone. Replacing flooring with vinyl can cost an average of $1.50 per square foot, while other materials may be more expensive.
Hardware: Swap out builder-grade hardware with more elegant options, such as brass, brushed nickel or matte black fixtures, for an instant upgrade.
Make Your Money Work for You
Create DIY Custom Features
One way to make your home feel more expensive is to try and recreate custom details that are typically found in high-end properties:
Built-ins: Utilize affordable materials, such as plywood or MDF, to create custom built-in bookshelves, window seats or storage units that add architectural interest and functionality to your space. Built-ins can cost around $150 per linear foot, but the cost may be much cheaper if you DIY the installation.
Wainscoting and crown molding: Install decorative moldings to add character and elevate the look of your walls. Premade options are available at many home improvement stores for as low as $2 to $3 per foot and can be painted to match your chosen color scheme.
Coffered ceilings: Create the illusion of coffered ceilings using inexpensive materials. Some stores may sell coffered ceiling kits as well as faux wood beams. Coffered ceiling tiles can be purchased for as little as $2 per square foot.
Know the Power of Color
Color is one of the most powerful tools in interior design and can greatly influence the overall perception of a space. Here are some tips for selecting the right color palette:
Neutrals: Stick to a neutral color palette, such as white, gray, beige or taupe, for the majority of your space. These colors often evoke a sense of calm and sophistication. 
Accent colors: Introduce a few carefully selected accent colors to add depth and visual interest.  If you want to convey luxury and elegance, choose rich, deep tones, such as navy blue, emerald green or burgundy.
Metallics: Incorporate metallic accents, such as gold, silver or bronze, in your hardware, lighting and decorative accessories to create a polished and refined look.
Make Your Money Work for You
Opt for Timeless Furniture and Accessories
While trendy furniture may be tempting, investing in timeless, classic pieces will ensure your home maintains a high-end feel for years to come. To achieve this, focus on the following:
Quality over quantity: Choose fewer, high-quality pieces made from solid wood, metal or durable fabrics, rather than filling your space with numerous lower-quality items.
Clean lines and simple shapes: Opt for furniture with clean lines and simple shapes, as they are more likely to stand the test of time and adapt to changing design trends.
Next Steps
Making your cheap house feel expensive is achievable with careful planning and strategic design choices about focal points, lighting, materials and features, and furniture. It is often good to make a detailed plan, as it is easy to get carried away and spend more than you wanted when decorating or renovating.
More From GOBankingRates
Make Your Money Work for You
Make Your Money Work for You