63% of Americans Saw Their Housing Costs Increase This Year: What To Do If This Happens To You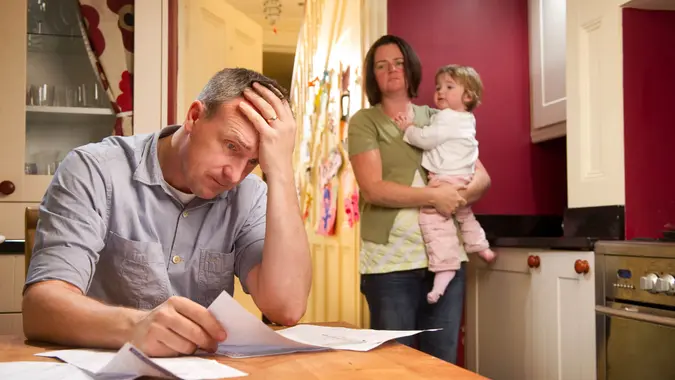 sturti / Getty Images
GOBankingRates recently surveyed more than 1,000 Americans aged 18 and older to determine whether their housing costs have increased or decreased over the past year. The results showed that for 63% of respondents, their housing (rent, mortgage, etc.) had gone up since last year. Nearly one-fifth of adults surveyed indicated they had seen housing costs increase more than 11%.
Men seemed more heavily impacted by the rising costs of housing compared to their female counterparts. Only 28% of male respondents said that their housing had stayed the same over the past year, compared to over 35% of women. 
Age also had a significant impact, with nearly half (45%) of people 65 and over responding that their housing costs had stayed the same, compared to only 23% of individuals between the ages of 18 and 24. Younger adults were also more likely to see substantial changes in their rent. Over 7% of people 18 to 24 saw an increase in housing costs of 41% or more over the past year.
If you, like so many others, are dealing with an increase in these expenses, you'll need to make adjustments. Here are seven things you can do if your housing costs increased this year.
Make Your Money Work for You
Think About Refinancing When Interest Rates Drop
Mortgage rates have skyrocketed recently, hitting 7.23% in August — a 20-year high. The good news is that experts anticipate a decline in rates as inflation cools. Once rates decline, you can consider refinancing your mortgage. Refinancing can help save you hundreds of dollars each month on your mortgage.
Shop Around for Lower Insurance Costs
Another way that you can reduce your housing expenses is by shopping around for lower insurance costs. Any time you can decrease a fixed monthly expense, the better off you will be. Most insurance companies offer an incentive for bundling coverages like your home and auto. You can also check to see if other companies offer a sign-up bonus if you switch carriers.
Consider Downsizing or Moving to a More Affordable Neighborhood
If you are renting or your mortgage has become unaffordable, you might think about downsizing. Having more house than you need or can afford can quickly dig into your savings. Finding a less expensive home can improve your quality of life by providing you with more discretionary income to do the things you love. You can also look at moving to a less expensive area whether you own or rent.
Review Your Budget
It can happen all of a sudden or like a slow drip over time, but once you realize that your housing costs are increasing, you will want to take action. The first step would be to create a budget or review the one you have in place. Take a look at all of your income and expenses and adjust spending habits as needed. You may be able to compensate for an increase in housing costs with a slight tweak in your spending.
Make Your Money Work for You
Reduce Your Discretionary Spending
The best place to start if you are seeing an increase in your housing costs is by reducing your discretionary spending. If you have never been on a budget before, it can be eye-opening to find out where your money is going. You may not even realize how much you spend each month on subscriptions you don't use or clothing you don't need. By reducing your spending on non-essentials, you can endure slightly higher cost-of-living expenses.
Try To Sign a Longer Lease
One way you may be able to avoid an increase in rent is by signing a longer lease. If you are happy where you are, you can ask your landlord to allow you an 18-month or longer lease to avoid rent hikes year over year. Landlords are often looking for loyal tenants who pay their rent on time and do not cause a lot of headaches. If you have a good track record with rent payments and have not had any complaints lodged against you from other tenants, your landlord may be more willing to negotiate a longer lease.
Make Your Money Work for You
Get a Roommate
Finding someone to split your rent or mortgage is one of the easiest ways to offset spikes in your housing costs. A roommate can make a huge difference in what you pay each month. If they are covering even just one-third of your rent or mortgage, it can help tremendously. It is important to do your due diligence and find someone you do not mind sharing a house or apartment with, but once you find a good roommate, you won't want to give them up.
More From GOBankingRates