Gen Z: Here Are 4 Surprising Challenges of Renting in San Francisco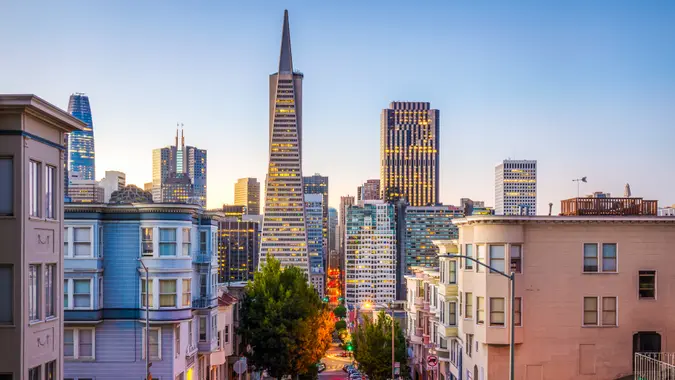 Eloi_Omella / Getty Images/iStockphoto
San Francisco has been beckoning young go-getters since gold was discovered there in 1849. But if today's young transplants want to lay down roots in the Bay Area, they'd better have plenty of gold of their own. 
San Francisco is notoriously expensive, but for young adults looking to move there, sky-high rent is only part of the problem. In a city where neighborhoods are changing rapidly and the real estate market is infamously hard to read, good deals can be hard to come by. 
If you're a Gen Zer with your eyes on the Golden Gate, you might have heard that rent prices have fallen, the market has changed and now is the time to make your move. The first two points are true. Keep reading before you make up your mind about the third.
The City Is Awash With Young Hopefuls
Gen Zers looking to rent in San Francisco should expect stiff competition when they get there. Residents flooded out of the city during the pandemic, particularly techies who were freed from their expensive leases by a smooth transition to remote work. 
Those who came in to take their place have been disproportionately young. 
According to the Mercury News, no city in America saw a greater influx of Gen Z transplants in 2021 than San Francisco, where the population of young renters doubled compared to the year before.
In March, SFist reported that Gen Zers were moving to San Francisco more than any other demographic. On top of that, Teen Vogue reports that students across the country are having difficulty finding rentals in cities like San Francisco this summer because costs are so high, which adds even more young adults to the pool of applicants.
Make Your Money Work for You
In short, young renters are competing harder for available units in San Francisco than in any other city in America.
Landlords Are Holding Out on Lots of Inventory
According to a local ABC News affiliate, San Francisco's ongoing housing crisis is the worst in America and has been for decades. Absurdly high rents have been part of the city's identity since the start of the tech boom, but the pandemic brought relief — or so it seemed.
According to The Guardian, average rental prices dropped by nearly one-quarter in 2020. The Wall Street Journal attributed the fall to strict rent-control policies, an exodus of tech workers and the hyper-inflated cost of pre-pandemic rent.
In the summer of 2022, rent prices still haven't bounced back to pre-pandemic rates — but that doesn't mean that Gen Zers or anyone else should expect an easy go of finding a place. The sheer number of them that are empty, but not available to rent, leaves no guarantees.
At the start of the year, things got so bad that officials considered taxing the growing inventory of vacant apartments. The city's landlords were sitting on 40,000 empty units, which they kept off the market while they waited for prices to recover fully. 
Reduced Rents Could Give Gen Z a False Sense of Confidence
By the start of 2021, rent prices in San Francisco had been plummeting for nearly a year, but according to The Guardian, the city was still the most expensive rental market in the country. Even at the low point when rent prices bottomed out, the average one-bedroom was going for $2,660 per month and the median single-family home cost $1.63 million — not exactly within striking distance for most 20-somethings.
Make Your Money Work for You
San Fransisco got the worst of both worlds. The local economy took a major hit from the pandemic, but even when the bottom dropped out of the rental market, housing was still too expensive for most residents.
According to The Real Deal, a San Francisco real estate news site, the rental market in the country as a whole was red hot at the start of the summer of 2022. Rents were up by 16% on average and by more than 30% in some cities. San Francisco, on the other hand, was the last major metro in America still lagging behind its pre-pandemic rental rates — and that gave many Gen Zers the confidence to make their move. 
Unfortunately, even when rents lag behind in San Francisco, they're still too high for just about everyone who isn't wealthy. 
In the Bay Area, Lower Rent Just Means Less Unaffordable
According to the Zumper National Rent Report, San Francisco was the second-most expensive rental market in America in June. The median one-bedroom costs $3,000 a month, second only to New York's $3,600. Just across the Bay, San Jose took the No. 3 spot with a median monthly rent of $2,570 — $430 cheaper than San Francisco.
At $2,000 a month, the statewide median rent is a full one-third cheaper than San Francisco — and California is expensive compared to the country as a whole. By comparison, the national average rent is $1,722, according to Rent.com.
So, yes, the San Francisco rental market is still underpriced and most of the rest of America is still overpriced. But young transplants shouldn't be misled about what it takes to live there. Housing, ideally, should consume 30% of your income at most. At $3,000 for a one-bedroom, you would need to pull in five figures per month to live comfortably. Anything less and you'll risk becoming yet another casualty of the housing crisis that has defined the San Francisco rental market for decades. 
Make Your Money Work for You
More From GOBankingRates