The No. 1 Reason Your Spring Utility Bill Is So High — and How To Get It Under Control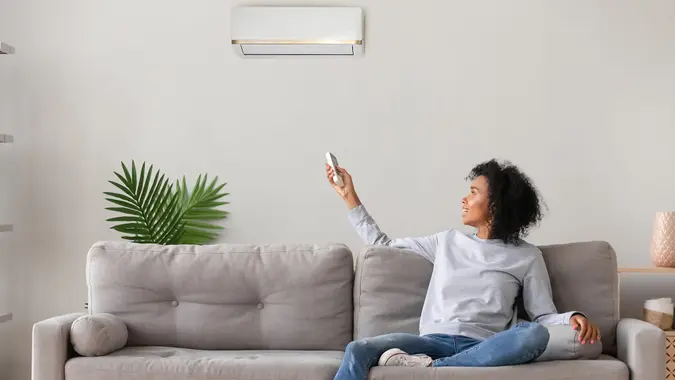 fizkes / Shutterstock.com
If you're like most Americans, you expect certain financial changes and shifts to come with different seasons. It's all part of the cycle of spending money. In the wintertime, you're likely to spend more money heating your home and generally ensuring that the cold wind and chilly weather stays out.
Spring might feel like a respite from the frosty months and high costs that come with Old Man Winter but look at your home utility bill again and make sure you aren't drinking anything that might cause a spit take. Water bills tend to be higher in the warmer months, as does air conditioning and overall energy usage. For climates that are already hot to begin with, residents can see their costs soar starting in April and May, especially compared to previous years.
"The average utility bills rose approximately 12%, according to our data from 2022 to 2023," says Casey Donahue, energy analyst, cofounder and CEO of Optiwatt, a company that partners with utilities providers and consumers to help reduce stress on electricity reserves.
"Inflation in 2022 came in at 6.5%, so that can explain a portion of price increases, as utilities pass on supplier price increases to their customers," Donahue points out. "Another large portion of price increases can be explained by the war in Ukraine, which caused natural gas spot prices to nearly quadruple at their peak in 2022. Natural gas makes up 40% of our electricity generation by fuel type, which means electricity generation in 2022 was much more expensive than average." 
Make Your Money Work for You
How You Can Lower Your Utility Bill
There are other culprits behind energy cost increases — some that have nothing to do with inflation, war or the changing weather. In fact, it could have more to do with cost-draining parts of your home.
"A lot of home energy bills are high due to poorly insulated attics," says Mike Larsen, owner of Larsen Roofing. "Because a lot of hot and cold air can be lost through a roof, I always recommend getting blown-in insulation added to the attic to get it to at least R-49. While it might cost a bit upfront, it will save on bills in the long run by reducing the amount of time you need to run your AC unit in the summer and heat in the winter."
"Attic insulation, air sealing and floor and crawl space insulation will keep your house warm in the winter and cool in the summer," adds Cisco DeVries, energy expert and former aide to the U.S. Secretary of Energy during the Clinton administration. "Typically insulation costs roughly $1.59 per square foot, however, installation can vary between $400-$1,200 for a complete installation." 
DeVries is now the CEO of OhmConnect, California's leading clean energy program, which pays residents to lessen their energy consumption when the grid is stressed. There are several other suggestions DeVries has for people looking to cool down their bills as the weather heats up.
Make Your Money Work for You
Take Our Poll: What Are You Worth to Your Company?
"High-impact windows filter out UV rays and prevent temperature increases when the sun shines through," says DeVries. "They also provide a tight seal, keeping cool temperatures from entering your home. On average, impact windows will cost somewhere between $40 and $55 per square foot of glass and will last for approximately 25 years."
Your home will still need heat, often in the form of hot water. Tankless energy heaters, also known as on-demand water heaters, can be an energy- and cost-efficient solution during the springtime by providing a supply of hot water in a continuous flow.
"Unlike hot water tanks, tankless energy heaters don't have to keep a large hot water tank hot, therefore eliminating the 'standby energy loss' that occurs with traditional tank water heaters," DeVries notes. "Tankless water heaters units can cost anywhere from $500 to $1,000, however, ENERGY STAR certified tankless water heaters use an average of 30% less energy than storage water heaters, and that will translate to great cost savings over time."
Saving money on your utility bill doesn't have to be a huge overall or big construction project. DeVries mentions that there are practical, everyday solutions that are easy fixes to keeping your costs down as spring raises the temperature. It all comes down to making your home smarter using plugs and power strips that are also "smart."
Make Your Money Work for You
"The truth is that just because you turned the device off, doesn't necessarily mean it stops using electricity," DeVries explains. "Some electronic devices that are off but remain plugged into a power source will continue to draw electricity — these devices are called energy vampires. Devices like cable boxes/DVRs, game consoles, microwaves, coffee makers, space heaters, phone chargers and powered toothbrushes can account for 20% of your monthly electricity bill."
"To overcome these energy vampires, use smart plugs or smart power strips," suggests DeVries. "These smart devices will detect when you're no longer using a device and turn off the power supply."
More From GOBankingRates
Make Your Money Work for You