6 Super Cheap and Effective Ways to Weatherproof Your Home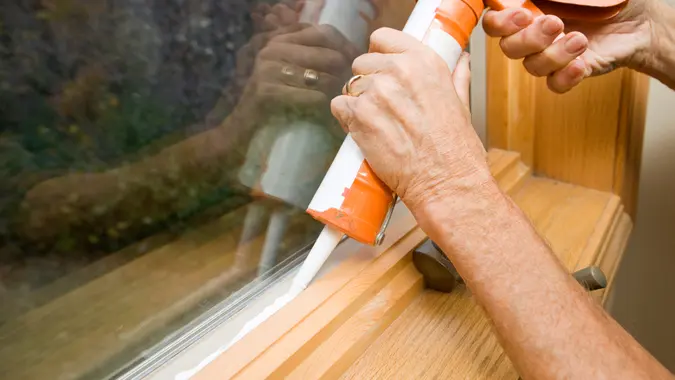 BanksPhotos / Getty Images
Did you know you could save up to 15 percent on heating and cooling costs by taking steps to weatherproof your house? Finding affordable ways to add insulation to or seal off parts of your home could be worth hundreds each year. Not to mention, you'll be a lot more comfortable as well and won't constantly be reaching for the heater or air conditioner.
Here are a few ways that you can start saving on your energy bill each year and make your home a more pleasant place to relax.
Read: Craziest Things That Kill Your Home's Value
What Adds More Value to Your Home: Indoor or Outdoor Upgrades?
Add Weather Stripping to Doors & Windows
If you go into a room that feels particularly drafty in the winter or hot in the summer, the culprits are most likely the doors and windows. In the winter, you can check for this by holding a candle up and seeing if it flickers when the door or window is completely shut. Sealing off these gaps between the ground or sill can help regulate the temperature in a room, keep energy bills low and also keep out excess moisture and dirt. You can find weather stripping at most hardware stores for under $20, and it only takes a few minutes to put into place. You can use door sweeps for exterior doors and a draft stop for windows. 
Make Your Money Work for You
Home Improvement: 20 Home Renovations That Will Hurt Your Home's Value
Seal Small Gaps with Caulk & Foam
You'll need weather stripping if a part moves, but you can seal stationary gaps using caulk and foam — it'll make a huge difference. A crack that's 1/16 of an inch can have the impact of a window that's open three inches, so it's a worthwhile investment. It's also good to check places in the wall, especially those around outlets, to see if there are any small gaps that could be letting excess air in. Both caulk and foam sealant can cost under $5, making it a super cheap way to make your home more weather-resistant.  
Read: Homes Won't Be Affordable in These Cities Within 10 Years
Check that Storm Windows Were Installed Correctly
Storm windows should efficiently seal off a room and make your electric bills go down, not up. If you suddenly see a rising bill, there might be something off with the installation of your windows. Check to make sure there are no new cracks or gaps that have appeared since the prior year. If there are, you can seal them with caulk or weather stripping, depending on the nature of the gap. If there aren't any gaps or cracks, check for water damage or condensation between the panes. This can manifest as peeling paint, puffy walls, rotting wood, or mold. If you spot any of these signs, call a professional to help fix the damage and re-install the windows properly. Also, if the window is particularly hard to open, there might be a sizing issue with space for the window and the materials used. 
Make Your Money Work for You
To Make Those Upgrades: 30 Ways To Upgrade Your Home Without Blowing Your Budget
Insulate Your Water Heater
When it gets cold, you're not the only one who needs a blanket. Your water heater can benefit from one, too. When you put a blanket or insulation around the circumference of your water heater, you're preserving heat so your water heater doesn't have to use so much energy to work. Covering your water heater could reduce heat loss by 25-45 percent and save you about 7-16 percent in costs. You can find pre-made blankets for water heaters, or make one yourself. This will usually cost $20 or less.
Don't Miss: 25 Tricks To Sell Your House for a Bigger Profit
Get Thick Curtains
It might seem weird to think a decorating choice could help weatherize your home, but it truly works. Thick curtains, especially those designed to keep heat in, can help lower the energy needed to heat a house and cost less than $40. Even adding more weight to your current curtains with fleece or extra lining will do the trick. 
Make Your Money Work for You
Learn: 26 Home Makeover Ideas That Each Cost Less Than $500

Make Sure Your Attic Door is Insulated
A common way heat and cool air is lost actually through the attic door. A gap 1/32 of an inch can feel like the door has an opening of five inches, which can significantly change how your house feels. You can buy insulation board or an insulation tent for under $40 to cover your attic door and keep more air in the home. 
More From GOBankingRates:
Make Your Money Work for You