Tips for Negotiating Repairs After a Home Inspection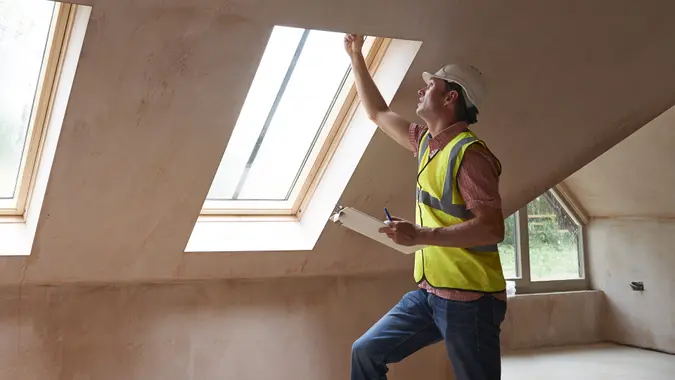 SpeedKingz / Shutterstock.com
You've been searching for a new home for a while, and you've finally found the one you want to make your own. The seller accepted your offer, and now it's time for the home inspection.
Support Small: Don't Miss Out on Nominating Your Favorite Small Business To Be Featured on GOBankingRates — Ends May 31
"I think the inspection period for a realtor is probably the most nerve-racking part of the home buying process," said Ula Zucker Williams, a real estate advisor with Compass in Boca Raton, Florida. "At least for me, because I always want my buyers to get a good house."
Williams said some experienced buyers aren't as anxious about the home inspection, because they're not afraid to ask for a credit if there's an issue. However, those navigating the process for the first time tend to be more apprehensive.
"First-time homebuyers are different in that any little thing on the inspection report scares them, and I get that," Williams said. "I often have to remind them that if they buy an older home, they can't expect it to be perfect and even newly constructed homes have issues."
Make Your Money Work for You
Helpful: 20 Insider Tips To Save Money on Every Part of Your Home
Give Yourself Time
Williams recommends scheduling the inspection during the first two days of the inspection period, as it gives you plenty of time to review the report and negotiate without added stress.
"I've seen people get inspections the day before the last day, and it puts a buyer in a horrible position to negotiate," she said. "Waiting (until the) last minute gives the seller all the power."
Know the Conditions
However, the amount of negotiating a seller is willing to do is typically based on current market conditions.
Read More: Top Home Improvements To Complete on a Budget in 2021
Brett Bynum, MBA, a broker associate with Real Estate Experts in Campbell, California, said negotiations aren't always too easy for him right now, as his Silicon Valley area is an extreme seller's market.
"The vast majority of accepted offers are non-contingent and as-is, so negotiated repairs are pretty rare these days," he said. "That said, they can be negotiated depending on the nature of the repairs, the relative leverage of the respective parties and how other prospective buyers will likely view things."
Make Your Money Work for You
Choose Wisely
If you do decide to request repairs or credit, only choose serious items.
"Based on current market dynamics, petty requests will not be entertained, nor will items that were previously disclosed by the sellers," Bynum said. "In our markets, most smart sellers will conduct all major inspections — property, pest, roof and chimney, if applicable — before going on the market, in order to increase the numbers of offers."
Related: Buying a Home in 2021? Here's What You Need To Know
He said knowing the condition of the property upfront makes buyers more comfortable — even when it needs work — and it eliminates or largely reduces the opportunity for the buyer to make a legitimate repair request after their offer is accepted.
In the case that there is room to request repairs, he said the ability to negotiate largely depends on whether the issue was disclosed beforehand, if it's a safety concern, if most other buyers will want it addressed and if the problem is covered by law despite not being covered by the contract.
Make Your Money Work for You
Did You Know: This Is the Salary You Need To Afford the Average Home in Your State
"For sellers, their willingness to fix items or provide credits really comes down to a risk-reward analysis," he said. "If they believe that they will get less returning to the open market with the stain associated with falling out of escrow — the next buyers will see the two different sets of reports and understand why it fell through — then they will generally acquiesce."
Essentially, negotiating repairs after a home inspection must be done on a case-by-case basis. Choose an experienced real estate agent who can guide you through the process and don't settle for anything that makes you uncomfortable.
More From GOBankingRates
Last updated: May 20, 2021
Make Your Money Work for You