Expensive Tropical Resorts That Are Worth the Splurge

9 min Read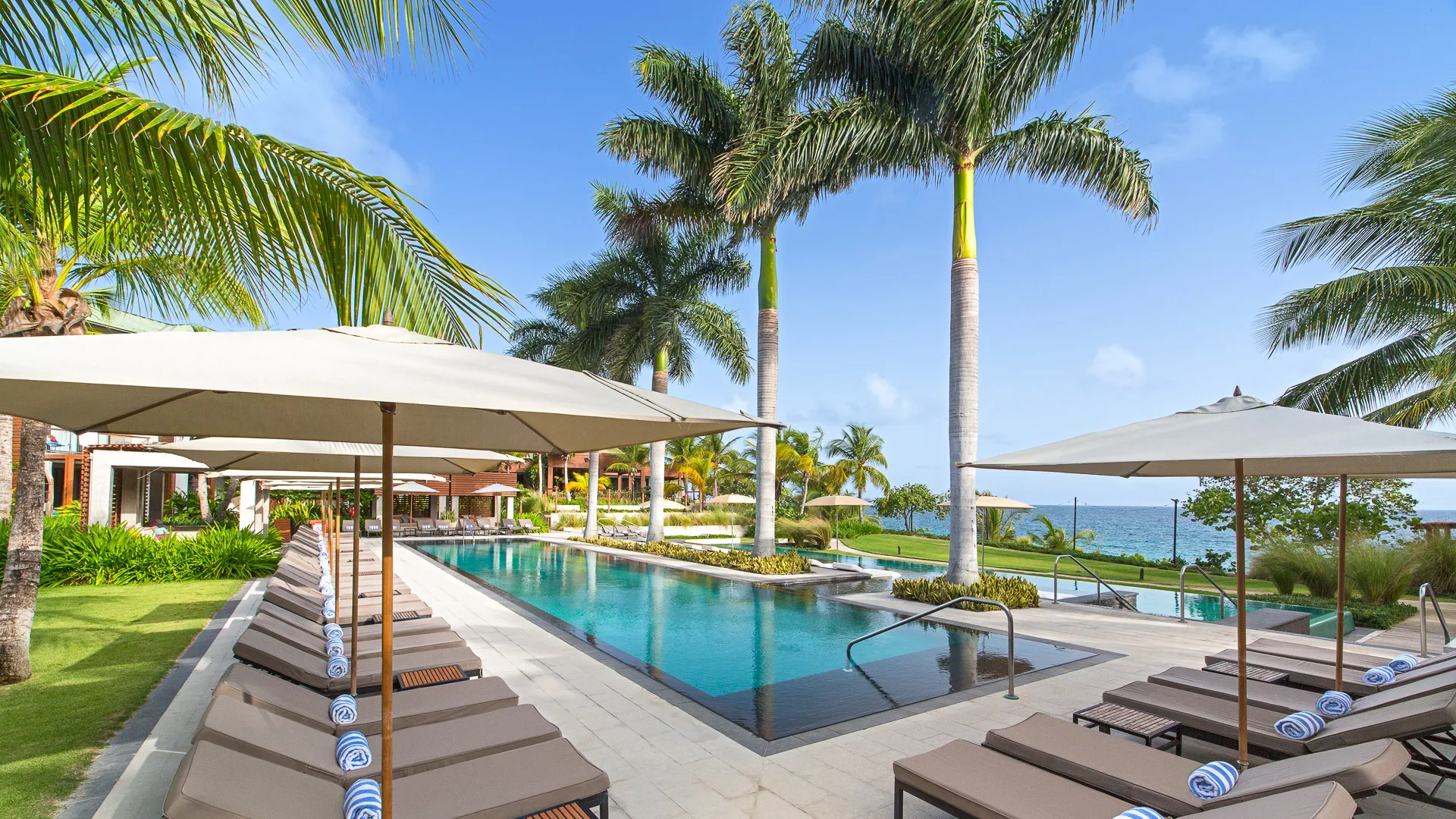 Whether it's finally time for the honeymoon of your dreams, or you've just been squirreling away your rainy day funds for a sun-drenched tropical getaway, you want to spend wisely. A tropical vacation might be a splurge, but there's no need to blow money without getting your dollar's worth, right? Here's the trick: Seek out under-the-radar locales, like small towns that are on the verge of becoming hip, in popular international destinations.
That's where these resorts come in. While they're not cheap by any means, they clock in at a fraction of the cost of many tropical luxury resorts, which can easily exceed $1,000 nightly, and offer the most bang for your splurge.
Make Your Money Work for You
Capella Marigot Bay Resort and Marina — Marigot Bay, Saint Lucia
Nightly Rate, Bay View One-Bedroom Suite: About $545
The sovereign island nation of Saint Lucia offers a sleepier side of the Caribbean that feels ultra-exclusive. For two guests at the luxurious Capella Marigot Bay Resort and Marina, about $545 nightly nets you a 1,345-square-foot Bay View suite complete with a master bedroom, open kitchen, dining room and private balcony overlooking the ocean. Every guest at the resort has full access to a personal assistant, who'll help you do anything from making dinner reservations to booking a cruise. Two infinity pools with complimentary refreshments every hour complete the package.
Liostasi Hotel and Suites — Ios, Greece
Nightly Rate, Ilios Suite with Private Pool: Starting at $465
Recommended by 100 percent of Expedia Verified guests and a member of the Small Luxury Hotels of the World network, this boutique Ios resort blends classic Greek style with chic modernity and a full spa experience. The sunlight-soaked Ilios Suite offers what Liostasi calls "minimalist grace where the purity of white harmoniously blends with modern comforts and conveniences," including a private pool with views of the sea, a rain shower cabin, two smart TVs and iPad-controlled lighting. Another reason to visit Greece soon: The exchange rate is still strong.
Lomani Island Resort — Malolo Lailai, Fiji
Nightly Rate, Beachfront Bure: About $520
If an adults-only resort with an emphasis on romance, plus included activities like nine holes of golf, kayaking or swimming with dolphins is more your style, look no further than Malolo Lailai. Because of the favorable exchange rate between U.S. and Fiji dollars, some rooms at Lomani Island Resort start as low as $310 per night. For the ultimate luxury splurge, though, nab a night in a 700-square-foot Beachfront Bure, complete with a private outdoor shower and sundeck for about $520. No wonder Lomani is honored with a "Loved by Guests" title on Hotels.com. It might be expensive, but the beautiful beach is worth it.
Make Your Money Work for You
Hotel Los Nubes — Isla Holbox, Mexico
Nightly Rate, Master Suite: About $400
In 2016, The Wall Street Journal called Holbox "Mexico's best-kept secret island," an "under-the-radar getaway with good food, good hotels and — for now — no scene." Isla Holbox is an island getaway that's surprisingly budget-friendly. Enjoy that quietude with activities at Los Nubes including kite surfing, yoga, paddle boarding and beachfront horseback riding. As for the amenities, the Master Suite Las Hamacas boasts views of the ocean and the nearby Yum Balam tropical reserve, as well an open floor plan that accommodates a personal balcony, in-room bar and a bright, breezy, modernity-meets-nature style. Each stay also includes a complimentary 30 minute massage.
Tara's Lodge — Korcula, Croatia
Nightly Rate, Superior Sea View: Starting at $410
Sometimes, flying under the radar really pays off. Rated 4.5 stars and bearing a TripAdvisor Certificate of Excellence, Tara's Lodge is a well-kept secret resort in the well-kept secret destination of the Croatian Adriatic Coast. Offering a mixture of family-friendly activities and the ambiance of a historic European town, this casual resort is just a few paces from the beach, no matter which room you book. The Super Sea View suite, however, features 430 square feet of space, including a spacious furnished patio-style balcony overlooking the bay.
Pristine Bay Resort — Roatan, Honduras
Nightly Rate, Four-Bedroom Deluxe Villa: Starting at $560
Billed as "the only luxury golf resort in Roatan," Pristine Bay's crown jewel is its 18-hole championship golf course, dubbed "The Black Pearl" and designed by Pete Dye. Of course, there's plenty of room for the Aqua, Flava and Las Pergolas restaurants, as well as tennis courts and infinity pools overlooking the waters of the Caribbean Sea among the location's spacious 405-acre spread. Villas start around $200, but the Four-Bedroom Deluxe Villa offers a staggering splurge value at $560, considering it rocks two stories, about 3,000 square feet of real estate, a 1,000-square foot private deck, private pool and parking for your golf cart.
Warm Your Heart with Deals: 7 Affordable, Romantic Weekend Getaways
Make Your Money Work for You
Cotton House — Mustique Island, Grenadines, West Indies
Nightly Rate, Garden Cottage: Starting at $580
Typically, nightly rates at Mustique's Cotton House range from nearly $1,000 to over $3,000, but during the months of July and August, a bed-and-breakfast stay at the Garden Cottage is slashed to a splurge-worthy $580. The 13-acre estate on Endeavor Bay is home to a spa, gym, bar, beach cafe, dive shop, tennis court, Veranda restaurant and Watersports Centre, all serving just 17 villas and cottages. The rate for the Caribbean-style Garden Cottages includes airport transfers, unpacking and pressing services, free snorkeling equipment and entry to the weekly island cocktail party. On Mustique Island, there are plenty of hidden beaches to explore.
Pink Sands Resort — Harbour Island, Bahamas
Seasonal Nightly Rate, Garden View One-Bedroom Cottage: $645
This Harbour Island resort isn't called Pink Sands for nothing. A more exclusive alternative to popular destinations like Nassau or Paradise Island, Harbour Island features three miles of naturally coral-hued sand and gentle turquoise waves. As part of the price of a Garden View One-Bedroom Cottage ( which includes luxury in-room products and a private patio) your stay includes complimentary daytime butler services and free access to kayaks, snorkeling equipment, paddle boards and boogie boards. The Travel Channel calls Harbour Island "the place to go for natural beauty [and] elegant resorts," praising Pink Sands as a "hip and sophisticated" celebrity magnet. The Bahamas is one of the most expensive countries to live in — one reason why it's better just to visit.
Kaleydo Villas — Gili Trawangan, Indonesia
Nightly Rate, Master Villa with Private Pool: About $375
The three tiny Gili Islands of Indonesia epitomize tropical paradise and palm-tree laden seclusion. Of the three, Gili Trawangan — home of Kaleydo Villas — is where all the parties happen. Kaleydo's Master Villa doesn't just include a 32-foot-long private swimming pool with a built in hydromassage. The price also packs in airport pickup service, fresh fruit, a 15 minute foot massage and free access to bikes, snorkel kits and reef shoes. In 2016, Kaleydo was featured on Luxury Travel Guide Magazine's Best Luxury Villas of the Year list, as well as Booking.com's Guest Review Awards, where it scored a 9.5 out of 10.
Make Your Money Work for You
Freycinet Lodge — Tasmania, Australia
Nightly Rate, Premier Spa Cabin: About $399
Tasmania might not be the first destination that jumps to mind when you think of luxury resorts, but Freycinet Lodge is about to change all that. This Great Oyster Bay retreat subs out the typical palm trees for a backdrop of the rugged Hazards Mountains, offering outdoor enthusiasts a slew of activities in the Freycinet National Park. The $399 Premier Spa Cabin is the biggest splurge, featuring an in-room double spa bath surrounded by granite, a private balcony and direct access to Richardson's Beach, but don't sleep on Freycinet's special offers, like the $235-per-night Winter Wine and Dine, which features slightly less fancy accommodations but throws in breakfast for two, a bottle of wine and a $100 food and beverage voucher for the Freycinet Lodge.
Sweeten the Deal: 16 Luxury Hotels That Offer Free Perks
Meliá Palma Bay — Mallorca, Spain
Nightly Rate, Level Two-Bedroom Suite: About $340
Mallorca is just popular enough to be hip, but just hip enough to fly under the radar — at least for now. It might be a favorite destination for royalty, but the masses haven't discovered it, yet. Located right alongside the Paseo Marítimo seafront promenade, Meliá Palma Bay is your ticket to experiencing Mallorca in ultra-modern style, without (completely) breaking the bank. A rooftop pool, wellness spa, and the Mediterranean-style Trasluz Restaurant all nail the luxury resort vibe, and the room doesn't hurt either. The 775-square-foot Level Two Bedroom Suite includes a full pillow menu, Korres-provided bathroom amenities, an espresso machine and a minibar stocked with organic products.
Avila Beach Hotel — Willemstad, Curacao
Nightly Rate, Simon Bolivar Suite: About $550
You know you're getting into splurge territory when you're talking about a one-of-a-kind suite named after a famous person. For $550, that's what you get at with Avila Beach Hotel's Simon Bolivar Suite, which features a whopping 1,544 square feet of bamboo floors, full living room, master bedroom with walk-in closet, Bose stereo system, two bathrooms, walk-in shower, and personal board room. If you can find you way out of all that space, you'll find two private beaches that'll make you understand why Curacao is famous for its sapphire water.
Make Your Money Work for You
Pier House Resort and Spas — Key West, Florida
Nightly Rate, Dockside Suite: About $425
If you'd rather go classic with a Key West splurge, Pier House Resort and Spas is worth a look. Featured on U.S. News and World Report's list of the Best Key West Hotels, Pier House covers all the luxury resort checklist items: An onsite spa and sauna, a private white sand beach, personalized concierge service, heated outdoor pool and not one but two bars, and perhaps most unique of all, its own Tesla car charging station. This classically styled resort's Dockside Suites hit the splurge sweet spot, as each suite has its own living room and master bedroom, as well as an Infinity Balcony resting directly above the ocean that's made for taking in Key West's signature sunsets.
For More Splurges: Hotels Around the World Only the Super-Rich Can Afford
About the Author