35 Things Your Hotel Will Give You for Free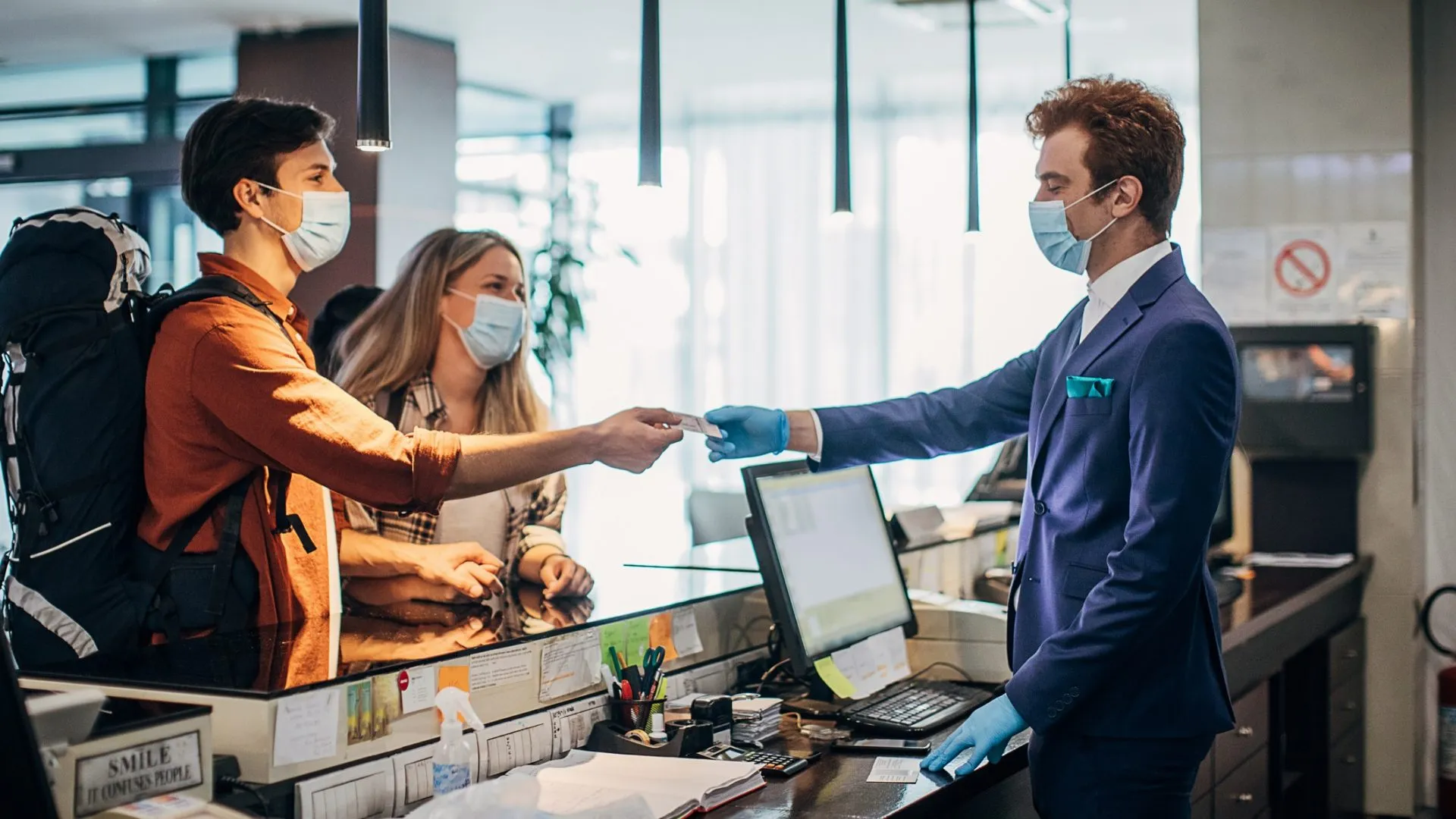 As you pack for your summer vacation, you can leave some things at home. Shampoo and conditioner? Your hotel will have that waiting for you. Pen and a notepad? Ditto. Those are among the many freebies hotels typically offer to travelers.
You don't have to be a member of the upper crust to score some free perks on your next hotel stay. Even budget-friendly hotels provide some nifty freebies to encourage a return trip or a recommendation to friends and family. Freshly baked cookies, designer bath products and even yoga mats are among the perks many hotels provide to keep their guests happy.
For travelers who can afford a trip to the elite hotels, some things hotels provide at no charge are downright luxurious. No matter which group you fall into, call your hotel or check out its website in advance to see what freebies it offers to make your stay that much more enjoyable.
Read on for a look at 35 free things, from the functional to the fun to the fabulous, that travelers can find at hotels.
Body Pillow
You can look forward to a good night's rest with a super-soft body pillow by your side. You won't typically find these as part of the bedding package or stowed away in a hotel closet, but you can request a special delivery for the ultimate sleep experience at some hotels. You won't pay a dime for this luxury travel perk.
The Benjamin in New York City gives you the option of requesting a 5-foot body pillow, along with other types of pillows, through its exclusive Pillow Menu. Just place your order and look forward to dream time.
Make Your Money Work for You
DJ Mixer
Turn your suite into a club and play DJ for the day at any of the Hard Rock Hotel locations. The hotel encourages guests to play music to their heart's content with its Sound of Your Stay program.
You can also request one of 20 guitars as a free hotel amenity if you just want to rock out alone for a few hours, along with a Fender Mustang floor amplifier. Build an incredible pop-up studio without ever leaving your lushly appointed room.
Netflix Access
If a busy day of traveling calls for cozying up on your plush bed for movie night, sign in to your Netflix account at a Marriott property. Skip the pay-per-view costs by watching your favorite shows and movies for free. When you check out, your account information will be deleted automatically.
Warm Chocolate Chip Cookies
Some hotels offer you a treat when you arrive. For example, DoubleTree by Hilton provides fresh chocolate chip cookies to guests checking in. If you get hooked on these delicacies, you can order a six-cookie tin to enjoy at home.
Magnetic Card Keys
Your magnetic card key is recycled when you check out, but if you want to keep yours as a free souvenir — especially if it has a unique hotel logo or cool picture — go right ahead. Hotels expect guests to leave their key cards in their rooms or drop them at the front desk at checkout, but they are easy to replace so don't sweat it if you find yours at home while unpacking.
Make Your Money Work for You
Beer Tap
The DogHouse Hotel & Brewery in Columbus, Ohio, carries the beer theme throughout its 32 rooms. You buy the beer, and you'll get free use of the tap inside your room as you settle in.
Designer Soaps, Shampoos and Lotions
Soap, shampoo, conditioner and lotion are standards at hotels, but some properties take it a step further. In 2020, W Hotels introduced personal care items from Italian luxury line Davines Group. If you love the products in your room, it's perfectly acceptable to ask for a few more at the front desk.
Bikes
If you prefer to travel by bike or are staying in a bike-friendly city, ask at the front desk if the property offers free bike rentals. The Kimpton Muse Hotel in New York City, for example, encourages guests to check out a bike to explore the city at their leisure.
Luxury SUV…
The Weekapaug Inn in Rhode Island, through a partnership with Volvo, has complimentary luxury SUVs from the manufacturer available for guests on a first-come, first-served basis for either a daytime or nighttime trip to explore the region.
…Or Maybe a Bentley
Not to be outdone, Rancho Valencia Resort & Spa in Rancho Sante Fe, California, provides guests with free use of one of the Bentleys in its fleet. If guests like their test ride, Bentley of San Diego is standing by to outfit them with one of their own.
Personal Care Items
If you forgot your razor or shaving cream, don't fret. Just make a quick call to the front desk for a miniature shaving kit that includes everything you need for a smooth shave on the go. The same goes for toothpaste and toothbrushes, and hotels often stock travel-size deodorant or mouthwash and even makeup-remover wipes.
Make Your Money Work for You
Pens and Notepads
If you love stationery and are enamored with the hotel's logo, don't forget to pick up a few extra pens and notepads. Most hotels leave at least one of each in the room for guests' use. Because these are marketing materials for the hotel, don't be shy about requesting a few extras upon checkout if you want to take home souvenirs or just need to cut back on your pen budget for the month.
Herbal Tea
Most hotels offer complimentary coffee and tea service in the room, so you can make your favorite drinks using the in-room coffee maker. Those herbal and black tea bags sitting in the caddy are yours for the taking.
Kayaks
Hotels on the shore often offer beach toys at no charge since you can't easily travel with them. Explore the waters of the East Coast by kayak when you stay at The Wauwinet on Nantucket Island, Massachusetts. The hotel also has paddleboards, beach chairs and beach umbrellas among its complimentary offerings.
Laundry Bags
Unless the hotel uses canvas or cotton bags for laundry, you can go ahead and swipe those laundry bags hanging in the closet to pack dirty clothes and shoes for the road.
Slippers
Those cushy slippers emblazoned with the hotel logo aren't likely to be reused — they're hard to wash and maintain. Unless the hotel has fancy slippers listed as a paid amenity, you can go ahead and slip these hotel freebies into your luggage when you're ready to check out.
Make Your Money Work for You
Car Service
If you're staying in a luxury hotel, chances are good that the property has a house car to transport guests for free. In fact, The Brown Palace Hotel and Spa in Denver offers a car service to guests within a 5-mile radius. Should you use the car service at the Hotel deLuxe in Portland, Ore., you'll be shuttled in a Rolls-Royce.
Travel Guides and Maps
Many hotels have maps of the area or travel brochures in the lobby. These are typically dropped off by a partner travel company or similar organization that isn't looking to sell the guides for profit. Feel free to take home these travel resources unless you see any price stickers on them.
Shoe Shine Kit
If you forgot to pack your shoe polish but need to keep your shoes in tip-top shape for a business meeting or other special event, your hotel could have a kit of polish, brushes and other items.
Sewing Kit
These miniature kits usually cost a couple of dollars at the drugstore, but many hotels are fully stocked with them for their guests. You might not find them in your toiletry amenities basket in the bathroom, so if you want one, check with housekeeping or the front desk.
Make Your Money Work for You
Cell Phone Chargers
It could be a disaster if you forget your cell phone charger when you depart for your trip. Fortunately, many hotels now have chargers available for use during your stay at no cost.
Hypoallergenic Pillows
You don't have to worry about packing hypoallergenic pillows — or buying a pillow during your trip — to ensure a good night's sleep. Many hotels have hypoallergenic pillows available for guest use. You can call the property ahead of time to make your request, and the facility will ensure your bed is outfitted with the desired pillows during your visit.
Yoga Mat
Whether the hotel offers onsite yoga classes or not, it might have yoga mats available for guests to use. For example, Kimpton Hotels provide yoga amenities for those inclined to practice their favorite poses on the road. The hotel chain puts a mat in every room to use during your stay so you can remain fit throughout your trip.
Books
Some hotels offer lending libraries, so you can borrow books for your stay. The hotels typically offer a wide selection of titles, including books for children and teens, so kids in the traveling party can stay busy during longer trips.
Movie Screening
If you're in the mood to see a classic movie on the big screen, you're in luck, as some hotels now offer movie nights. You can save money on movie tickets and pay-per-view fees at venues such as the Whiteface Lodge in picturesque Lake Placid, New York. The 56-seat, surround-sound theater has three screenings a day, including kid-friendly films. Grab some complimentary fresh popcorn on your way in.
Microwave and Mini-Refrigerator
Many hotels offer free, in-room microwaves along with a mini-fridge, so you can refrigerate and reheat those restaurant leftovers or even make some morning oatmeal for the kids. Cut meal costs by booking your stay at a hotel that offers this combo.
Make Your Money Work for You
Dog Treats
Pet-friendly hotels will do whatever they can to make your furry friend feel right at home. Kimpton Hotels, for example, provide free food bowls and pet beds for guests traveling with their animals. And the 1 Hotel near Central Park in New York dishes out a welcome treat for every pup.
I'm a Self-Made Millionaire: These Are the 6 Investments Everyone Should Make During an Economic Downturn
Goodies for the Kids
If you're traveling with kids, sometimes it's the little things that can help them feel at home. The Omni Los Angeles Hotel at California Plaza offers free room service delivery of milk and cookies for the little ones on the first night. Kids also receive backpacks filled with games and goodies when they arrive.
Drinks and Snacks
You don't have to venture to the nearest wine bar to wind down after a hectic day. Many hotels, such as the Embassy Suites by Hilton, hold an evening reception that includes complimentary alcoholic beverages, snacks or a light appetizer. Registered guests are welcome to attend at no extra cost.
Margaritas
Check in to the Hotel Emma in San Antonio and head to the property's library, where you'll be served a complimentary La Babia Margarita. The drink, made of freshly squeezed lime juice, orange liqueur and premium tequila, is served in an azure-colored, hand-etched glass.
Outdoor Necessities
Planning a day of fishing or hiking? The Blair Hill Inn & Restaurant in Greenville, Maine, will send you off with complimentary necessities that include an environmentally friendly "to go" bottle of its own artesian well water, fruit and a healthy snack bar, bug spray, tanning lotion (or an umbrella instead, if needed), and hiking guides and maps.
Housing Market 2023: Prices Are Now So High That Banks Are Losing Money on Mortgages
Make Your Money Work for You
Room Upgrade
You might not have to pay a pretty penny for a room with a view or a quieter suite if you ask nicely for an upgrade upon arrival. Many hotels have more desirable rooms available at the last minute and can accommodate your request at no extra charge.
In-Room Exercise
It's easy to stay in shape with free gym access at the hotel, but if you want a more socially distanced workout? The Hilton New Orleans Riverside has the answer. Ask at the gym to borrow a Stay Fit kit, which has what you need for yoga, recovery and strength/cardio workouts.
More From GOBankingRates
Sabah Karimi contributed to the reporting for this article. 
Photo disclaimer: Some of the images in this article are representational and do not depict the actual products or businesses.