What Are US Hotels Doing Now To Ensure Guests Can Book With Peace of Mind?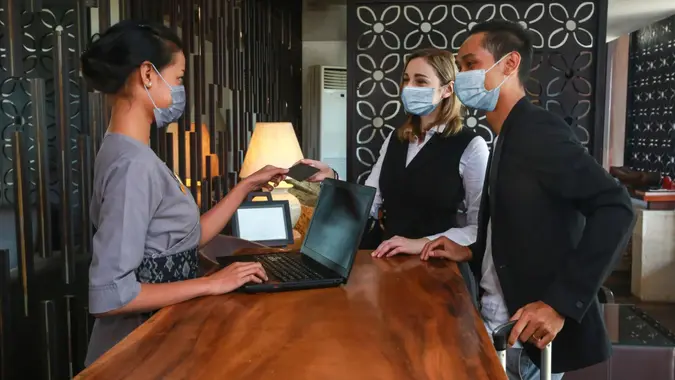 Space_Cat / iStock.com
You've been waiting more than a year to travel, and you're finally thinking about booking a trip. While the COVID-19 pandemic is still very much here, things are getting markedly better, thanks to the vaccine rollout.
Read: Airfare Still Low, But Rising Quickly as More Americans Travel
In fact, as of April 2, more than 157.6 million doses of the COVID-19 vaccine have been administered, according to the Centers for Disease Control and Prevention. Whether you're already fully vaccinated or will be soon, you're probably beyond ready to pack a bag and get out of town.
You're not alone with this sentiment, as nearly 1.6 million travelers passed through TSA checkpoints on April 1. This is nearly 12 times the 124,021 passengers screened on the same day in 2020.
If you're like many people, travel involves booking a hotel room. Understandably, you might be a bit hesitant these days because you want to make sure you don't lose money if you ultimately decide to cancel your reservation.
See: Why It's Smart To Book Your Late 2021 Travel Now
Avoiding Losing Your Deposit
To book a hotel without losing a deposit, always pay attention to cancellation deadlines specific to your reservation, said Alex Miller, founder and CEO of travel site UpgradedPoints.com.
"Canceling by this time almost always ensures you'll not be charged any penalty," he said. "Outside of this, pay attention to what rate you're booking under — many AAA, government or corporate rates include flexible cancellation policies where you don't lose any deposits."
Make Your Money Work for You
In most cases, you probably won't be asked to put down a deposit for your stay, according to Miller.
Research: 10 Credit Cards To Consider for Travel Rewards
"While you will find some deposits in high tourist areas or at extremely fancy hotels, deposits are by and large not as prevalent as they used to be," he said. "There are some rates you can book under that will avoid any necessity to pay a deposit, but most hotels operate under a book now and so long as you cancel by the cancellation deadline, you won't be charged."
One common exception is advanced purchase reservations, due to the steep discount, said Halee Whiting, founder of Hospitality With a Flair, a hotel sales service company.
"Keep an eye on cancellation policies when you book," she added. "Most hotels these days have very lenient policies."
More: How To Plan Future Travel Without Risking Your Deposits
Getting a Discount on Your Stay
If you're hoping to score a discount on a hotel, you'll likely be in luck — as Miller said, there are currently tons of incentives to book travel.
"They're offering extra loyalty perks, more included benefits — such as breakfast or upgrades — and reduced rates," he noted.
However, if you're leery about travel and want to book additional health services through your hotel, you probably won't find too many options.
"Some hotels will allow you to pre-pay for COVID-19 tests, but this is really the only health service that some hotels are allowing you to pre-pay, or charge to the room," Miller said.
Make Your Money Work for You
Whiting said some hotels are also offering travel insurance through a teledoc company.
Read: COVID-Safe Travel Plans To Make Now To Save Money
Airbnb vs. Hotels
Due to the prevalence of Airbnb and the potential to book a larger space more conducive to social distancing, you might be thinking of taking this route instead of a hotel.
However, Miller said hotels have a much easier booking process than Airbnb.
"Hotels provide a much more flexible cancellation policy. And even in cases where you pass a deadline, they are much more amenable to a refund, since there is oversight from the larger corporate chain," he said. "Hotels are also cheaper to book in many cases, due to the wide variety of discounts available."
See: Americans Are Ready To Travel Again: Here's How Much They Plan To Spend on Vacations This Year
More important than ever amid a global pandemic, Whiting also noted that cleanliness measures aren't always the same between individual Airbnb properties and hotels.
"Hotels have regulated cleaning standards where Airbnb does not," she said.
If you don't want to book a hotel without first ensuring the company's pandemic cleaning levels meet your needs, just check its website. Major chains like Hilton, Marriott and IHG offer detailed guidelines of their current cleaning protocols online.
More: What Travel Agents Say About Planning for Trips in 2021 and Beyond
More so than ever, now is the time to read the fine print when booking travel. From carefully reviewing cancellation policies to learning about COVID-19 cleaning initiatives, being informed will give you the peace of mind needed to reserve a room with confidence.
Make Your Money Work for You
More From GOBankingRates
Last updated: April 7, 2021