Why It's Smart To Book Your Late 2021 Travel Now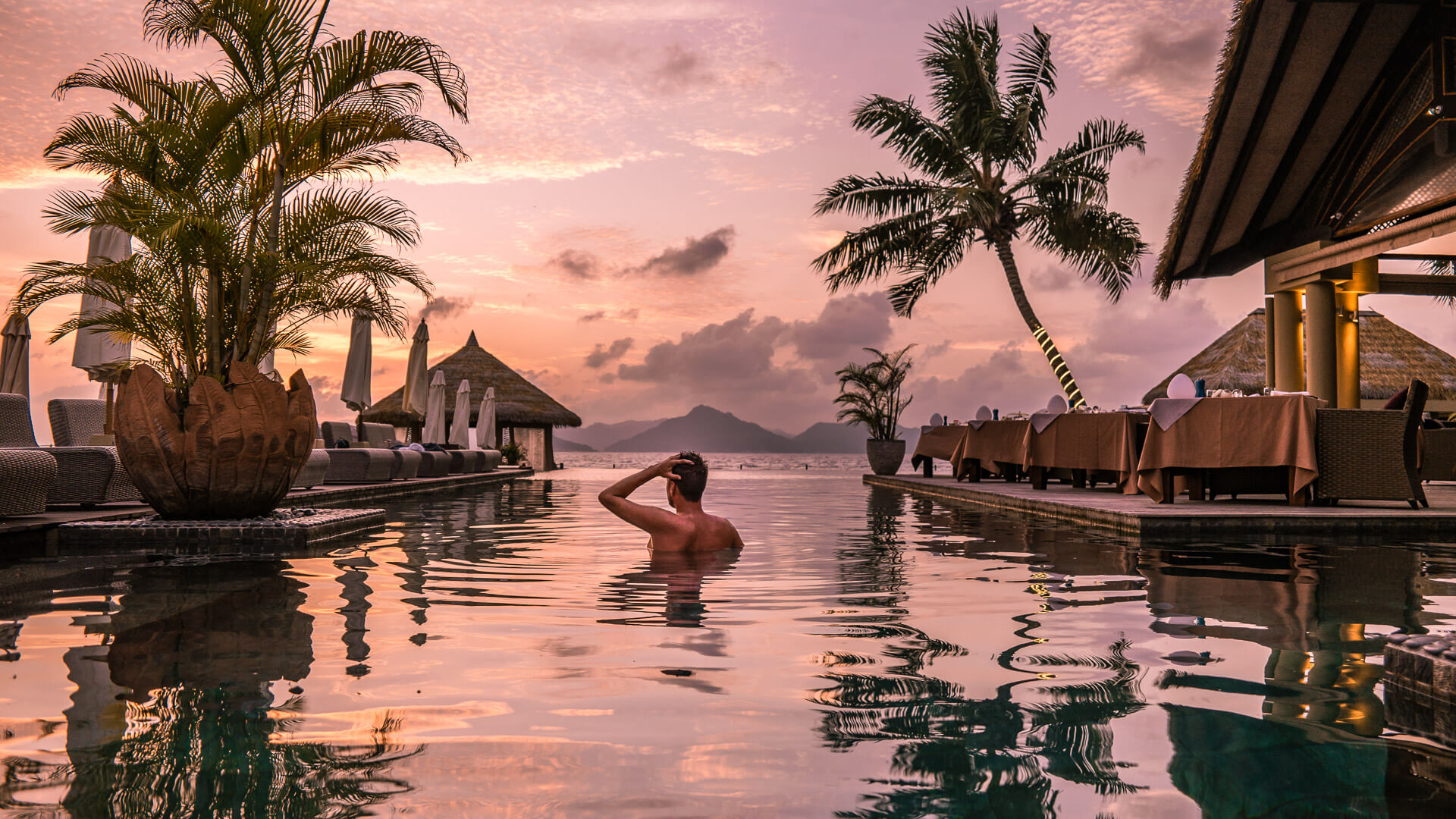 ©Shutterstock.com
The coronavirus vaccine rollout has been happening slowly but surely, and President Joe Biden recently said that he anticipates that the vaccines will be available to everyone in the U.S. by spring. Given his projection, it may be safe to travel come the fall and winter — so should you book your travel for the latter half of the year now? Here's why some travel experts say you should.
Airfares Are Low Now — But They May Not Be in a Few Months
"Airfares for 2021 are at extremely low prices now — fares that would ordinarily encourage any person to hop on a plane in non-COVID times," said Alex Miller, founder and CEO of the travel site UpgradedPoints.com. "Because of flexible airline cancellation policies, it's better to book now and think later regarding 2021 trips. As the vaccine is rolled out more and travel becomes more widely accepted, we are likely to see fares increase as demand increases."
Even if you book a flight that's less-than-ideal, you'll likely be able to change it as your travel date gets closer.
Make Your Money Work for You
Sponsors of
Read: How To Keep Your Financial Planning on Track in 2021
"With increases in demand, we'll also see increases in the amount of planes in the sky and new routes as well," Miller said. "Booking early allows you to take advantage of airline schedule changes, which inevitably happen this far in advance. When this happens, you're able to ask your airline to put you on more desirable flights. Even if you book something now that doesn't quite fit your schedule or desired routing, you're likely to experience an airline-initiated schedule change which will allow you to move to something better."
Cruise Prices Are Also Likely To Surge in the Latter Half of the Year
"I expect cruise prices to be considerably higher for travel in the second half of 2021," said Tanner Callais, founder and editor of Cruzely.com, a website about everything cruising. "If someone knows they will want to cruise, then now is the time to book in my opinion."
Callais notes that he does not think cruises will start back up until the vaccine is widely available, but if you book now and your cruise ends up being canceled, you shouldn't have any issue rebooking for a later date.
Find Out: Popular Companies Set To Make a Comeback in 2021
"The best news is that cruise lines have offered refunds to passengers with canceled cruises, often at 125% if they simply rebook another cruise," he said. "So even if you book and cruises aren't back yet, you'll still get your money back."
Plus, you may be able to lock in special promotions if you book now.
"Cruise lines have typically offered their best rates and promotions during the January to March timeframe, and this year is no different," said travel journalist David Yeskel, aka The Cruise Guru. "Travelers can lock in attractive rates plus extras like free drinks, free Wi-Fi and even roundtrip airfare on many voyages through 2022. And waiting until summer to book may not yield the best values since many cruise lines will limit capacity on their initial sailings, likely making those aforementioned discounts and perks scarce."
You Can Save Big on Hotels Too, But Pay Attention To the Cancellation Policy
Make Your Money Work for You
Sponsors of
Hotel demand is also likely to increase as the year progresses — which means prices are likely to increase, too — so if you see a great deal now you should hop on it. Just double-check that your deposit is fully refundable if you cancel within a certain timeframe.
"If you can score a great hotel at a good rate with a 100% refund policy, go for it," said Matthew Meier, founder of MaxTour, which leads small group tours in Las Vegas. "You can always cancel if you find a better deal or plans change."
Planning Ahead: Expenses You'll Have Again in 2021 That You Completely Forgot About
Now is an especially good time to book trips at high-end hotels and resorts.
"Prices right now are, in several cases, the lowest we've ever seen, especially for high-end resorts and destinations, and the value-add options, like upgrades and extra experiences, are bolstering the appeal of booking now," said Tiera Fekete, associate producer at Travelzoo. "Once demand begins to drive prices upward, many of the values we are seeing right now will likely become a lot tougher to find."
As a general rule of thumb — even in non-pandemic times — you'll get better hotel deals the earlier you book.
"I'm always a big proponent of booking early," said Victoria Heinz, a travel blogger and founder of GuideYourTravel.com. "I've managed to snag some of the best deals booking at least six months in advance."
Travel Packages for Later in the Year Are Already Booking Up
If you're looking to book a small tour, yacht trip or other excursion, you may not be able to book your trip for this year if you wait too long. Andre Robles, managing director of Voyagers Travel Company, which specializes in tours of the Amazon rainforest and the Galapagos Islands, said that many late 2021 dates for excursions are already booked up.
"Many of the bookings we had in 2020 postponed for the second half of 2021, therefore many yachts that offer live-aboard cruises in the Galapagos Islands are already fully booked for the summer and autumn season," he said. "We have started to get new requests for trips to the Galapagos Islands for 2022."
Learn More: 40 Pandemic Airport Secrets Only Insiders Know
Suzanne Bratton, content coordinator at TripShock, an online travel agency, recommends booking small group tours for the latter half of the year ASAP.
"One of the biggest travel trends of 2020 and the beginning of 2021 is choosing small group or private excursions," she said. "With so many people choosing these tour types over the traditional large group outings, availability is scarce. In order to create the safest and most spectacular vacation in 2021, it is highly recommended to book tours and activities in advance, as this will guarantee availability for you and your group."
It's Good To Have Something To Look Forward To
In addition to saving money and ensuring your dream vacation isn't booked up by the time you feel safe to travel, booking a trip now can also be good for your mental health.
"Many travelers are happier during the planning and anticipation stages of their trip than after they return," said Alex Ziselman, an expert travel advisor with A2Z Travel LLC.
And after a very rough few months, we could all use a little mental health boost.
More From GOBankingRates