Resources For When You Can't Afford Veterinary Care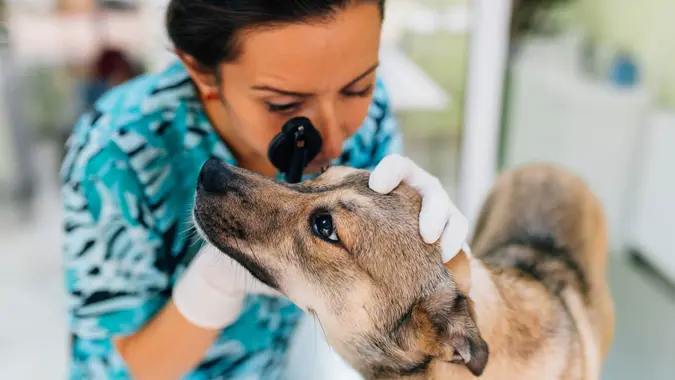 razyph / Getty Images/iStockphoto
"I can't afford a vet."
No pet parent wants to say those words. When pets get sick or injured, responsible animal owners seek the assistance of a qualified veterinarian. However, veterinary care isn't cheap. The good news is that there are resources out there to help if you can't afford a vet.
Learn: 3 Ways Smart People Save Money When Filing Their Taxes
Veterinary Care Resources
Not all pet owners will have the money to pay for a vet visit upfront. Alternative financing options can help owners take the best care of their pets.
1. Talk With the Veterinary Provider
Pet owners who don't have the money to pay for a vet visit are smart to negotiate with their service provider. Sometimes, veterinarians can offer a personalized payment plan, especially if a pet needs immediate care and the owner doesn't have the funds to pay for treatment. 
For instance, veterinarians who partner with VetBilling.com often customize their customer's payment plans, allowing pet owners to stretch their repayments over time.
Make Your Money Work for You
2. Look Into a Financial Assistance Program
Various assistance programs offer payment help for pet owners who meet certain financial restrictions or other requirements. For example, Red Rover Relief provides urgent care grants for pet owners who need immediate medical help for their animals. Individuals who meet specific requirements can obtain funding, which averages around $250.
Frankie's Friends is another non-profit agency that gives funding for pets that need emergency medical care. To qualify, the pet must see a licensed veterinarian, and the owner must demonstrate financial need. 
3. Consider Crowdfunding for Financial Help
Crowdfunding may be an option for pet owners who are willing to communicate their pet's stories on social media. Waggle is a pet-specific crowdfunding resource that allows owners to use customized templates they can share through Facebook, Instagram and local media. Once a campaign ends, Waggle transfers the raised funds directly to the veterinarian provider, which can improve the credibility of a campaign.
While not specifically for pets, GoFundMe is another crowdfunding resource owners can use to seek funding from their family members, friends and acquaintances. Like Waggle, GoFundMe allows pet owners to explain their circumstances and tell others what they need to care for their animals. GoFundMe campaigns are shareable via social media, email and text messages.
Make Your Money Work for You
4. Check Out CareCredit
CareCredit is a specialized credit card that you can use for medical services, including veterinary care for pets. Pet owners who need financial assistance can apply online or call CareCredit. Those who qualify may receive 0% interest on their charges for up to two years, so long as they make minimum monthly payments.
To use CareCredit, the veterinarian must accept the payment method, so pet owners should check with their providers to ensure they allow CareCredit payments before applying for the card. Upon approval, CareCredit cardholders can use their credit line for all types of veterinary services, including annual check-ups, disease treatment and emergency care.
5. Look For Local Help
The Humane Society lists dozens of organizations that offer financial assistance to pet owners in states nationwide. Consider checking its resources to find discounted medical care, from sick pets to discounted immunizations. 
For example, pet owners in San Diego can apply for emergency veterinary assistance through the FACE Foundation. Those living in Albuquerque, New Mexico may benefit from Animal Humane New Mexico, which offers a donor-subsidized veterinary clinic. 
Make Your Money Work for You
Cost of Vet Care
According to CareCredit, a routine vet check-up can cost as much as $250, while cancer treatment can cost $4,000.
Location can also impact the cost of treating an animal. For instance, a typical annual office visit to the vet in Chicago can result in an estimated $70 expense. That same visit is much cheaper in Oklahoma City, where a veterinary office visit averages $58. In Brooklyn, that same visit runs about $75 — and those are all prices just for the office visit, not including immunizations, teeth cleaning or other regular expenses.
Final Take
Owning a pet is a significant financial responsibility. While animals can offer companionship, finding the money necessary for their care is not always easy. The above options can provide a starting point for obtaining essential funding, especially in critical times of need.
FAQ
Having a sick or injured family member and struggling with medical bills is extremely stressful, and that's no different if the family member is a pet. Here are the answers to some questions you might have about what to do if you can't afford veterinary care for your pet.
What do vets do if you don't have money?

If you are unable to pay your bill after your pet has been treated, the veterinarian is legally entitled to keep your pet. They are not legally allowed to euthanize the animal, but they are able to sell it if no payment is made within 10 days.
However, many vets will be willing to set up a payment plan with you, so you should contact them to discuss your options.

What can I do for a sick dog with no money?

There are many ways to raise funds to cover vet care for your pets, including crowdfunding with sites like Waggle or GoFundMe, a medical credit card like CareCredit that is valid for veterinary charges or just asking your vet for resources or a payment plan.

Can you negotiate with a vet?

Yes, you can negotiate with a veterinarian. They may not be willing or able to bring the price of their services down, but they can often set up a payment plan to make the financial burden a little easier to handle.
Our in-house research team and on-site financial experts work together to create content that's accurate, impartial, and up to date. We fact-check every single statistic, quote and fact using trusted primary resources to make sure the information we provide is correct. You can learn more about GOBankingRates' processes and standards in our editorial policy.
Make Your Money Work for You