Experts: How To Tackle Tough Money Conflicts as a Couple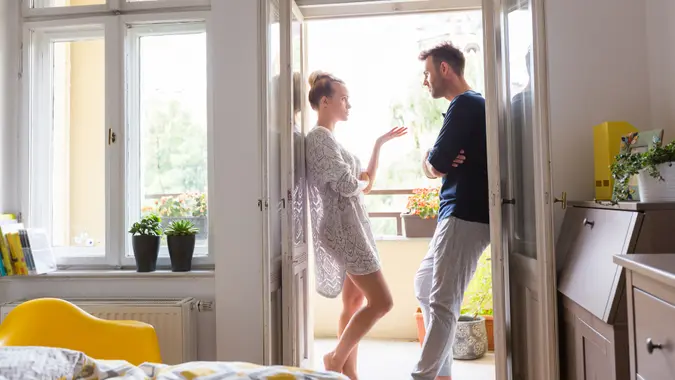 izusek / Getty Images
It's no secret that money problems are relationship killers, and it's also no secret that the cure is conversation. Even so, most couples continue to avoid the tough talks about household finances.
Costco's Best Deals? Employee Reveals 10 Standout Buys for Your Money
Tips: 3 Ways Smart People Save Money When Filing Their Taxes
A new GOBankingRates survey of more than 1,000 adults shows that more than half of people in relationships talk with their significant other about money either "never" or "not much." Fewer than one in five reports discussing money "a lot," while the rest converse about it only "sometimes."
While few people look forward to confronting the subject of money with their partners, avoiding difficult talks only increases the odds that what could have been a simple conversation now will fester into a knock-down, drag-out argument later down the road. With that in mind, here are some tips from experts on how couples can tackle money conflicts.
Make Your Money Work for You
Talk Early To Learn Where the Other Stands
Even the most compatible partners can have wildly different backgrounds, experiences and points of view regarding finances. Identifying those differences now is the key to navigating them later. 
"Money conflicts among couples are often caused by differences in spending habits, values around money and expectations related to financial support or contributions," said Andy Kalmon, CEO of the personal finance site Benny. "To work through them, couples should strive to create a plan that reflects their shared goals while also providing space for individual needs and preferences. Additionally, they should take time to discuss each other's perspectives on money openly and honestly in order to build trust and prevent further conflict."
Take Our Poll: Are You In Favor of More Inflation Relief in 2023?
Talk About Money the Way You'd Talk About Anything With Someone You Love
While fighting about mismatched money perspectives is bad, keeping quiet to avoid confrontation can lead to resentment and simmering frustration. Of course, both silence and hostility are two extremes that don't solve any relationship problems.
On the other hand, open, honest and empathetic communication is a winning formula — so why deviate now?
"Money is often a big issue between couples, especially when it comes to deciding on a budget and how to allocate finances," said Jake Hill, CEO of DebtHammer. "Arguments often stem from differing expectations or views on what's important and necessary to spend money on."
Make Your Money Work for You
Hill continued, "To help navigate these conflicts, couples should remember to remain empathetic and patient with one another when discussing their different perspectives and priorities. Open communication helps couples move towards an equitable solution that both are happy with. Establishing financial goals together can also be helpful in strengthening your bond while creating a plan for the future."
Be Honest About Your Financial Profile, Warts and All
People tend to put their best foot forward at the start of a relationship, but once things get serious, both parties must be willing to show their financial cards before they merge their money or buy mutual assets — even if one of them isn't holding a particularly pretty hand.
"It's vital to come clean about your credit histories, particularly if you decide to borrow money together, such as for a home," said Matt Gromada, managing director and head of Youth, Family and Starter Banking at Chase Bank. "One of the biggest mistakes couples can make is taking on debt together without thinking through and discussing the lasting implications."
Make Your Money Work for You
And remember, there's no rule that couples ever have to merge their money in the first place. "It can be beneficial to keep separate accounts for car loans, credit cards and student debt," said Gromada.
Create a Plan That Balances Out Lopsided Finances
In any relationship, it's likely that one person earns more, saves more or spends more than the other. Those nagging differences can be overcome as long as both parties are willing to work out a plan to bridge the gaps. 
"Many couples have wildly divergent incomes, credit ratings and perspectives on spending, which can raise questions on the best way to divvy up expenses," said Gromada. "Together, you should come to an agreement that you both consider fair and reasonable. For example, if one of you earns considerably more than the other, you might decide to contribute money to joint expenses based on a percentage of your income rather than splitting them evenly."
If Nothing Else, Get on the Same Page About the Big Stuff
Two people might never be able to agree on the coffee shop lattes or extra streaming services, but couples can navigate diverging financial perspectives if they can at least find harmony on the big-ticket items. 
"One of the most common money conflicts, especially when it comes to young couples, is large purchases," said Donald Williams Jr., founder of Adulting Starts Here. "Most couples agree that large purchases like a car or house are necessary and will eventually happen. The issue arises on the timeline of when, which can be a point of contention.
"Let's say both partners agree that they want to buy a car. One partner might suggest buying the car now with financing. The other partner, instead, might want to save up the cash necessary to buy the car in full, which will ultimately delay the purchase of the car. How do you come to an agreed-upon plan? Money conversations like this can often make or break couples."
More From GOBankingRates
Make Your Money Work for You