6 Veteran Salespeople Reveal How to Convince Anyone to Buy What You're Selling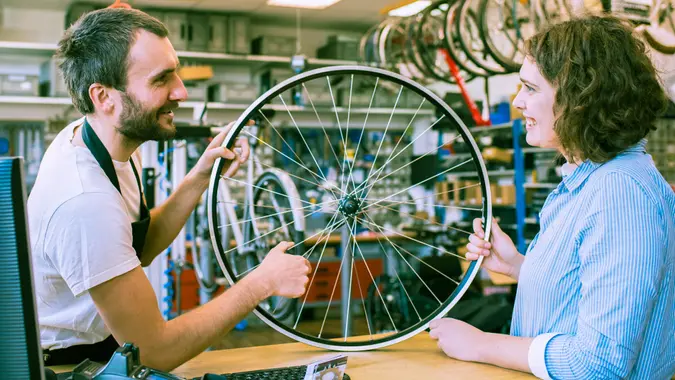 industryview / Getty Images/iStockphoto
Understanding how to sell something is an important skill to have — it's not just for people who work in sales for a living. You can employ basic sales tactics whether your goal is to land a prospective client for your business, unload a used car or convince your husband to take you to Magic Mike Live in Las Vegas. (That last one is called a "hard sell.")
To get the best sales advice, GOBankingRates turned to real salespeople with years of experience closing deals. Their smart strategies will help you learn how to sell anything to anybody.
Find Out: How to Write an Elevator Pitch That'll Score You New Business
1. Don't Make Assumptions
John Hill, a sales professional with more than 15 years of experience, started the management consulting company Adapted Growth in 2018 to aid entrepreneurs and small teams in their sales and growth objectives. He said that the first step in learning how to sell someone on something is to avoid making assumptions.
Make Your Money Work for You
"Salespeople often will accept an answer if they perceive it to work in their favor, but will dig in on answers that they think don't help them," Hill said. "If someone says, 'I am ready to make a change,' don't get excited; ask them for more information. This will position you as a consultant who really wants to understand and not [as] a salesperson who is trying to sell [to] them."
2. Mirror the Person
Devin Beverage, a business growth strategist at Dev Bev Co, has been in sales for over five years, selling everything from condos to DirecTV products and services. He advised using the old "monkey see, monkey do" strategy.
"If he or she crosses their legs, cross your legs. If they pronounce espresso, 'expresso,' say it that way, too. If they talk slowly, I strongly urge you to talk slowly, and if they're a quick talker, vice versa," he said.
Beverage said people tend to like others who are similar to them, so mirroring the other party will make your proposition seem more appealing. Of course, if your prospect is British, that doesn't mean you should go so far as to adopt their accent — subtlety is the key.
Make Your Money Work for You
Related: Use Your Body Language to Win Mentors and Earn Raises
3. Use Reverse Psychology
Erick Sabelskjold has worked in sales for over 20 years and is the CEO of Vinito Wine Funds. He said you can actually use the reasons that a person shouldn't accept your offer to your advantage.
"None of us like to be told we can't do something, and this is deeply implanted in our subconscious," Sabelskjold said. "So in the sales process, there is always a tipping point that a prospect will feel they are being 'sold' to. Ninety percent of salespeople ignore this and rush in to try and sell the prospect, [but] the prospect's subconscious kicks in and knows they are being sold. At this point, I don't sell. I push away. I say things like, 'Are you sure this is right for you? Maybe you're not ready,' or 'I should give you time to think about this.'"
Sabelskjold said it might sound crazy, but reverse psychology works.
4. Be Genuine
Josh Forester works in sales and marketing at Towel Tracker, a company that helps hotels and fitness clubs manage towel usage and prevent theft through tracking technology. When asked how to sell anything to anybody, Forester responded, "One sales technique … is this: Be genuine and find out what they need."
Make Your Money Work for You
He said that getting too caught up with making a sale is a big no-no, as prospects can sense when you are being disingenuous and greedy. "I know I always strap on my battle armor [when] I walk into any situation where I know a hungry salesman is gunning for my money," Forester said.
5. Provide Three Options
Mike Raines has been selling life insurance for over 30 years, and he currently owns and operates Raines Insurace Group. "What I find works for me … is to offer three choices: low cost, medium cost and higher cost," he said. "People don't want to seem cheap, nor do they want to overspend, so they choose the middle option." Raines has seen this happen time and time again and said you can use the three-choice strategy no matter what the situation is.
"For instance, if your wife wants to plan a summer vacation but you really don't want to spend a ton of money, say, 'We could take 1) a quick trip locally to the mountain, 2) a weeklong trip to the beach or 3) a trip to Europe," Raines said. "She would most likely agree to the second one — a week at the beach. This is really what you wanted her to say anyway since you didn't want to spend the money on a trip to Europe."
Read More: Negotiating Tips and Tactics for a Better Salary
6. Follow Up
Beverly Friedmann is a content manager for the consumer website ReviewingThis, with over seven years of experience in sales at companies like L'Occitane en Provence and Malin+Goetz. "I would always suggest actively following up," she said. "Even if your proposal, lead or sale doesn't work once, it doesn't mean it's a completely lost deal. Usually, a good rule of thumb is trying three times before you know you're out of the game."
Don't think it'll work? "I've politely reached out by phone before to see if there was still interest after a few days and still made a sale," Friedmann said.
Click through to discover ways you can build a powerful network.
More on Making Money
We make money easy. Get weekly email updates, including expert advice to help you Live Richer™.
Make Your Money Work for You