How To Plan Social Events With Friends When Everyone Is on a Different Budget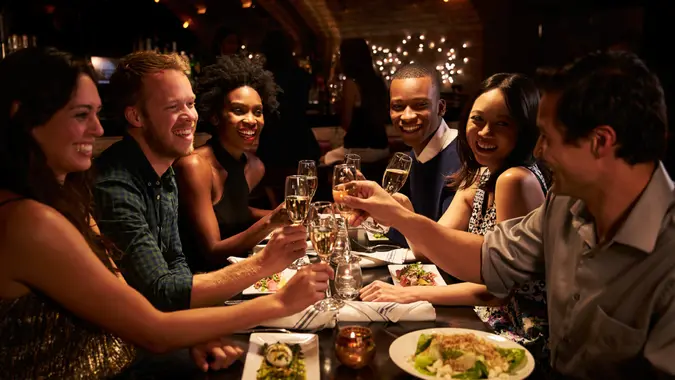 ©iStock.com
Getting together with your friends might be the highlight of your week, month or year — it's something that everyone looks forward to. If your friends are on different budgets, however, getting together can bring some unwanted stress along with joy.
Read: Rising Gas Prices: The True Cost of Going Electric
Learn: 27 Ugly Truths About Retirement
With a little communication and careful planning, here are several solid tips to planning social events with your friends when everyone is on a different budget.
Talk About the Bill Before You Go Out
The time to find out how to split a bill is before, not after, you go out, according to Shaun Gray, owner of Shaun Gray Events, LLC, an event and wedding planning firm. "Establish right from the beginning how the bill will be split. Once that has been decided, share the restaurant menu with the group ahead of time, so that there is no weird energy or surprise during the event."
Make Your Money Work for You
Ask People What They Can Afford
Don't assume that everyone can afford the same goods and services when you get together or plan an event. Gray urges, "Decide as a group what everyone is comfortable spending. Then designate someone to shop for the group. That person collects the money via Venmo or Cash App, and the person buys all of the food and beverages for the event. The group meets at a condo roof terrace, or a park, somewhere that's free, but still feels like the group is out doing something, and not cooped up in the house."
Think Creatively
Get creative with your solutions and think outside of the box, recommends Samantha Hawrylack, a personal finance expert and co-founder of How To FIRE. "There are many free or low-cost activities that can be just as fun as more expensive ones. Get creative and explore your options."
Instead of going to a movie theater, for example, have a movie night at one of your friend's homes, says Danielle Miura, CFP, founder and owner of Spark Financials "Instead of going to a fancy restaurant, support a local food truck. If you plan to go out to eat, find an area that has multiple restaurants to choose from, like a food court, so that there are expensive and less expensive options."
Make Your Money Work for You
Poll: Do You Think Student Loan Debt Should Be Forgiven?
Be Willing To Compromise
You may have to shift your expectations if you or your friends can't pay as much as others, Hawrylack says. "If your friends want to go to a more expensive place, be willing to meet them halfway. If you go somewhere more expensive this time, maybe the next few outings/events can be somewhere cheaper or free. This way, everyone can still have a good time without anyone feeling left out."
Alternate Plans
Additionally, there are ways to alternate plans so that everyone is happy over time, Miura says. "Sometimes with a group of friends it is difficult to find an activity that everyone wants to do. Have each person in the group write down an activity that they want to do and each time you plan to meet pull one idea out of a hat."
Make Your Money Work for You
She adds, "Creating a gathering with friends doesn't have to be difficult. In your group of friends what do you have in common? Based on your similarities, you may be able to do very inexpensive activities together. For example, if a group of friends like to go to the gym, then meet at the gym for yoga class. If it's a group of moms, meet at the library for a mommy and me class."
Avoid Last Minute Plans
One way to make sure there are no unexpected costs associated with going out is to make plans in advance, Hawrylack says. "If you have ample notice, you will have more time to plan and save. This can also help to avoid last-minute scrambling and potentially prevent you from overspending."
Look for Deals and Discounts
There are many ways to save money if you are willing to look for them, Haywrylack says. "Research ahead of time and see if there are any coupons or discounts available. You may be surprised at how much you can save!"
Pick a Day of the Week When Prices are Cheaper
Don't always schedule your gatherings on the priciest weekend days if possible, suggests Guadalupe Sanchez, founder of Budgeting in Blue. "Consider hosting an event on a weekday such as a Wednesday or Thursday. Most people only attend social gatherings on weekends so it's always a nice break from the weekly grind to have a fun event during the week. This tip is also applicable when hosting events that require travel. For example, tickets are less expensive when flying out in the middle of the week versus on a weekend."
Work off the Lowest Budget
"If you're planning to get together at a restaurant, make sure you choose an option that will be conformable for the individual with the lowest budget," Sanchez suggests. "That way, when it comes to splitting the check, everyone is comfortable with what they have to pay."
Include Free or Low-Cost Options
Strive to arrange for plans that don't come with a high price tag, says Julie Ramhold, a consumer analyst with DealNews.com. "Obviously if your plans aren't free to begin with then you probably won't be able to offer an entirely free option. But you may be able to mitigate the costs by planning low-cost alternatives around the big activity. For instance, if you want to have a meal together, try to plan a lunch out as prices tend to be cheaper than at dinner time."
Host a DIY Night
There are so many ways to have fun that don't require going out, Ramhold points out. "Rather than heading out to your favorite restaurant or bar, consider having a DIY night where you and your friends learn recipes. There are virtual classes and to help cut costs, you can split the supply list among you so that no one person is footing the entire bill. By doing something like this at home, it'll be far more interesting than just another night out, and you'll be learning something new in addition to saving money."
Additionally, you can simply invite people over informally, says Dr. David McConaghy, a psychiatrist and co-founder of ByRossi. "Make your home a place for hosting a party. It is quite possible to spend quality time with friends without ever leaving the house. Additionally, it's good to have a comfortable atmosphere at home where you may spend hours eating at a fraction of the cost of restaurants."
More From GOBankingRates
Make Your Money Work for You