Romance Scams: FBI, Zelle and Catfishing Expert Nev Schulman Offer Guidance for Valentine's Day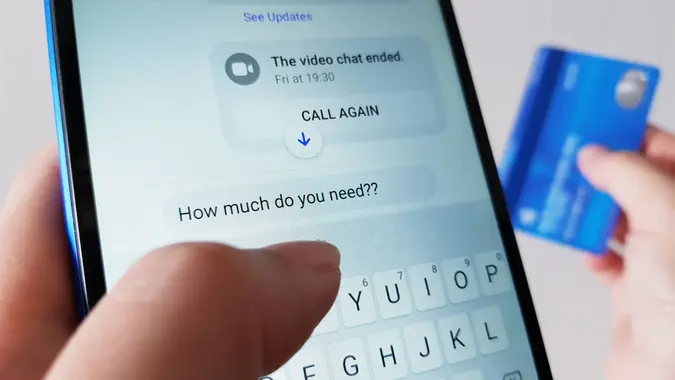 celiaosk / Getty Images/iStockphoto
Valentine's Day is here and Cupid has drawn his bow — unfortunately, so have many con artists. "Catfishing and Scam Awareness," a recent report from peer-to-peer payment platform Zelle, found that significantly more consumers in Q3 2022 reported being the victim of a "catfish" or were scammed on a dating app or website (10%), compared to consumers in Q1 (4%).      
'Worst Valentine's Day Surprise': Why Women's Underwear Costs Exceed Men's
More: Debt Is Romantic Dealbreaker for 37% of Americans This Valentine's Day
To help combat the problem of romance scams, Zelle teamed up with romance scam expert and host of MTV's "Catfish," Nev Schulman, to educate people on how to identify red flags and avoid scammers. 
GOBankingRates caught up with Schulman to learn about the most popular types of romance scams out there this Valentine's Day, and how to best protect one's self in the world of online dating. 
Make Your Money Work for You
3 Common Scams 
"Romance scammers tell all sorts of believable stories to con people, but the most common tactic they rely on is an appeal to your emotions, either through claims of a financial or health crisis," Schulman said. "Here are a few examples of some specific romance scams."
The Military Romance Scam 
"The scammer poses as a member of the military with the hopes of connecting emotionally to the intended victim," Schulman said. "However, when the victim wants to meet up, the scammer is supposedly always traveling or unavailable. Once the victim is emotionally invested, the scammer will start sending requests for money to help pay for their flight home, a medical emergency, etc."
The 'Camera Isn't Working' Scam 
"After taking the time to build an intimate emotional relationship with someone, the scammer will then ask the victim for money or other favors," Schulman said. "When the victim tries to reach out to the person to video chat or see them in person, the scammer always has an excuse for why their camera isn't working or why they are unavailable to meet."
The Money Transfer Scam  
"The scammer often claims to need help getting their inheritance money or moving funds for an important business deal," Schulman said. "The scammer convinces the victim to help them transfer the money as a favor."
Make Your Money Work for You
How To Protect Yourself From Online Romance Scams 
Here are Schulman's top tips for self-protection from romance scams. 
"Talk to someone you trust and pay attention if your friends or family say they're concerned about your new love interest." 
"Do a reverse image search of the person's profile picture to see if it's associated with another name or with details that don't match up."
"Search online for the type of job the person has, along with the search word, 'scammer.'"
"Check to see if other people have posted similar stories to your situation."
"Don't let anyone rush you into sending money."
"If you suspect you have been interacting with a romance scammer, stop communicating with the person immediately," Schulman said. 
Take Our Poll: What Are Your Financial Priorities in 2023?
FBI Warnings
The Federal Bureau of Investigation offers the public guidance about romance scams on its website. "Con artists," it reads, "are present on most dating and social media sites."
"Cyber criminals use any information they can find about you to gain your trust, build a relationship, and ultimately steal your money or personal identifiable information (PII)," said Susan Ferensic, Special Agent in Charge of the FBI Columbia Division.
Make Your Money Work for You
According to the FBI, here are some warning signs that someone may be attempting to deceive you in a romance scheme:
Immediate attempts to communicate outside of a dating site
They want to meet in person but give excuses why they are not able to
Claims to be from the U.S. but is living or traveling abroad
Says that being introduced was "fate"
Has a sudden personal crisis and asks for financial assistance, usually money through untraceable means like Venmo, PayPal or gift cards.
Disappears from a site and reappears using a different name
Asks for money, financial assistance or goods without having met in person — "Typically, they explain they have an owed debt, need financial assistance, or they ask for travel funds," according to FBI
To avoid becoming a victim, the FBI recommends these methods of protecting yourself:
Be more discreet about what you post online and don't share personal information
Reverse image search suspected scammer's photo to see if it is widely used stock imagery or linked to another name or social media profile
Never send money to someone you have not met in person
Report the incident to the FBI by visiting www.ic3.gov
More: 3 Social Security Scams Tied Directly to COLA
Social Security Money Tight? 10 Ways AARP Recommends Saving on Food
Report any activity to the FBI's Internet Crime Complaint Center (IC3) if you believe that you're a victim of a romance scam. If you see suspicious transactions, contact your financial institution immediately. You should also report this activity to the website or application where the initial contact was made.
Selena Fragassi and Josephine Nesbit contributed to the reporting for this article.
More From GOBankingRates
Make Your Money Work for You