8 Alternatives That Are Cheaper Than Amazon Prime's Services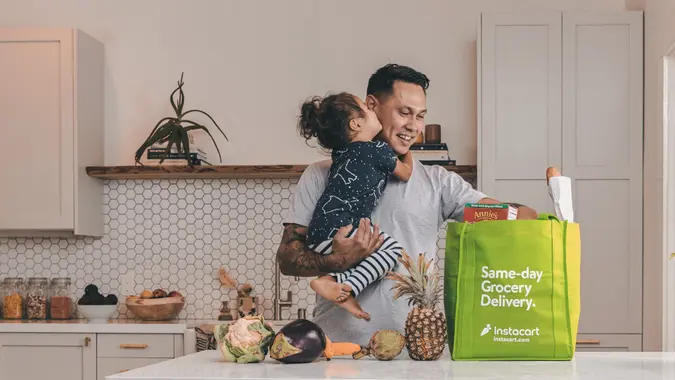 Arturo Torres / Instacart
Amazon Prime is a popular streaming service, and for good reason. It has a lot to offer, such as video streaming, music, games and online shopping. But many people who have a monthly or yearly subscription to Prime don't take full advantage of it, rendering many of these services a waste of money.
Right now, a regular subscription to Amazon Prime is $14.99 a month, or $139 annually. For those who qualify for student membership pricing, the cost is $7.49 a month, or $69 annually. Prime Video membership costs $8.99 per month. This doesn't include taxes though, which you may need to pay — depending on where you live.
If you only use one or two of Prime's key services and are looking to cut costs, there are several affordable alternatives that could save you money. Many of these options have better or comparable services or features to Prime — at a fraction of the price.
Target RedCard
Prime Delivery comes with free shipping on an array of essential items, ranging from household goods to pet supplies to apparel. In some cases, you can even get free same-day delivery from stores located near you.
But you can also get free two-day shipping when you use your Target RedCard. The credit card comes with other perks as well that you wouldn't get with Amazon Prime, like being able to save 5% every time you shop.
Make Your Money Work for You
Walmart+
Walmart has its own membership program called Walmart+. It offers free shipping on orders, regardless of order size or cost. Depending on what you buy and where you live, you could even get next-day delivery.
Walmart+ also comes with video streaming through Pluto TV and Paramount+, a fuel savings program, early access for certain dates, and other special rewards and perks. It comes with a free 30-day trial, after which it costs $12.95 a month.
"I really like my Walmart+ membership for $98 a year," said Scott Lieberman, Founder of Touchdown Money. "I mostly use it for free grocery delivery which is super convenient. I also like that it comes Paramount Plus streaming where I like to watch Frasier, Bob Hearts Abishola, and Bar Rescue."
Instacart
A cheaper alternative to Amazon Prime for groceries is Instacart. With Instacart, you can get groceries from places like Aldi, Petco, Safeway, Costco, Publix and more.
You don't need to pay a monthly subscription for this service, and you can get same-day shipping when you spend $35 or more. There may be a delivery fee, however.
Another option if you do all your grocery shopping online is Instacart+. This service comes with same-day delivery and up to 5% in-store credit back. It costs $9.99 a month, or $99 annually.
Apple Music or Spotify Premium
Many Amazon Prime members use it for music streaming. But if this is the main reason you still have the service, you may want to consider switching to a cheaper alternative like Apple Music or Spotify.
Make Your Money Work for You
Apple Music comes with a free 30-day trial, after which it costs $10.99 per month. It includes spatial audio, customized playlists for offline listening, live radio streaming and more. And, if you purchase an Apple audio product, you may qualify for up to six months free.
Similarly, Spotify Premium costs $9.99 per month and comes with ad-free music, downloadable music and a large assortment of music. Or if you want to cut costs completely, you can simply use Spotify for free — albeit with limited features.
Hulu or Disney+
Amazon Prime Video includes a large array of movies and series, but so do cheaper options like Disney+ and Hulu. With Hulu, for example, you can access original series not available anywhere else — starting at $7.99 a month, or $79.99 annually.
Alternatively, you can bundle Hulu and Disney+ for $9.99 a month. And if you're an avid sports fan, you can add ESPN+ for $3 more.
"My favorite budget-friendly option that has great titles is Disney+, which is only $7.99 per month, and it never disappoints either, offering huge selections from popular studios such like Pixar, Marvel, and National Geographic," said Will Basta, CEO of Ascend CapVentures. "Hulu without live TV offers an impressive library of TV episodes, movies, shows as well as 'Hulu Original' content which starts [at] around $7 a month."
Kindle Unlimited
Prime members get access to thousands of books, comics and magazines, but you can cut costs by switching to Kindle Unlimited. While still an Amazon product, this service only costs $11.99 a month and comes with millions of books and audiobooks. It also comes with a free trial.
Make Your Money Work for You
Google Photos
"One other secret Amazon Prime members can use is unlimited cloud photo storage space, which is an amazing value add," Basta said. "With such an attractive and rarely maximized membership perk at your disposal, you'll never have to worry about losing digital memories or running out of photo storage ever again."
You can also store up to 5GB worth of videos for free with your membership. But if you primarily use Prime for this, consider Google Photos instead. With Google, you can store up to 15GB of videos, photos, and other content for free. If you want a little more, you can get a Basic plan with 100 GB of storage for $1.99 a month.
Xbox Live
Prime Gaming comes with a library of free games and a free monthly Twitch subscription. But you may benefit from switching to a cheaper option like Xbox Live.
"If you're on, let's say, a specific console, Xbox Game Pass Ultimate and PlayStation Plus are excellent options for gaming enthusiasts who want to enjoy cloud-based gaming," Basta said. "And for between $14 and $20, people looking strictly to play games can unlock an array of cloud-based and downloadable gaming titles and options all included under one membership."
Bottom Line
Ultimately, Amazon Prime offers a lot of great services, but it's important to consider what you actually use and whether it's worth the cost.
Make Your Money Work for You
"I think the first thing to remember is that Amazon Prime is not just a music service, a gaming service, or a video service," said Mac Steer, owner and director at Simify. "It's all of those things and more, and that's what makes it so useful. If you're looking for an alternative, you need to look at what you're trying to accomplish and then find something that does it better — or at least as well — in each individual area."
More From GOBankingRates