Dave Ramsey Just Shared His Top 10 Money Traps To Avoid — and You've Probably Fallen for Most of Them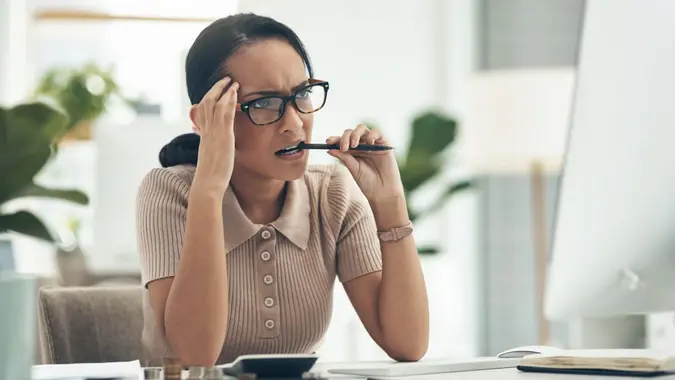 PeopleImages / Getty Images/iStockphoto
Personal finance guru Dave Ramsey is famous for his no-nonsense, tough-love insights. Not everyone agrees with him, but many of his hard-and-fast rules exist for good reason: to help people avoid losing or wasting money that could serve them in retirement. Are you paying heed to his wisdom? Here's a look at 10 money traps to avoid, according to Dave Ramsey. 
Payday Loans
Payday loans are advances on your next paycheck that people may take out when they're running low on cash and can't wait — or don't want to wait until said paycheck arrives. It's best to avoid these loans, convenient though they may be.  
"Payday loans are a slippery slope into a debt-building cycle that isn't easy to escape," reads a post on the Ramsey Solutions website.   
Whole Life Insurance 
Whole-life insurance is the most common type of permanent life insurance, according to the Insurance Information Institute. It remains in effect as long as the insured individual continues paying their premiums, offering a specified death benefit and dividends on the savings portion of the policy. And according to Dave Ramsey, it's terrible. 
"We don't want you to get ripped off, we do want to see your family well protected, and we for sure want your financial future to include wealth and the chance to become self-insured," reads Ramsey Solutions blog post. "The only kind of policy that lets you hit all those goals is term life. But whole life misses the mark in every department."
Make Your Money Work for You
Debt Consolidation Loans 
When steeped in high interest debt, consumers may opt for a debt consolidation loan. With this maneuver, a person combines several high-interest debts into one loan with a fixed monthly payment. Though they have proven to be helpful for many, Ramsey is staunchly against them. 
In response to a reader of New Castle News in 2022, Ramsey shared the following: 
"Here's the big reason debt consolidation isn't a good idea. It makes you feel like you truly did something to change your whole financial outlook when you didn't. When you move things around, or suddenly have a lower payment each month, you end up thinking you're making real progress. The thing is you didn't do anything to address the actual problem — which is you."
Adjustable Rate Mortgages 
An adjustable-rate mortgage, or ARM, is a home loan with an interest rate that adjusts over time based on the fluctuations of the market. The loans usually start with a lower interest rate than fixed-rate mortgages, which makes them attractive to homebuyers. They are distinctly unattractive to Ramsey. 
"After a few years, that low-interest dream turns into a high-interest nightmare," Ramsey penned on Ramsey Solutions. "It's like when someone attractive catches your eye, then you realize they're a jerk."
Car Leases 
If you don't want to invest in a new car, you can always lease one. But Dave Ramsey certainly will not approve. 
"I get that the idea of driving around the latest, flashiest set of wheels without having to actually buy it can be pretty tempting," a post reads on Ramsey Solutions. "But listen, the hit your budget takes as a result is not — and I repeat, not — worth it. You can't build true wealth if you're going into debt just to look rich."
Make Your Money Work for You
Timeshares 
By now it's no secret that time shares aren't always all they're cracked up to be, and first in line to tell you that is Dave Ramsey. He has called timeshares out as having no investment value, being nearly impossible to resell and being saddled with rising annual and maintenance fees. 
"Timeshares are a scam," reads a post on Ramsey Solutions. "For so many reasons. Stay far, far away from signing that dotted line."
Credit Cards 
Credit card debt is at an all-time high, with Americans adding over $1 trillion to the country's total debt load in 2022, as GOBankingRates previously reported. It's because credit cards are debt traps that Ramsey is against them. He frequently has voiced his belief that people should buy things in cash instead of with a credit card. 
Student Loans 
Again, Ramsey is not a fan of debt, and that includes student loan debt. 
"There's an uncomfortable situation we need to look at in this country . . . the student loan crisis," reads an August 2022 post on Ramsey Solutions. "This debt disaster has become way too big and serious to ignore — and it's affecting the lives of millions and millions of people. Right now, the total amount of federal student loan debt in the U.S. is over $1.76 trillion. You guys, that's mind boggling." 
The post went on to say, "Here's the thing: Higher education is great, but taking out a loan isn't the only option to get that education. Not only does student loan debt weigh down your future (and stress you out), it also has a serious impact on the future of our country."
Make Your Money Work for You
'Same as Cash' Financing 
Same-as-cash financing is a deferred-interest lending solution where a borrower owes no interest or monthly payments during a set promotional period that usually lasts from 90 days to a year, according to FTL Finance. They're flashy deals and can be appealing, but in Ramsey's opinion they're bad news. 
"Same-as-cash contracts are a financial bear trap," Ramsey once posted on Facebook. "They are designed to convert into payments." 
401(k) Loans  
Dave Ramsey is passionate about Americans having enough money to retire — so it makes sense that he'd be appalled by 401(k) loans.
"While borrowing from your 401(k) might sound appealing if you're in a pinch, you'll find that a 401(k) loan is not a lifeline — it's a trap that could wreck your financial future," a post on Ramsey Solutions reads. In addition to putting your retirement savings at risk, you'll pay double taxes on the amount your borrow.  
More From GOBankingRates