'Drip Pricing' Is Costing You More on Everything From Airline Tickets To Takeout — and You Might Not Even Realize It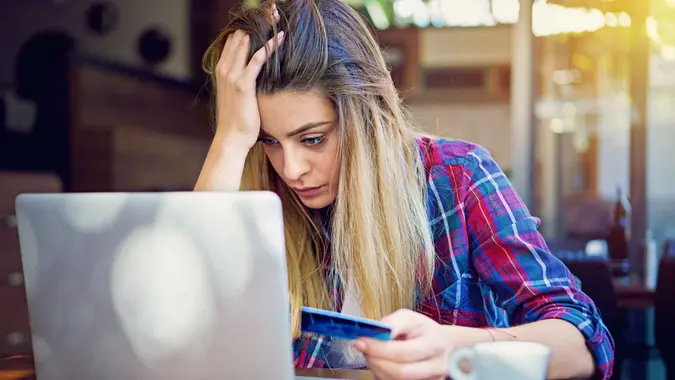 praetorianphoto / Getty Images
Whether you're booking a flight or placing an order on Postmates, it's likely that you're going to encounter "drip pricing." The total price you pay for the flight ticket is rarely the initial price you are quoted once you add on taxes, seat selection, baggage fees and other upgrades. And when you order food delivery through an app, you often get stuck paying delivery fees, service charges and more. This is drip pricing at work.
According to the Federal Trade Commission, "drip pricing is a pricing technique in which firms advertise only part of a product's price and reveal other charges later as the customer goes through the buying process. The additional charges can be mandatory charges, such as hotel resort fees, or fees for optional upgrades and add-ons. Drip pricing is used by many types of firms, including internet sellers, automobile dealers, financial institutions and rental car companies."
The idea is that once you are already in the buying process, you will just pay these fees whether you want to or not.
"Let's call drip pricing what it really is — junk fees," said Todd Stearn, founder of TheMoneyManual.com. "As consumers, we all hate them. These fees are meant to trick us into thinking the cost is lower than it actually is."
While you may not be able to avoid these fees, knowing where you're likely to encounter them can help you be a more educated consumer.
Drip Pricing in the Travel Industry
Booking travel often means dealing with drip pricing — which makes it challenging to find the lowest available price.
Make Your Money Work for You
"When you book a hotel room, you often don't see the true final price until the very end of the process," Stearn said. "This makes it frustrating to compare prices from different websites. The hotel will 'drip' the various taxes and resort fees and so on as you go further in the booking process."
Booking flights also comes with the same pitfalls.
"Airlines make it challenging to compare apples to apples because many airlines advertise a cheap price, but then they drip in the exorbitant checked bag fees, a fee to select your seat and various other fees," Stearn said.
Drip Pricing in Food Delivery Apps
That craving for pizza or pad Thai may cost you more than you were bargaining for when you order through an app.
"Drip pricing is also prevalent with national food delivery apps," Stearn said.
Other Times You May Experience Drip Pricing
Another common purchase that comes with unexpected fees are concert and sporting event tickets.
"We're all now conditioned to know that the first price isn't actually the price," Stearn said. "The pain is coming right as we try to check out."
What's Being Done About It
Although drip pricing is prevalent right now, there are some moves being made both on the government level and the individual company level to scale back this practice.
"It's so nearly impossible to avoid drip pricing without boycotting these services altogether that Congress is considering passing new legislation called the Junk Fee Prevention Act," Stearn said.
Make Your Money Work for You
Until that passes (if that happens), however, the best way to defend yourself against drip pricing is to be selective about where you make your purchases.
"Besides refusing to use services that hit you with junk fees, you can switch your loyalty to the few companies that are more transparent with their pricing," Stearn said.
"For instance, Southwest Airlines is pretty clear about what you do and do not get with their pricing — you get two free checked bags, but you do not get to pick your seat assignment or boarding priority without paying for upgrades. With hotels, Marriott has promised to show a price that includes all the junk fees, such as resort fees, upfront — no hiding them until the end. You can click a button on their site to add in the taxes and government fees that you usually wouldn't see until the end."
More From GOBankingRates