Gen Z: How To Save Even When It Feels Impossible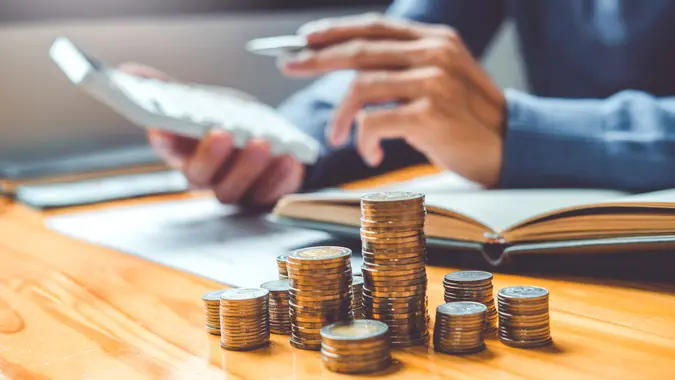 SARINYAPINNGAM / Getty Images/iStockphoto
If it seems like every 20-something you meet is a victim of impulse-buying through Instagram ads and always complaining about never having enough money, you probably aren't far from the truth. 
Heading into 2023, Gen Z is facing challenges that are holding some in this generation back from making the best decisions for their bank accounts. From threats of an impending recession to high inflation rates to job market uncertainty, there are several factors that make financial goals such as saving money feel near-impossible for this generation.
The Future of Finances: Gen Z & How They Relate to Money
Learn More: 3 Signs You're Serious About Raising Your Credit Score
For many Gen Zers, their financial reality might look like working a part-time job for minimum wage on top of a loaded college class schedule while experiencing increasingly unaffordable rent rates. With the majority of their paycheck going toward rent and living essentials, they are left with very little to contribute to savings. Compounded by the loss of study abroad, internships and other opportunities during the pandemic, many of them are focusing on present and short-term financial goals.
Make Your Money Work for You
If you are a Gen Zer, here are some easy and actionable tips for saving money in what feels like an impossible climate.
Cash Back and Coupon Apps
You'll be hard-pressed to find a Gen Zer who goes anywhere without their phone. What better way to save more and earn money than by using apps that will take care of the hard work for them?
"There are many apps available that offer cash-back opportunities for shopping at various stores, both online and in person. Some popular options include Rakuten, Honey and Ibotta," said Andrew Latham, certified financial planner and managing editor at SuperMoney. "These apps allow you to earn cash back on purchases you were already planning to make, which can help you save money over time."
Take Our Poll: Do You Have a Second Job or Backup Plan in Case You Are Laid Off?
The '10-Second Rule'
Gen Zers are more inclined to put their money in companies that align with their values. They are also the generation who uses TikTok the most, an app prone to promoting overconsumption. With Gen Zers experiencing constant pressure online to spend money and support causes they feel passionate about, it's important for this group to be able to think critically before making a purchase.
Make Your Money Work for You
"Before making an impulsive purchase, give yourself 10 seconds to think about whether you really need the item," Latham said. "This can help you avoid making rash decisions that you may regret later."
Shop Alone
It might sound unusual, but a great way to spend less is by shopping without distractions or unhelpful influences. 
"Shopping with friends or family members can be fun, but it can also lead to peer pressure and impulse-buying," Latham said. "Try to do most of your shopping alone, so you can make purchasing decisions based on your own needs and priorities."
If you prefer shopping with others, don't hesitate to say no to your friends' persuasion and take a few minutes to assess your cart privately before checking out to avoid any spending regrets. While your friends will forget what you bought in a few minutes, a poor financial decision can weigh on you for far longer. 
Pay With Cash 
Gen Z faces extreme pressure to spend money from their peers and role models — particularly on social media. If you are struggling to fight the urge to spend, consider visiting the ATM and taking out some cash.
Make Your Money Work for You
"When possible, use cash instead of credit or debit cards," Latham said. "Studies have shown that people tend to spend more when using credit cards, as the abstract nature of money can make it feel less real. Using cash can help you stay more aware of how much you're spending and avoid overspending."
Never Go Shopping Sad 
If you've ever gone to the grocery store hungry, you know the urge to buy every food item in sight. Similarly, shopping when you're sad can lead to purchases you might regret later.
"Studies have shown that our emotions can influence our spending decisions," Latham said. "Try to avoid shopping when you're feeling sad, stressed or anxious, as this can make you more vulnerable to making emotional purchases."
Track Your Expenses
While this tip is nothing new, one of the best ways for Gen Zers to honestly assess their financial situation is by keeping track of their income and expenses. 
"Whether by paper and pen or using one of the helpful tools out there (like Mint, You Need A Budget or Tiller), take a clear-eyed, realistic look at your expenses," said Hallie Krais, CFP and financial planner at The Humphreys Group. "Keep in mind that it's just data — and after analyzing a few months of that data, you'll likely be inspired to make spending shifts to balance out the price increases you're experiencing."
With many Gen Zers feeling the strain of managing of a very tight income stream and living paycheck to paycheck, tracking expenses can be a helpful way to eliminate excess spending. It might be time to cancel the subscription you use the least or start dining in rather than eating out. The best thing about these money management apps is they are nearly effortless — all you need to do is sync your account to your bank and they automatically categorize your spending for you. 
More From GOBankingRates
Make Your Money Work for You