I Got My Expenses Down to 50% of My Income and Here's How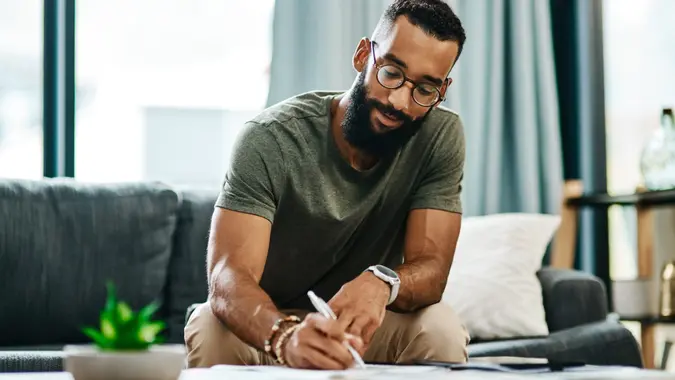 katleho Seisa / Getty Images
I didn't originally set out to live on 50% of my expenses. I just wanted to stop living paycheck to paycheck. Still, I got there in the end.
For those looking to do the same, I wish I could say I put together a simple budget, started couponing and 50% of my expenses just magically melted away. That's not what happened, though.
No, when reflecting back, there were three primary factors — ones that I'll share with you — that helped me reduce my expenses and take control of my personal finances.
Figure Out If You're Being Paid Fairly
Money might not buy happiness, but more money will certainly decrease how much of your paycheck your bills devour each month. Unfortunately, making that money is sometimes a challenge.
One study actually found employees who stay in companies longer than two years may get paid up to 50% less over the course of their career. Early into my career, I made this very mistake, staying at the same job, hoping for a menial raise here and there.
However, I eventually realized that by leveraging my experience to get a higher salary at a new company every few years, I was able to increase my salary steadily and substantially, which helped me pay down my debt faster.
I advise young professionals struggling to make ends meet to ensure they're in growing career fields that will continue to exist into the next decade. To see if this is true, I recommend tools like the government's Occupational Outlook Handbook, which will tell you projected growth, median pay, educational requirements and other information of interest.
Make Your Money Work for You
There is also a growing movement to increase wage transparency on websites like Comparably, GlassDoor, PayScale and even LinkedIn. These resources can help measure your salary compared to your peers.
Knowing this information is truly invaluable. It can be used to determine whether you're fairly compensated or not, and if it might be time to move to another company or career to avoid salary stagnation. You should be doing this kind of market comparison every two to five years.
Make Your Discretionary Expenses Fixed Expenses
The three largest expenses for the average U.S. household budget in 2021 (the most recent year the data was made available) were housing (34%), transportation (16%) and food (12%). Just three expenses account for almost 60% or more of the average household's expenses.
Typically, housing and transportation are variable expenses. Stated another way, phrases like "affordable housing" and "cheap transportation" are often oxymorons.
I realized significant savings by dedicating any available extra income to pay off my used car early. I drove that car-note-free vehicle for another five years after the final payment. During that time, I made it a priority to keep my living expenses as low as possible through cohabitation and choosing a property that met my needs, but equally important, fit within my budget.
Every dollar saved on these expenses was put towards debt reduction, retirement accounts and other financial goals. These were short-term sacrifices for long-term dreams.
Create a Budget You Can Actually Follow
A simple starter budget is the 50/30/20 Rule, so named because you work towards limiting your monthly after-tax income to no more than living expenses (50%), entertainment (30%), and retirement, debt payments or savings (20%).
Make Your Money Work for You
You always hear that only two things are certain in life: death and taxes. Well, there's one more: bills. The sooner you make peace with this reality, the sooner you can move towards finding a budget that works for you. Budgets are like diets: The "diet" that has the best result tends to be the one you actually follow.
Instead of temporarily budgeting, I look at lifestyle changes I can make permanent by aligning them with my personal financial goals. This makes it easier to stick to my budget, which actually now has much more wiggle room since I've grown the gap between my expenses and income. And I've done this by consistently following the practices outlined above year after year.
More From GOBankingRates
Laura Beck contributed to the reporting for this article.