Is the Costco Executive Membership Upgrade Worth It?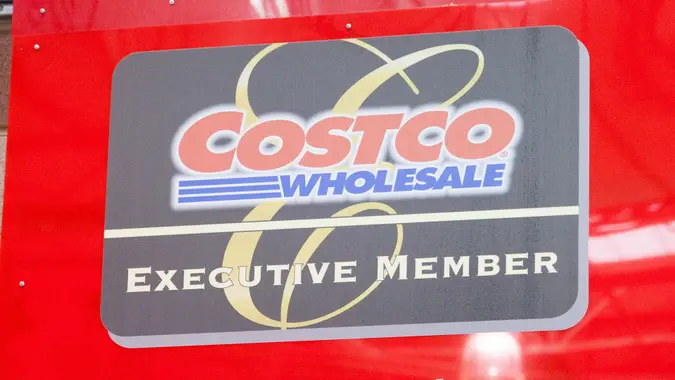 Chase Brock / GOBankingRates.com
Costco is an exclusive club, but all members aren't on the same level. Whether you currently have a membership and are thinking of upgrading or plan to join in the near future, you want to make sure you choose the right option for your household.
Costco's Best Deals? Employee Reveals 10 Standout Buys for Your Money
See: 3 Signs You're Serious About Raising Your Credit Score
The standard option, the Costco Gold Star Membership, costs $60 per year, while the Costco Executive Membership is $120 annually. You're interested in the latter, but only if you'll get your money's worth from it.
Costco has 123 million cardholders, living in 68.1 million households — as of Feb. 12, 2023 — according to the company's website. The number of Executive Memberships was not noted.
Ready to determine if an Executive Membership is the right choice for you? Keep reading to learn more about this upgrade.
Costco Executive Membership vs. Costco Gold Star Membership Benefits
| | | |
| --- | --- | --- |
| Benefit | Executive Membership | Gold Star Membership |
| 2% annual reward | Yes | No |
| Costco services discounts | Yes | No |
| Shop online and in warehouses | Yes | Yes |
| Receive two membership cards | Yes | Yes |
| 100% satisfaction guarantee | Yes | Yes |
Make Your Money Work for You
As you can see, the two differences between the Executive Membership and the Gold Star Membership are the 2% annual reward — more on that below — and the discount on Costco services.
More than just a warehouse shopping experience, Costco offers a number of services to members. Executive members are able to get a discount on many of these services, including lower prices on check printing, auto buying, roadside assistance — complimentary for vehicles covered through the company's auto insurance program — and extra travel benefits.
This alone can help you save money, but taking advantage of Costco services can offer a double benefit — the ability to receive discounted services while earning money toward the 2% annual reward. For example, if you use Costco Travel for vacation planning, you can get exclusive discounts and qualified purchases will go toward your annual reward.
Beyond that, an Executive Membership also comes with a subscription to the monthly Costco Connection magazine. This includes product advertisements, roadshow schedules, interviews, recipes and more to keep you informed on all things Costco.
Make Your Money Work for You
Take Our Poll: How Much Salary Would Buy You Happiness?
Should You Upgrade to a Costco Executive Membership?
If you're not sure about upgrading, David Somerville, a shopping expert and owner of ShoppingWithDave.com, recommended going for it.
"The Costco Executive Membership is worth the money for every Costco customer," he said. "The main benefit of the membership is it provides a 2% reward on all Costco purchases."
Depending on your spending habits, he said you might be able to earn enough rewards to cancel out the membership cost.
"If a customer spends over $6,000 per year at Costco, then the 2% rebate covers the full cost of the $120 Executive Membership fee," he said. "If a customer ends up spending less than $6,000 per year, then they can cancel their executive membership and get a refund on the fee."
Ultimately, he said purchasing an Executive Membership is a no-risk situation.
Shopping at Costco Without a Membership
Whether you choose an Executive Membership or a Gold Star level, you need a membership card to shop at the store — for most items. What you might not realize is you can gain entry to a Costco warehouse for select items without purchasing a membership at all.
Make Your Money Work for You
Specifically, non-members are able to purchase prescriptions from the pharmacy and alcohol in some states — where required by law. In the past, non-members were also given free access to the Costco food court, but this is no longer the case, according to Philadelphia television station WPVI-TV.
Key Takeaway
Ultimately, the decision to upgrade to a Costco Executive Membership is a personal one. What might be the right choice for your household could be different than that of a friend, family member or neighbor.
If you think you'll spend at least $6,000 to break even on the membership cost, you really can't go wrong. Additionally, if you plan to take advantage of Costco services discounts, this can also help you quickly recoup the extra $60 membership fee.
Take time to weigh the pros and cons for your unique household. Use your findings to choose the membership type that feels like the best fit right now.
More From GOBankingRates
Make Your Money Work for You