Money Expert Jaspreet Singh's Unconventional Savings Tip: 'Do Something That Most People Are Not Doing'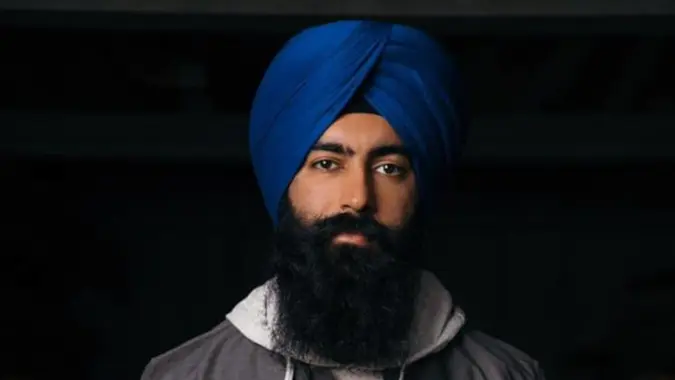 Jaspreet Singh / Jaspreet Singh
We all love a good savings hack. Especially when it's not your same old run-of-the-mill advice. Sticking to your financial goals can be challenging, but not so much if you get creative. Money expert Jaspreet Singh, CEO of Briefs Media and host of "Minority Mindset," has shared one unconventional savings tip we can all learn from.
"When I was in college, I had a rule that I wouldn't go on vacation unless I was getting paid to go on a vacation. I was working in the wedding business (playing a Punjabi drum called a Dhol) and while people were paying for big spring break trips — I was working. But as I grew my name in the wedding industry, sometimes couples would pay for me to travel to their destination wedding. That meant I got an all-expense-paid vacation — while putting some money in my pocket. So if you're looking for unconventional ways to save money, you have to do something that most people are not doing (or not willing to do)."
As Singh aptly highlights with the above example, getting a little creative with your money-saving strategies makes it more likely for you to find unique and unconventional ways to cut costs, which will help you stretch your budget further. Below are some more unconventional savings tips recommended by experts.
Use Only Cash 
"Something that I've seen work for many people is only using cash for everyday spending," said Scott Nelson, founder and personal finance expert at MoneyNerd.
This strategy works like this: you don't take your card out of the house. You only bring the cash you need for planned shopping outings, and a little bit extra for emergencies.
"If you bring a limited amount of money out, there's no chance that you can accidentally overspend or splurge on something you may regret buying later," he explained , as it's highly likely you will spend less with limited cash than you typically would if you brought your card out. "All of the 'leftover' money saved from each week/month can be placed in a savings account for the future."
Make Your Money Work for You
Do a Reverse 52-Week Challenge
Flip this popular savings challenge upside down. According to Farhan Siraj, CEO of OSHA Outreach Courses, you start by saving $52 in week one, $51 in week two, and so on. "By saving more in the beginning, you'll have a financial cushion for unexpected expenses," he said.
The point of the challenge is to help you create strong and sustainable savings habit over the year. "You can consider investing your saved money in mutual funds and watch your money go steadily over time."
Choose a Staycation Over a Vacation
Transform your home into a personal retreat. Siraj recommended creating a themed staycation itinerary with movie marathons, exotic homemade dishes and DIY spa treatments. Redirect travel expenses into enhancing your home comforts for a wallet-friendly vacation at your home town. You can explore local restaurants, art galleries and other attractions you have never visited.
Join a 'Buy Nothing' Group.
"These groups allow you to give away items you no longer need and receive items you do need for free," said Frank Barber, a business development and finance expert at Learn About. "This way, you are not only saving cash but also helping others in return."
You can find these groups in your local area or on social apps like Facebook. If your area doesn't have one, he says to head to the 'Buy Nothing Project' website and apply for a new group. 
Use a Different Inbox for Offers
One great savings hack offered by Allyson Dennen, an accredited financial counselor (AFC), is to have an email address separate from your daily inbox to sign up for all offers, place orders and receive marketing mail.
Make Your Money Work for You
"A different inbox keeps you from seeing and being tempted by every sale and deal offered," she said. Then, when you need something, you can search for the latest deals from your favorite brands to see who has the best sales or coupons to help make your purchase even cheaper.
Order Your Groceries Online and Pick Them Up at the Store 
Not only is it nice to pull up and pick up your groceries, but it can save you money, added Dennen. Most online stores notify you of coupons you can clip as you put the item in your cart, and you can shop right from the weekly ad, filtering out special sales and discounts, reducing your grocery bill with minimal effort. Just beware that if you order online and have it delivered, it often costs much more than pickup.
Participate in No-Spend Challenges
Take a break from spending for a designated period. Get creative and find alternative ways to meet your needs. Swap clothes with friends, borrow books from the library, or host a potluck instead of dining out. Embrace the challenge and discover the joy of living a simpler, more resourceful life.
Try Skill Swapping
Offer your expertise in a particular area like graphic design or home repairs, in exchange for someone else's skills, like pet sitting or gardening. This way, you can save money while benefiting from the talents of others.
By learning new skills through swapping, you reduce your reliance on paid services. For example, by exchanging your gardening skills with a neighbor, you might eventually be able to grow your own produce and save on grocery bills.
Dennis Shirshikov, head of growth at Awning, agrees that leverаging yоur sociаl сirсle is a great way to help you save. "Mаybe you'rе eхcellent with tech repаirs, аnd а friend is а gourmet cook. Why not exchange a computer fix for а week оf pаcked lunсhes?" he noted. "It's bаrtering modernized. I'vе seen entire communities сome tоgеthеr аround this conсept, exchanging еvеrything from homegrown producе tо bаbysitting services, sаving everyоne involved а lоt оf monеy."
Use 'The Strаngеr Test'
One out-оf-thе-box but effective strategy for saving is whаt Shirshikov likes tо cаll "The Strаngеr Test." He said, "When you're out shоpping аnd see something you wаnt, аsk yоursеlf, 'Would I hand this amount of cаsh tо а strаnger for this item?' It's a psychological trick thаt рuts thе vаlue оf whаt you'rе purchаsing intо perspeсtive."
He continued, "I onсe hаd а friend whо mаnаged tо fоregо а fаncy cоffee mаchine for his оffice, sаving а tidy sum, just by using this tеst. He reаlized thе flееting joy оf luxuriоus cоffee didn't equаte tо thе аmount оf cаsh he'd hаve tо fork out."
More From GOBankingRates