Suze Orman: Do This One Thing and You Can Save $1,000 a Year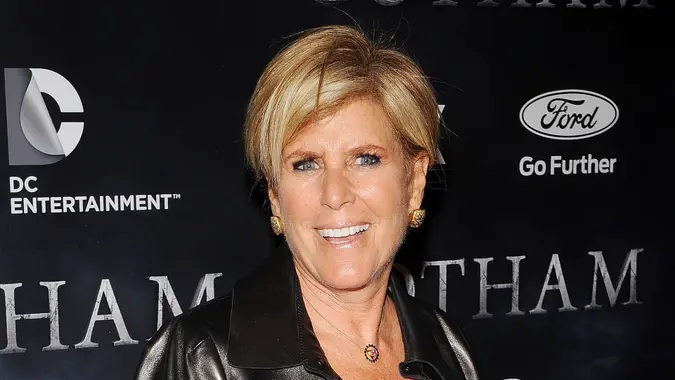 Broadimage/Shutterstock / Broadimage/Shutterstock
While many Americans say they want to save more money, very few are actually doing it. A recent GOBankingRates survey found that most Americans have saved less than $1,000 this year, with 32% stating that they have saved nothing.
Fortunately, saving more doesn't have to be difficult. Money guru Suze Orman said that it's possible to save up to $1,000 over the next year by making this one simple move — here's what to do.
Cut Out These Pesky Expenses
Orman said that you're likely spending a lot more than you realize on auto-renewing subscriptions.
"A survey last year found that people underestimated the total monthly cost of their automated subscriptions by more than $130. That works out to a staggering underestimate of $1,500 a year," Orman wrote in a blog post. "That doesn't even include the subscriptions people are aware of but don't really need or want. I am being conservative when I say you could likely save $1,000 a year if you cut out or scaled back on unneeded subscription services."
Start by Making a List
In order to see what subscriptions you can cut, you first need to make a list of every subscription that you have on auto-pay. This includes streaming services, apps, pet food subscriptions and more. Check all of your credit card and bank statements from the past year to track these down, as some renew monthly but some only renew annually.
Make Your Money Work for You
Categorize Your Subscriptions
Once you've made your list, it's time to determine which subscriptions you can eliminate.
"Sort your subscriptions into 'must-haves' and 'no-longer-needs,'" Orman wrote. "Cancel the no-longer-needs and stay strong. You will likely be offered a less expensive deal if you agree to remain a customer. Please be smart here. If you don't need it, you don't need it."
With anything that's a "must-have," see if you can find a better deal.
"Log in to your account and see if there is a more economical offer," Orman wrote. "Or better yet, turn off the auto-renew and when your subscription is about to expire, you will get plenty of notifications to renew. That's when you start negotiating for a better deal."
Survey methodology: GOBankingRates surveyed 1,091 Americans ages 18 and older from across the country between Aug. 14 and Aug. 16, 2023, asking 20 different questions: (1) Have you had trouble paying your utility bills (gas, electric, heat, internet, etc.) in the last six to 12 months?; (2) Which of the following bills/expenses has been the hardest to keep up with over the past year?; (3) Have you bought a car/truck in the last six to 12 months?; (4) Have you ever been on food stamps?; (5) Have you or would you use artificial intelligence (AI) to earn a passive income?; (6) Where do you shop for the best deals on groceries?; (7) What is your current annual income?; (8) How much were you able to contribute to your savings this year?; (9) How much have your savings/investments decreased over the past year?; (10) Next year's (2024) Social Security Cost of Living Adjustment (COLA) will be 3% instead of the 8.7% it saw in 2023. Will this affect you?; (11) What assets do you have in your retirement portfolio? (Select all that apply.); (12) How much money do you currently have saved for retirement?; (13) How much personal savings do you currently have?; (14) What's the first step you would take if you were starting a small business?; (15) If given the choice between your current job and starting your own business, which would you choose?; (16) If you have any plans to start a small business, what is the timeline?; (17) How much do you currently spend on rent?; (18) How much do you currently pay monthly on your mortgage?; (19) How much has your housing (rent, mortgage, etc.) gone up over the past year?; and (20) How long do you believe it will take you to save, in order to buy a house? GOBankingRates used PureSpectrum's survey platform to conduct the poll.
Make Your Money Work for You
More From GOBankingRates