5 Things That Happen When You Don't Have Emergency Savings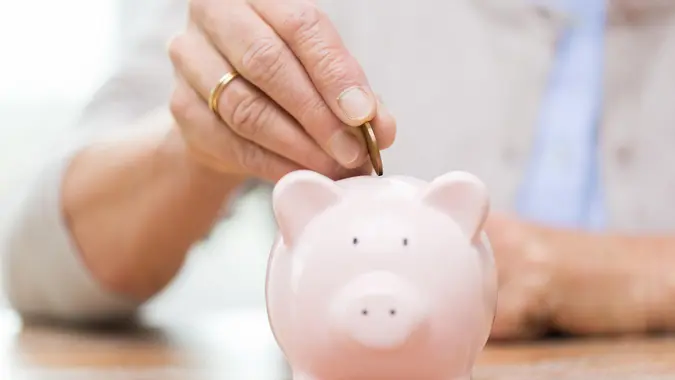 Syda Productions / Shutterstock.com
Life happens when you least expect it — and it can be expensive.
Having an emergency fund to fall back on gives you confidence in knowing you're covered financially if you're hit with a hefty unexpected cost. Generally speaking, experts recommend having at least three to six months' worth of expenses put aside, but many people haven't taken this advice.
In fact, 64% of American workers have less than three months' worth of cash and liquid savings available to them, according to a survey conducted by the Sunny Day Fund. Even more alarming, 12% of people have less than one week in liquid savings.
"As emergencies can arise at any time, such as for medical expenses, car repairs or sudden unemployment, it's important to have enough funds set aside for any of life's challenges," said Sam Dallow, co-founder of Counting King, a tax and funding practice in the UK. "This can help to ease any worries and to avoid situations that may cause financial hardship."
Still think not having emergency savings isn't a big deal? Here are five consequences you may face if you find yourself needing cash fast but don't have the necessary funds.
Going Into Debt
If you need money you don't have, you're going to have to borrow it in one form or another.
Make Your Money Work for You
"In the absence of emergency funds, individuals often turn to credit cards, loans or borrowing from friends and family to handle unexpected expenses," Dallow said. "I would recommend avoiding the use of credit cards where possible, especially for everyday items, as debt can quickly accumulate — and many people often find they are faced with high-interest payments that can lead them into a cycle of financial dependence."
See: All of the States That Will Pay Off Your Student Loans
If you opt for a loan, he said you might be more likely to take out a high-interest loan to cover costs.
"Long term, this can disrupt your financial goals such as saving for retirement, buying a home or even pursuing higher education," he said.
Incurring Late Fees
It's possible you won't get the money you need. If this happens, you'll have to face the consequences.
"If you end up in a financial situation where you can't afford rent or mortgage payments, utilities or other essential bills," Dallow said, "this can lead to late payments or penalties, all of which can have a negative impact on your credit score. This can make it more difficult to get financial help in the future."
Making Sacrifices Elsewhere in Life
It's possible you'll be able to come up with the money for the unexpected expense without an emergency fund. However, you might not like what that entails.
Make Your Money Work for You
"When you have financial constraints, your options become more limited too," Dallow said. "You may have to make sacrifices in other areas of your life to manage the unexpected expenses."
Ensuring you have an emergency fund will allow you to cover the unplanned costs, without having to limit your budget elsewhere.
Increased Financial Stress
Being strapped for cash isn't a good feeling. In fact, it can lead to major duress.
"Without emergency funds, you may experience increased financial stress, especially when unexpected expenses arise," Dallow said. "This can lead to anxiety, sleepless nights and a constant worry about how to cover essential costs."
Jay Zigmont, Ph.D., CFP, founder of Childfree Wealth, agreed that finding yourself in an emergency situation without an emergency fund can cause anxiety.
"Having an emergency fund turns an emergency into an inconvenience," he said. "If you don't have an emergency fund, you are likely to use credit cards, loans, 401(k) loans and others to make it through."
Zigmont said using credit to make it through this type of situation adds interest expenses and frustration to an already challenging situation.
Decreased Care
If the unplanned expense is medical care, Zigmont said lacking adequate funds could jeopardize the quality of care you or a loved one receives.
For example, he said he and his wife had to pay more than $3,000 when their pug ate raisins, which can be deadly to dogs.
"We were able to use our emergency funds to pay for this and make sure he had the best care possible, which included a stay in the doggy ICU," he said.
Thankfully, his dog came through the incident fine, but he's grateful they had the money on hand to foot the bill.
"If we didn't have an emergency fund, we may have had to cut back on care or use a credit card," he said.
While many veterinarians partner with credit card companies to allow you to take out a loan at low or zero interest for a period of time, he said taking this route can be a gamble.
"The catch is that if you don't pay off that loan in time, you may get charged interest on the whole thing," he said.
Ultimately, life can be unpredictable. While you can't control that, you can give yourself peace of mind in knowing you're prepared to handle unplanned expenses by setting money aside in an emergency fund.
More From GOBankingRates