Thrifty or Cheap? These 7 Methods for Saving Money Work, But Should You Use Them?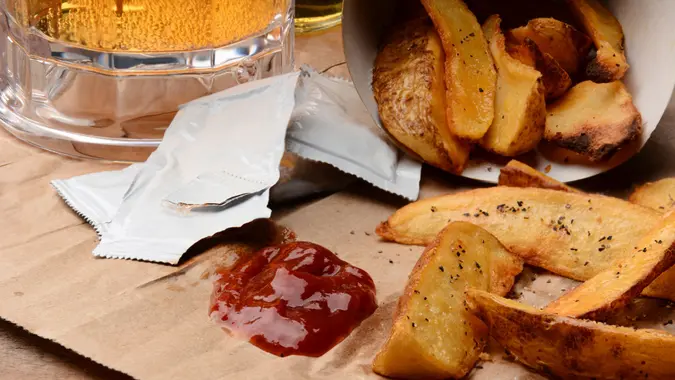 Scukrov / Getty Images/iStockphoto
During times of high inflation and economic uncertainty, such as those Americans are living through now, it's important to be thrifty — but being cheap is a different story. While thriftiness is associated with spending the minimum required and being prudent, cheapness is more about spending less no matter the consequences, like buying the cheapest bottle of wine for a party knowing it will likely turn the stomachs of your hosts.
See: Target, Amazon and 4 More Retailers That Will Reward You for Turning in Your Old Stuff
Read: 3 Ways Smart People Save Money When Filing Their Taxes
Find: 11 Grocery Items To Buy at Dollar Tree
Let's explore a number of tried and true methods for saving money, and decide whether they are thrifty or just plain cheap.
Printing Personal Documents at Work/School
Printer ink/toner can cost a fortune and if you can get away with printing personal documents at your place of work or education, you may figure, why not? Trouble is, you're kind of cheating here. Would your boss or supervisor be upset with you if they found out? Unless they've given you the okay to print personal documents at work, it's best to skip this behavior.
Make Your Money Work for You
Sharing Subscription Memberships
Want to watch that hot new show on HBOMax or Netflix and don't have a subscription — but your friend does? Hitting them up for the password can definitely feel cheap, but in an age where Americans are spending $86 per month on subscription services, according to C + R Research, this is pretty thrifty behavior, so long as your friend doesn't mind sharing.
Going to Events Just For the Free Food
If you get invited to an event and RSVP "yes" merely because there will be free appetizers and/or drinks, you're exhibiting financial wisdom. This is thrifty and by all means, keep doing it. Just be sure not to leave a mess for the caterers to clean up.
Pick and Freeze Fruit
If you've ever picked fresh fruit and then frozen it for later, congratulations; You are not only thrifty, you are also getting some fresh air.
Use Old Student ID Cards For Student Discounts
It's tempting to break out that old student ID card for discounts. This is perhaps ill-advised, however. You were funding those discounts through your tuition while an active student — you had your time, now it's best to let current students enjoy theirs.
Make Your Money Work for You
Save Condiments From Restaurants
Restaurants, particularly those that provide takeout, tend to pile on the condiments. You could either leave these behind, or you could take them home with you. It's thrifty to do the latter. After all, you never know when you (or a guest) will need an extra packet of ketchup, mustard or soy sauce, as opposed to an entire jug of it.
Take Our Poll: Are You In Favor of More Inflation Relief in 2023?
More: How Much Cheaper Are Store-Brand Groceries Than Name Brands?
Cut Back On Showers
Showers are essential but they add up, with each shower costing about 25 cents or 51 cents per day for the whole household, according to the shower cost calculator by Omni. One quick way to solve this costly problem? Take fewer showers! This is not recommended. You may save money, but your hygiene will suffer. Instead, consider getting a water-saving shower head and taking very short showers.
More From GOBankingRates
Make Your Money Work for You