10 Places To Vacation for Under $250 Per Night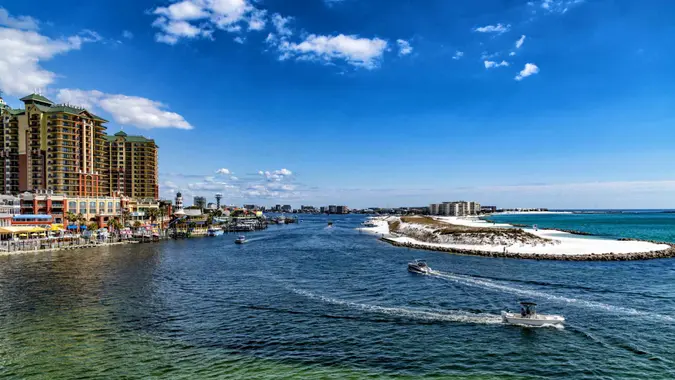 Art Wager / Getty Images
In spite of inflation and fears of recession, Americans aren't giving up their holiday travel dreams, according to a new survey from Vacasa. The latest data shows that 64% of Americans plan to travel more frequently this winter as compared to last year, with an average of five trips planned for the season.
However, vacationers are still budget-conscious when it comes to travel, the survey showed. For instance, more than 66% of respondents will be driving to their destination, with 34% making the shift from air travel to save money.
More than one-quarter (27%) said they are looking for special promotions, and an equal number said they plan to spend less money when they arrive at their destination. Eighty percent of travelers said they will be staying in the U.S. this winter.
Whether you're looking to get away someplace warm this winter or hit the slopes in the Pacific Northwest, Vacasa spotlighted more than a dozen U.S. cities where you can find vacation rentals for less than $250 per night. Here are 12 with plenty to do and see!
Orlando, Florida
Typically a hot holiday destination for families who want to experience Christmas at Walt Disney World Resorts or Universal Studios Orlando, you might be surprised that you can find affordable vacation rentals all season long in this Central Florida city. Plus, you can avoid pricey theme park food and cook meals in your vacation home.
Make Your Money Work for You
Pensacola, Florida
Nearly half the vacation cities on the Vacasa list are in Florida, and with good reason. Pensacola, Florida — the westernmost city in the Florida Panhandle — boasts temperate climates, miles of gorgeous Gulf Coast beaches, and holiday festivities from now through the new year.
Navarre, Florida
Just east of Pensacola, Navarre is a quiet beachfront community with tons of reasonably priced vacation rentals. Between now and Dec. 10, enjoy the annual Corn Maze and Fall Festival, or schedule your trip in early December for the Milton Christmas Parade. For adventurers looking to cut costs by road-tripping in their RV, Navarre is home to the Santa Rosa Waterfront RV Resort.
Destin, Florida
If your idea of a perfect holiday includes fishing and golf, Destin, Florida, is the place to celebrate. Part of the Emerald Coast, which also encompasses Panama City Beach and Pensacola, the Florida Panhandle coastline has affordable vacation options for the whole family.
Panama City Beach, Florida
Another Gulf Coast top pick from Vacasa, Panama City Beach offers plenty of affordable activities for families and couples alike. Race go-karts and play mini-golf in Race City, lounge on the beach — and when you're done, enjoy surfside seafood and beverages at Sharky's Beachfront Restaurant, a casual eatery that encompasses the fun of PCB. Aaron Bessant Park showcases seasonal activities, including concerts, s'mores and a Christmas tree lighting all season long.
Seattle, Washington
Hopping over to the left coast, Vacasa listed Seattle, Washington, as one of the most affordable cities to visit this winter. From theater performances to fireworks over the Space Needle, along with the five-week Winterfest celebration that runs from Nov. 25 through Dec. 31, you can soak up the spirit of the city all season long.
Make Your Money Work for You
Winter Park, Colorado
If you're looking for skiing, tubing, snowshoeing and other outdoor activities this winter, consider Winter Park, Colorado, which boasts one of the best ski resorts in the country.
You can save money by staying in a vacation rental, which are plentiful — some even include ski-in / ski-out accommodations right on the slopes. For the condos closest to the slopes, look for one located in Base Village. That location also puts you close to shopping, restaurants and other activities.  
Tucson, Arizona
From Christmas through New Year's Day, Tucson, Arizona, has a plethora of affordable vacation rentals under $250. Locals love the Winterhaven Festival of Lights, a 70-year tradition in the city.
Tucson blends the best of warm weather with holiday festivities. Did you know that you can ice skate in a pop-up rink in front of the Tuscon Convention Center? You can even experience snow on Mount Lemmon, but the weather is also mild enough for outdoor activities like hiking and cycling.
Austin, Texas
If you're looking to celebrate New Year's Eve in a renowned U.S. city — without the extravagant costs of staying in Times Square — Austin delivers live events and top-notch cuisine for less.
Auditorium Shores at Lady Bird Lake offers a free fireworks celebration with live music and a beer hall. CapMetro is offering free rides after 5 p.m. on New Year's Eve, according to Do 512, which can help you cut costs on your vacation even more.
Gulf Shores, Alabama
From Thanksgiving through Christmas Day, Vacasa recommended a stay in Gulf Shores, Alabama, for mild temperatures, family fun and affordable vacation homes. With 32 miles of shorelines on the Gulf of Mexico and surrounding bays, you can enjoy watersports and lounging on white sand beaches. Adventurous families can fill the days with amusement parks, escape rooms, go-karts and more.
Make Your Money Work for You
More From GOBankingRates