12 Cheap Warm-Weather Vacation Destinations to Hit This Winter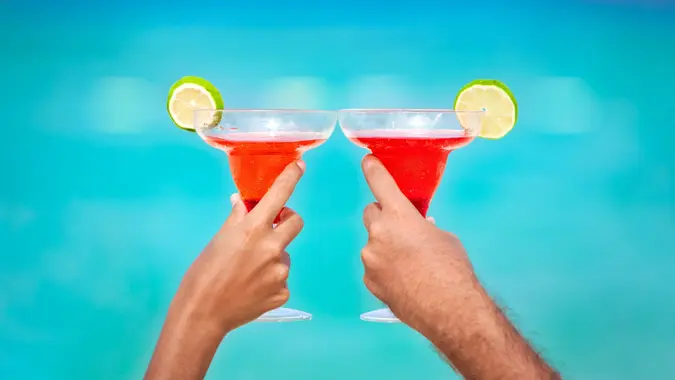 apomares / iStock.com
As winter approaches and the days grow shorter, many of us yearn for the warmth and relaxation of a sun-soaked vacation.
Thankfully, there are numerous destinations where you can bask in balmy weather without breaking the bank. Here are 12 budget-friendly warm-weather escapes to consider for your next winter getaway:
1. Mazatlán, Mexico
This colonial city on the Pacific Coast boasts gorgeous beaches, historic architecture, and a lively arts scene. Street food vendors offer tasty and affordable bites, perfect for budget travelers.
2. Cartagena, Colombia
A vibrant mix of Caribbean charm and colonial history, Cartagena is known for its colorful buildings and bustling markets. Stroll through the walled city or relax on its nearby beaches.
3. Chiang Mai, Thailand
Escape to Northern Thailand's mountainous terrain, where you'll find temples, night bazaars, and delicious street food. Chiang Mai offers a warm climate and even warmer hospitality.
4. Bali, Indonesia
This island paradise is known for its serene landscapes, from rice terraces to tranquil beaches. Accommodations range from budget hostels to luxury resorts, catering to all types of travelers.
5. Granada, Nicaragua
Nestled beside Lake Nicaragua, Granada offers a rich history and impressive colonial architecture. Enjoy boat tours, local markets, and the nearby volcanic landscapes.
6. Goa, India
India's smallest state offers a unique blend of Indian and Portuguese culture, set against a backdrop of sun-soaked beaches. Savor fresh seafood and indulge in the laid-back beachside vibe.
Make Your Money Work for You
7. Siem Reap, Cambodia
While known primarily for the ancient temples of Angkor Wat, Siem Reap also offers a pleasant warm climate during winter. Explore local markets, rural villages, and enjoy affordable Khmer cuisine.
8. Taghazout, Morocco
This fishing village turned surf mecca offers consistent warmth and waves. It's a laid-back alternative to Morocco's bustling cities, with plenty of budget-friendly accommodations.
9. Santa Teresa, Costa Rica
A favorite among backpackers and surfers, Santa Teresa boasts long stretches of beach and consistent waves. Local eateries provide tasty and inexpensive meals.
10. Varna, Bulgaria
Situated on Bulgaria's Black Sea coast, Varna offers a milder winter climate, historical landmarks, and affordable dining options. Explore its seaside parks, archaeological museum, and the nearby Stone Forest.
11. Da Nang, Vietnam
With its mix of urban appeal and beachside relaxation, Da Nang is a great escape from the winter cold. The Marble Mountains and local seafood markets are must-visits.
12. Lima, Peru
While Lima's beaches may not be the tropical kind, its coastal location ensures a mild summer during North America's winter months. Explore its rich history, indulge in world-renowned cuisine, and visit nearby archaeological sites.
Winter doesn't mean you have to be confined to cold weather and snow. With so many affordable warm-weather destinations around the world, escaping to sunnier shores has never been easier–or cheaper. Do your research, book in advance, and get ready to soak up the sun without emptying your wallet.
Make Your Money Work for You
Editor's note: This article was produced via automated technology and then fine-tuned and verified for accuracy by a member of GOBankingRates' editorial team.
More From GOBankingRates