34% of Americans Go Over Budget on Vacation: How To Tighten Your Travel Finances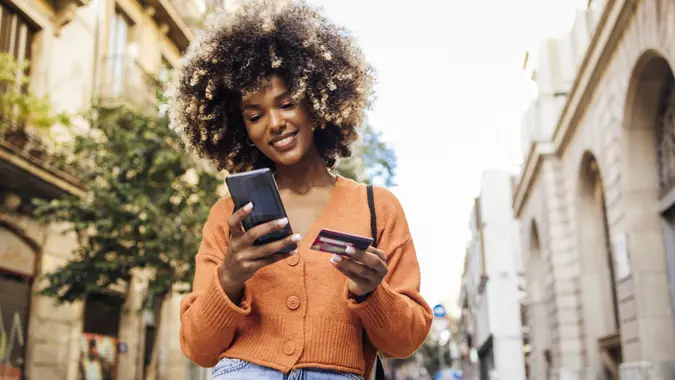 RgStudio / Getty Images
Let's be real: Some of us live for vacation. The sunshine (or snow), the great food, new experiences and best of all: not working!
But before you book your next getaway, you might want to make sure you've got the money you need to make it a reality. Sometimes, amidst all the glory of your well-deserved vacation, you might go a little overboard.
A new survey by GOBankingRates revealed that 34% of vacationers spend more than they budgeted, some by a lot. But we've put together this simple guide to help you avoid spending too much on your next trip, while still enjoying your vacation.
Here's how to (actually) stick to your vacation budget.
Create a Realistic Vacation Budget
Many Americans underestimate their vacation spending. And this can cause a lot of financial pain after you get back from your trip. To stick to your vacation budget, you need to make sure it's realistic for your traveling style and captures all of the expenses you might incur.
Make Your Money Work for You
Here are a few things you should budget for:
Flights. If you're traveling a long distance, you'll want to look at flight prices and estimate how much it'll cost you. Be sure to include taxes, fees and services (checked baggage, etc.).
Lodging. Whether you choose a hotel or Airbnb property, make sure to get a final price when estimating this expense, inclusive of all taxes, fees and services.
Transportation. If you need to get around town, make sure to account for Uber prices or a rental car.
Food. This can get expensive. Create a realistic budget based on the costs of food where you're going, including restaurants.
Alcohol. This can be a significant expense, depending on your travel style. Create a realistic budget for alcohol and drinks while on vacation.
Excursions. If you plan on venturing out, check prices on the excursions and experience you want to do and budget for them.
Other. Stuff happens. You might as well build it into the budget.
Take Our Poll: Are You Concerned About the Safety of Your Money in Your Bank Accounts?
Set a Daily Spending Limit
While having an overall budget is important, you can further keep yourself from overspending by setting a daily spending limit. This might include having a set amount of cash available for the day, or loading prepaid debit cards with a budgeted amount.
This can help you enjoy spending without worrying about blowing the budget. And it will put a hard stop on your spending when you hit the limit, keeping you in check without having to think about it.
Make Your Money Work for You
Cook Your Own Food (Some of the Time)
One of the best parts about vacation is traveling to a new destination and enjoying the local fare. But if you eat out every meal, you will blow through your vacation budget quickly and might end up with a shocking credit card bill at the end of it. 
Instead, stopping by a grocery store when you arrive and stocking up on items to make some meals in your hotel or rental home will help you save a huge amount of money, and allows you the convenience of eating in. 
For example, if you're on a week-long vacation, plan on making a quick breakfast at your place before venturing out. That can save you hundreds of dollars, especially if you are traveling with a family. You pay less for the food versus eating out and you don't have to tip on the purchase either. Plus it can save you time.
Skip the Trinkets (Do This Instead)
While it's a lot of fun to go shopping while you're on vacation, stocking up on local trinkets can get expensive and overload your luggage at the same time. Instead of buying stuff, spend your money on local experiences instead.
Make Your Money Work for You
One of the benefits of traveling to a new place is the ability to experience what it has to offer. You can book a local tour guide, check out historical buildings or rent bikes for the day just to get around and enjoy the new location. 
And this doesn't have to cost a lot of money either. There are many free activities to do in every city, so plan on making some memories without breaking the bank. 
Use Credit Card Rewards
If you want to significantly reduce your travel expenses, consider using credit card rewards to help pay for flights, hotels or other expenses on the trip. Many premium travel rewards cards offer signup bonuses to incentivize new customers, so taking advantage of one or two of these can get you tens of thousands of points.
Airline travel cards sometimes offer enough bonus points to book one or two round-trip tickets. And many allow you to also split the cost between cash and points, saving hundreds of dollars on airline tickets.
Hotel cards are similar, with some offering additional perks like free nights and hotel breakfast credits. And rewards cards like Capital One Venture, American Express Gold or Chase Sapphire Reserve earn points that you can transfer to your favorite rewards program.
As always, you should plan to use a credit card responsibly by paying the balance in full and avoid paying interest, or you may negate the savings of rewards points.
Make Your Money Work for You
Stay With Friends or Family
If you want to lower one of the biggest expenses of traveling (lodging), consider a destination that allows you to stay with friends or family on the cheap. While this might not be your idea of a romantic getaway, you could save thousands of dollars by staying in a spare room.
Even better, if you have a friend or family member that needs you to house sit while they are away, you can enjoy the whole place for free!
Experts Weigh In: How To Save Money on Vacations
Here's what some travel experts have to save about saving money on vacations.
To save on some of the more expensive items, financial coach Jonathan Thomas recommends to "bundle your flights, car rental and hotels. And book four- or five-star non-chain hotels for better amenities and 30% to 40% savings."
Yarelys Tifa from Cash is Kween mentions that "sometimes two one-way tickets can offer savings versus a round-trip ticket," so make sure to check prices before booking.
Make Your Money Work for You
Nia Shiree at Perspectives says that you can buy those souvenirs, but to "pick a bag to bring back if you want to get souvenirs (only pay checked bag fee return trip)."
There are plenty of ways to save, you just need to plan ahead!
Bottom Line
Vacations can get expensive in a hurry, but if you have a plan in place, you can enjoy every minute of it without destroying your bank account in the process. Budgeting for all potential expenses and saving the money ahead of time can help keep your vacation a dream instead of a nightmare.
More From GOBankingRates
Make Your Money Work for You