5 Airlines That Offer the Best Economy Class Amenities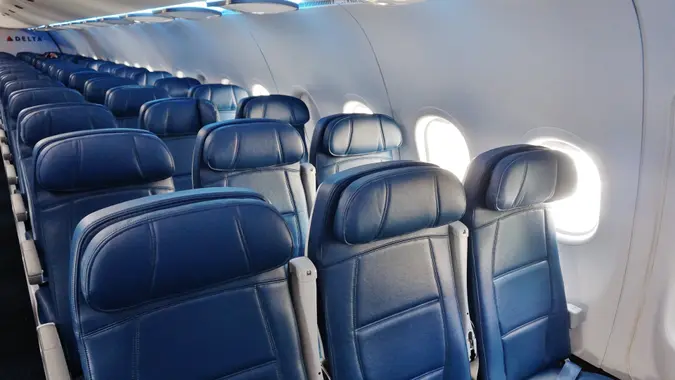 EQRoy / Shutterstock.com
Flying has become a much more fraught and hassle-filled experience in the days of the pandemic. Increased safety protocols have increased lines and delays and added other discomforts.
Flying economy is often the most affordable option for the average traveler, but it doesn't have to be just another uncomfortable experience. The following five airlines have the best amenities to smooth the flying process.
American Airlines
This tried-and-true airline won the No. 3 spot in USA Today's 10 Best Economy Class awards of 2021. Like many standard airlines, American offers free entertainment and Wi-Fi by purchase. However, it goes even further with its premium economy offering, where you can find adjustable leather seats that have increased legroom, power and USB ports, plus other amenity kits.
Delta Air Lines
Delta Air must be doing something right to earn them a USA Today Reader's Choice Award in 2021.
Flyers gave this rating to Delta due to a strong record of flying on time, an excellent frequent flyer program, seat-back TVs and some of the top-rated airport lounges across the country. For example, New York's JFK Delta Sky Club offers a sky deck with a view, free Wi-Fi, food, drinks and more.
Anthony King, CEO of Transport Executive, agreed: "Delta offers the best economy class facilities. I traveled to another country for business last year and was quite happy with the services they provided. Economy class was luxurious since it provided similar experiences and amenities to the business class portions. In addition, I was provided with additional amenities such as headrests and additional screen space."
Make Your Money Work for You
Emirates
If you've got a long flight scheduled for an international trip, Emirates is known for its roomy seats and seat-back TVs.
Additionally, according to Upgraded Points, Emirates amenities include quite a list, such as chauffeur service to and from the airport, access to their airport lounges, the possibility of an enclosed suite with a flat bed on their 777s, complimentary food and drink, 32-inch TV screens with more than 4,000 channels and complimentary Wi-Fi. On their A380s, there is even an onboard spa and lounge bar.
JetBlue
JetBlue won the No. 1 spot in USA Today's 10 Best Economy Class awards of 2021.
Steve Oliverez, CEO of InsanelyCheapFlights.com, raved: "You can fly comfortably with some of the widest seats in the industry. JetBlue also offers free Wi-Fi on all of its flights, as well as in-flight entertainment. Most flights also have USB outlets so you won't have to worry about your devices running out of juice."
For economy class, every plane has "FlyFi," a "gate-to-gate" Wi-Fi service for all flights in the U.S., according to Upgraded Points. You'll also have access to a large library of on-demand movies, TV shows (including live Direct TV programs) and radio provided by Sirius XM. Snacks and soft drinks are free, and you can pay for additional snacks and alcoholic beverages.
For an upgraded "Mint" experience, you also will get a sleep kit, including blanket and pillow, noise-isolating headphones, a wellness kit, cocktails, wine and desserts.
Qatar Airways 
Once you fly Qatar, you might never return to another airline, said Suzanne Bucknam, CEO of Connecticut Explorer. 
Make Your Money Work for You
"By far, the best economy flight experience on the market is that offered by Qatar," she said. "I have to warn that if you choose to fly economy with Qatar, you'll never be comfortable in other economy classes again."
Amenities include blankets and pillows, complimentary meals and snacks, USB charging points, in-flight screens for entertainment and free Wi-Fi.
Best Legroom
If legroom is a priority for you, the following airlines have the roomiest, from 32 to 34 inches of space, according to Conde Nast Traveler:
Jet Blue: 32 to 34 inches
Southwest: 32 inches
Silver Airways: 31 to 33 inches
Alaska, Delta and Hawaiian: 31 to 32 inches
American and United: 31 inches
More From GOBankingRates