7 Vacations That Feel Like a Splurge But Will Fit Your Budget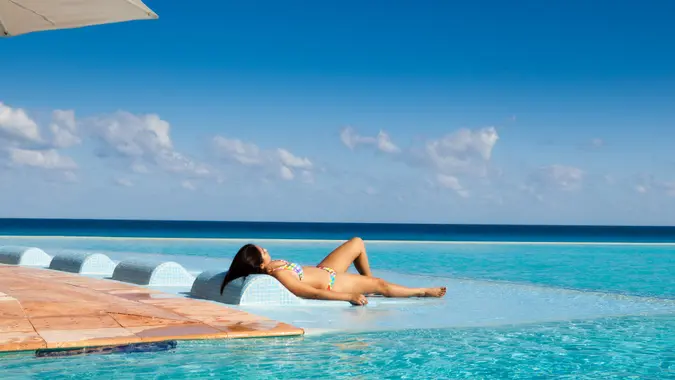 YinYang / Getty Images
Traveling in style doesn't have to break the bank. With some savvy planning and destination insight, you can indulge in a luxurious getaway that feels extravagant without the extravagant price tag.
1. All-Inclusive Resort in Mexico's Riviera Maya
Imagine lounging on sun-drenched beaches with a tropical drink in hand–all without worrying about the tab. Mexico's Riviera Maya offers a plethora of all-inclusive resorts where your accommodations, food, and most activities are included in one reasonable price. With off-peak season deals, you can enjoy the lap of luxury for less.
2. Cruise the Mediterranean
A cruise can be a cost-effective way to sample the Mediterranean. Many cruise lines offer competitive deals that include meals, accommodation, and transportation between picturesque ports like Santorini and Barcelona. Look for repositioning cruises or last-minute specials for the best value.
3. Spa Retreat in Bali, Indonesia
Bali, known for its serene landscapes and spiritual ambiance, is home to numerous spa retreats that offer wellness packages. These often include accommodations, healthy meals, yoga sessions, and multiple spa treatments, providing a high-end holistic experience on a modest budget.
4. Road Trip Along the California Coast
Rent a convertible and cruise along the Pacific Coast Highway. With the freedom to explore at your own pace, you can uncover hidden gems without the cost of guided tours. Budget-friendly boutique motels and campsites along the way offer cheap but memorable accommodation options.
5. Castle Stay in Scotland
Live out your royal dreams by staying in a historic Scottish castle. With the rise of sharing economy platforms, you can find surprisingly affordable yet grandiose accommodation options in the countryside that will make you feel like nobility.
Make Your Money Work for You
6. Wine Country Excursion in South America
Instead of the pricey vineyards of Napa or Bordeaux, consider countries like Chile or Argentina for your wine-tasting adventure. These regions offer tours and tastings at a fraction of the cost, and the scenic vineyards paired with exceptional local cuisine will make for an opulent escape.
7. Luxury Train Journey in India
India's Palace on Wheels and other luxury trains offer all-inclusive journeys through historical and scenic landscapes. These trips come with a sense of old-world grandeur, including plush accommodations, guided excursions, and gourmet dining experiences, all for less than you'd pay for similar luxury train rides in Europe.
Tips for a Budget-Splurge Vacation:
Travel Off-Peak: The best deals are often found outside of the tourist high season.
Book in Advance: Many resorts and cruise lines offer early-bird specials.
Look for Package Deals: Bundling flights, accommodation, and activities can save money.
Use Reward Points: Leverage hotel points, airline miles, or credit card rewards to offset costs.
Eat Like a Local: Venturing outside tourist hotspots for meals can reduce expenses.
Be Flexible: Sometimes the best deals come to those with flexible travel dates.
Splurge-worthy vacations don't have to come with a hefty price tag. With strategic planning and the right destination, you can enjoy the feeling of luxury and indulgence while sticking to your budget. These seven destinations offer a taste of the high life without the high cost, ensuring that your vacation memories are rich, even if the experience isn't costly.
Editor's note: This article was produced via automated technology and then fine-tuned and verified for accuracy by a member of GOBankingRates' editorial team.
More From GOBankingRates
Make Your Money Work for You