5 Affordable US Cities To Road Trip to This Summer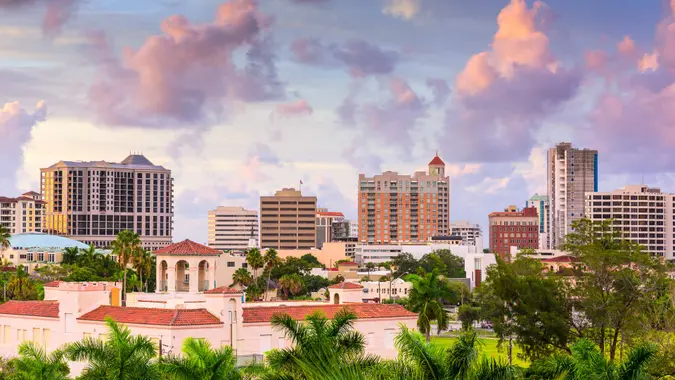 ©Shutterstock.com
If you'd rather not spend your time and money in airports as part of your summer vacay, a road trip can be a memorable alternative. To make it easy, use an app like Roadtrippers that will help you plot your route to your destination, while adding in stops for interesting roadside attractions, scenic points and national parks that you want to include along the way. The app can also help you estimate fuel costs and search and book hotels.
Now that you know how to efficiently plan your road trip, it's time to check out some possible destinations. From beach towns to a mountain retreat, here are five affordable U.S. cities to road trip to this summer.
Sarasota, Florida
Seven-night hotel stay: $785
Fast food meal: $9
Meal at an inexpensive restaurant: $26
If you're looking for a beach vacation, a road trip to Sarasota might be perfect. Nicole Miller from A Florida Traveler said you can expect stunning white sand beaches and clear blue water. Plus, there are a variety of free activities in the area.
Make Your Money Work for You
"Visit The Ringling, one of the city's top attractions on free Mondays, walk around St. Armands Circle, see the unconditional surrender statue and visit the celery fields," Miller suggested. "There are so many free and cheap things to do that this is one of the best vacation destinations for families."
Take Our Poll: Are You Concerned About the Safety of Your Money in Your Bank Accounts?
Savannah, Georgia
Seven-night hotel stay: $857
Fast food meal: $9.25
Meal at an inexpensive restaurant: $12
Justin Albertynas, CEO of Ratepunk, said a Georgia coast road trip to Savannah is great if you're looking to save money. "It's known to be one of the cheapest places to travel to in the U.S., and it has quite a few famous and free activities to include in your road-trip bucket list," he said. 
Here are a few of his suggestions: 
23 historic public squares, including the Chippewa Square from "Forrest Gump"
Savannah Botanical Gardens
Cathedral of St. John the Baptist 
Make Your Money Work for You
"If you decide to go, plan it so you're in Savannah on the second Sunday of the month — the famous Bonaventure Cemetery has free tours."
You can also spend the day on Tybee Island, which has a small parking fee and offers free beach access.
Madison, Wisconsin
Seven-night hotel stay: $815
Fast food meal: $9
Meal at an inexpensive restaurant: $15
Gabby Beckford, award-winning travel influencer and opportunity expert behind the blog Packs Light, described Madison as a gorgeous Midwestern city that comes alive during the summer months. 
"As a D.C. local," Beckford said, "I can honestly say this reminds me of home — even down to the state capitol building being built to resemble the Washington D.C. Capitol building. Start there with a free tour every hour on the hour."
Beckford also recommends enjoying the city's free summer "Concerts on the Square," which happen every Wednesday. "Bring a blanket, and pick up some cheese and a bottle of wine across the street from Fromagination and reserve a spot early," she said.
Make Your Money Work for You
"Lastly, visit the Farmers Market in the middle of downtown every Saturday morning — walk, mingle and snack your way through for hours. This is a great affordable trip for families and friends alike, with a lot to do for free and a variety of outdoor, culinary and adult-friendly activities to do for any group."
San Antonio, Texas
Seven-night hotel stay: $990
Fast food meal: $9
Meal at an inexpensive restaurant: $18
Jon Morgan, CEO and editor-in-chief of Venture Smarter, said that San Antonio is a culturally rich city with plenty of free activities for visitors.
"The River Walk is a beautiful area to explore on foot or by boat, and the city's many public parks offer opportunities for hiking, picnicking and outdoor recreation," he said. "The Alamo is a must-visit historical site, and the San Antonio Missions National Historical Park provides a glimpse into the area's Spanish colonial history."
Other free activities include the Japanese Tea Garden and Market Square marketplace. Additionally, the San Antonio Museum of Art has free admission for children 12 and under.
Make Your Money Work for You
Twin Falls, Idaho
Seven-night hotel stay: $708
Fast food meal: $9
Meal at an inexpensive restaurant: $12
Beckford described Twin Falls as a hidden gem for those who love the outdoors.
"In the summer, southern Idaho comes alive with lush green valleys, waterfalls, wildflowers and volcanic caves to explore," she said. "Shoshone Falls, Lemmon Falls and Box Canyon are gorgeous, free hikes. You can also enjoy local hot springs, like Miracle Hot Springs for a VIP private hot spring for $30 an hour, or the public pool for just $15."
More From GOBankingRates
Methodology: All hotel prices were sourced from Hotels.com using a seven-night stay for two adults and two children for June 9-June 16. Individual meal prices were sourced from Numbeo.
Make Your Money Work for You
Make Your Money Work for You