America the Beautiful: Bucket List Destinations in Every State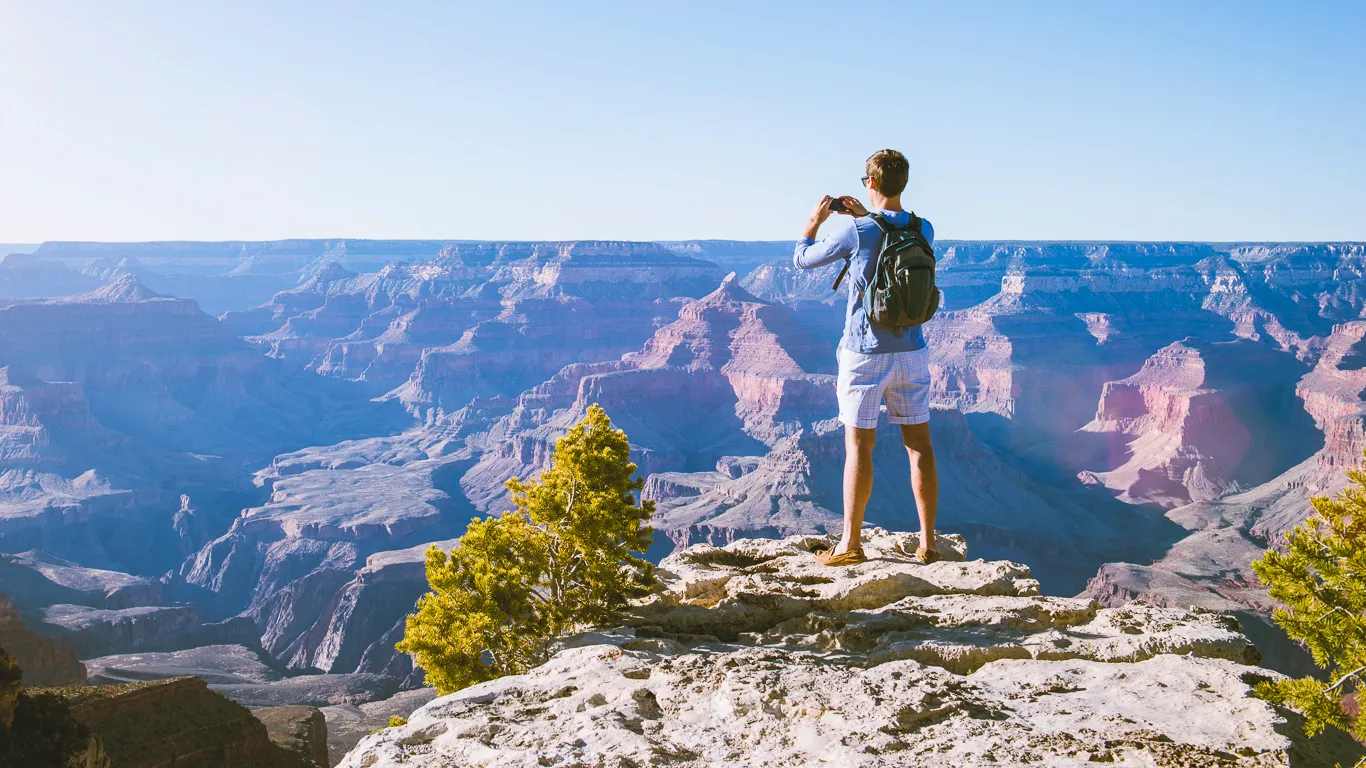 Summer vacation means more than just taking time off to relax or catch up on household projects. And if you are planning a trip, ignore the urge to jet to the same old spot you've been visiting for years. The entire country is your oyster.
Check out these beautiful bucket list destinations in every state that won't eat up your vacation budget.
1. Alabama
Imagine how people lived more than 10,000 years ago at Russell Cave National Monument in Bridgeport, Ala., along the state's northern border. The cave is one of the oldest known prehistoric settlements in the United States.
Walk the boardwalk into the cave and marvel at the beautiful view. The park staff leads nature walks and lantern hikes and will even demonstrate prehistoric tools and weapons. Russell Cave charges no admission fee, which is perfect if you're looking for free things to do on your vacation.
While you're in the area, drive 30 miles south to Scottsboro, Ala., to pick up unique travel souvenirs from the Unclaimed Baggage Center. There are normal items like clothing and electronics, but you'll also find jewelry, artwork and eclectic items like a suit of armor.
2. Alaska
No trip to Alaska would be complete without visiting Denali — at 20,310 feet, it's the highest peak in North America. A $10 entrance fee gets you into the park. Take a bus tour to delve deeper into the wilderness ($26.50 and up). Caribou, grizzlies and other wildlife dot a magical landscape mostly untouched by humans.
Also, be sure to check out a wonderland of ice carvings at Aurora Ice Museum, 60 miles northeast of Fairbanks at the Chena Hot Springs Resort. The museum is an Alaska attraction you won't want to miss. It's the largest of its kind in the world, created by world champion ice carver Steve Brice. While you're there, belly up to the ice bar for an icy cocktail.
Make Your Money Work for You
3. Arizona
Heralded as one of the wonders of the natural world, the Grand Canyon is nothing less than breathtaking. There's more than one way to see this bucket list destination. Head to Grand Canyon West to get a bird's-eye view from the glass-bottomed Skywalk. Admission to the park and a Skywalk ticket costs $82.37 for adults.
Visit another natural wonder in nearby Peach Springs, Ariz. — Grand Canyon Caverns, the largest dry caverns in the U.S. Begin your exploration by descending into the cave in a 21-story elevator. Tours start at $15.95 and up for adults. You can even stay overnight in the main cavern for $850, which has zero percent humidity and might be one of the darkest and quietest places you'll ever encounter.
4. Arkansas
As if the Ozark Mountains weren't beautiful enough, Eureka Springs, Ark., brims with Victorian and other historic architecture lining its winding mountain streets. In fact, the entire downtown is on the National Register of Historic Places. Immerse yourself in the town's history by visiting the 1886 Crescent Hotel, which has served as an upscale hotel, hospital and college over the past 130 years. It also offers ghost tours for $22.50.
Near Hot Springs National Park, Garvan Woodland Gardens ($15 per person) is home to stunning botanical gardens and architecture along 4.5 miles of wooded shoreline. Don't miss the Anthony Chapel Complex, a six-story chapel with floor-to-ceiling glass walls that showcase the beauty of the surrounding woodlands.
5. California
Dramatic granite mountains, plummeting waterfalls and immense sequoias characterize Yosemite National Park ($30 per vehicle), making it a must-see bucket list destination for the state. If you don't make it during the summer, visit during the last two weeks of February to see one of the most breathtaking sights: Horsetail Falls blazes as if made from liquid fire when the last rays of setting sun reflect on it. The event draws large crowds, so plan to spend the day in the area to see the sunset.
If you're a fan of "The Shining," you might experience a little deja vu when you walk into the Majestic Yosemite Hotel, formerly known as The Ahwahnee Hotel. Its lounge was the inspiration for the Colorado Lounge in the movie and the chandeliers, fireplace and windows are nearly identical.
6. Colorado
Visit Dinosaur National Monument in Dinosaur, Colo., to ramp up the adventure in your summer travel. For $20 per vehicle, you can see dinosaur footprints and relics, but don't turn around and leave after you do. Give yourself plenty of time to raft your way down the Green or Yampa rivers as you tackle rapids beneath sheer canyon walls.
Relax on beaches like Island Park or Rippling Brook, and spend the night under the stars in remote Echo Park for $10. Discover the stories of civilizations thousands of years old in the petroglyphs and pictographs engraved on ancient walls.
Make Your Money Work for You
7. Connecticut
Visit a chain of 365 islands in and around the harbor of Stony Creek in Branford, Conn., some of which are decked out with historic mansions that date to the 1800s. Take a boat tour among the Thimble Islands, hop a ferry ($7.50 each way) or paddle a kayak from the community of Stony Creek. Outer Island is a publicly-accessible wildlife refuge. Bring your camera and art supplies to spend time capturing its flora and wildlife.
8. Delaware
Delaware might be one of the smaller states in the U.S. but it's got big history. Known as The First State, here you'll uncover history dating back to colonial times. Start in New Castle, Del., a town that's been operating continuously since 1651.
Delaware declared independence from the Commonwealth of Pennsylvania and England on June 15, 1776, and Separation Day commemorates the event every June. Stroll through museums where colonial artisans once lived and worked: A $10 combo ticket lets you explore historical homes Amstel House and Dutch House.
9. Florida
Dry Tortugas National Park is one of the best destinations to get away from it all. Set 70 miles west of Key West, the island park includes Fort Jefferson on Garden Key, one of the largest 19th-century forts in the U.S.
Pay $10 to enter, and plan to spend a few days camping at $15 per night. The 100-square-mile park serves up beautiful sandy beaches and seven islands for exploring, boating and snorkeling. Bring supplies to be self-sufficient, as the island offers no services.
10. Georgia
For years, the words "See Rock City" painted on 900 barns from Michigan to Texas piqued travelers' curiosities. Rock City, the attraction in question, is on Lookout Mountain, just across the border from Chattanooga, Tenn., and is well worth including as a bucket list destination ($19.95 per person).
The whimsical and extensive gardens run through caverns, behind a waterfall and to vistas spanning views into seven states. Meander through Mother Goose Village, descend to the depth of The Hall of the Mountain King and hug your honey atop Lover's Leap.
Make Your Money Work for You
11. Hawaii
Snow in Hawaii? Yes, you read that right. The state's highest peak, Mauna Kea, meaning "white mountain," got its name because of occasional snowfall on its 13,800-foot summit. There's no formal ski area on the mountain, but locals still head up with snowboards and skis.
Located on the Big Island of Hawaii, Mauna Kea is home to more than a dozen observatories peering into the clear sky. They're not open to the public, but you can gaze at the stars through telescopes at the visitors center at 9,200 feet four nights a week. Sacred shrines and the state's only alpine lake share the Mauna Kea summit. Dress warmly: The mountain rarely sees temperatures above 50 degrees.
If you're looking for a sale on accommodations, package deals for flights from LAX and a hotel at the Mauna Kea Beach Hotel are currently on sale and showing a savings of more than $300.
12. Idaho
Hagerman Fossil Beds, in Hagerman, Idaho, is one of the best vacation spots to learn about prehistoric life — and it doesn't cost a dime to visit. Uncover facts about stone-age creatures like giant sloths, saber-tooth cats, camels and bears that once called Idaho home.
13. Illinois
Summer travel isn't complete without seeing the world's largest something. Get your annual fix at the country's best destination for all things big and tall. Casey, Ill., is home to the world's largest collection of the world's largest items. Check out the world's largest knitting needles, wooden shoes, rocking chair, wind chimes and mailbox — and that's just a start. Before you roll out of town, be sure to pose for pictures in the world's largest birdcage.
14. Indiana
Explore the world's longest navigable underground river at Bluespring Caverns ($18 per person), in Bedford, Ind. The complete darkness is illuminated only by the sphere of light that surrounds your boat as you pass through. Look for albino creatures that thrive in the dark waters and red-and-orange salamanders creeping on the cave walls.
There's more to see above ground at this bucket list destination. Hike the half-mile Bolton Natural Trail leading to a 15-acre sinkhole, or mine for semiprecious gems.
Make Your Money Work for You
15. Iowa
Grab your pitchfork and overalls and put on your best dour expression when you travel to this bucket list destination. The American Gothic House in Eldon, Iowa, is the backdrop to the famous painting by Grant Wood. The home's original owners shared the 504-square-foot home with eight children.
There are actually props to use onsite to take your picture in front of the house, so don't worry about how to pack that pitchfork on a plane (because you can't). The fact that the site is free might make it a struggle to keep your expression grim.
16. Kansas
Visit a small monument and chapel outside Lebanon, Kan., and you can say you visited the geographic center of the United States in your summer travels. The tiny white chapel and stone monument contrast against a green rural backdrop of Americana. Head into Lebanon to buy souvenirs.
Nearby, marvel at the World's Largest Ball of Twine, 27 miles south in Cawker City, Kan. You might get a chance to add to the 40-foot ball if you visit during the annual Twine-a-Thon the third week of August. The They Also Ran Gallery, commemorating presidential losers, awaits in Norton, Kan., 75 miles due west of the nation's geographical center. All destinations are free.
17. Kentucky
If your summer travel plans don't include a trip to Niagara Falls, consider heading to the "Niagara of the South." Cumberland Falls State Resort Park, near Corbin, Ky., houses a showy waterfall that offers something not found anywhere else in the Western Hemisphere. Plan your trip during the week of the month when the moon is the fullest to see Cumberland Falls' Moonbow.
At night, the mist from the river reflects the moonlight, creating a magical nighttime rainbow. Don't be disappointed if you show up and don't see anything but mist. The moonbow's colors show up best in photos. Bump up the color saturation to increase the effect. The rare phenomenon happens two days before a full moon to two days after.
18. Louisiana
If you're a fan of wine and craft beer, don't miss New Orleans' trail of libations. The city is commonly thought to be the birthplace of the cocktail. The city's famous Sazerac is a mix of French brandy and water with sugar and bitters added. Start at the Museum of the American Cocktail inside the Southern Food and Beverage Museum ($10.50), located in the Outlet Collection at Riverwalk.
There are plenty of other places to try the libation. Sip a Sazerac ($17) at the art deco Sazerac Bar inside the historic Roosevelt Hotel. Stay at this iconic hotel for less with a package airfare deal through Expedia for a savings of nearly $250 for two nights.
Still thirsty? Head to Jean Lafitte's Old Absinthe House to sample an Absinthe Suissesse or other libations of yesteryear.
Make Your Money Work for You
19. Maine
Include Mount Desert Island in your summer travel and you'll be scratching two superlatives off your bucket list destinations at once. The island is home to the tallest mountain on the U.S. Atlantic coast, Cadillac Mountain, where the sun shines before anywhere else in the U.S.
It's also home to the first eastern national park, Acadia National Park, which has an entrance fee of $25 per vehicle. Rough it by camping in the park ($22 and up) or head into swanky Bar Harbor, Maine, the summer destination for Martha Stewart, Rockefeller heirs and other elite vacation-goers.
20. Maryland
If the "Misty of Chincoteague" series by Marguerite Henry captivated your imagination as a child, Assateague Island National Seashore ($20 per vehicle) is your best vacation spot in Maryland. Bring your own horse to explore trails and overnight at horse camp; or pitch a tent or level your RV at the island's campgrounds ($30 and up per night). Hike, kayak or backpack the island and enjoy the beauty of the wild horses that roam free.
Chincoteague Island is just south of the Maryland-Virginia border. If you want to catch the Pony Penning festival, including the swimming of the horses and auction that you read about in the "Misty" books, reserve campsites or hotels early for the last Wednesday in July.
21. Massachusetts
Immerse yourself in Boston's history when you walk the Freedom Trail, a 2.5-mile route following a red line to 16 of the city's most historic sites. Take a Freedom Trail Exclusive Tour ($20) with the Freedom Trail Foundation, and listen to historical accounts from costumed actors. Or meander along at your own pace for free with a Freedom Trail map and self-guided tour available online through Free Tours by Foot.
Along the Freedom Trail, see the Skinny House, a 10-foot wide, four-story home dating to the Civil War. Get a front-row view of Copp's Hill Burying Ground just across the street and Boston Harbor beyond.
22. Michigan
There's more to Michigan's Upper Peninsula than towering forests, watery vistas and villages that make you think you're seaside. Visit car-free Mackinac Island, where the only ways to get around are by carriage or bicycle. Round-trip ferry tickets cost $26.
Wander through a colorful butterfly garden with more than 800 butterflies at the Butterfly House and Insect World ($9). Then, learn about insects and insectivores. Some of the museum's residents include a Senegal chameleon, giant redheaded centipede and emperor scorpions.
Make Your Money Work for You
23. Minnesota
Check out an underground waterfall and one of the largest caves in the midwestern U.S. at Niagara Cave, for $16, in Harmony, Minn. The cave became the first in the world to use solar power to light its underground cavern in 2015. The underground tours follow passages carved by an ancient underground stream. Check out the 60-foot underground waterfall that gave the cave its name, an echo chamber, fossils and even a subterranean wedding chapel.
There's more to do in Harmony, so stay a few days during your summer vacation. Pedal along 60 miles of paved bike trails in the Harmony-Preston and Root River trail system to see 19th-century towns and forested scenery. Take a free self-guided driving tour of the Amish community back roads, and visit shops with handmade items for sale.
24. Mississippi
If you grew up with "Sesame Street" or "The Muppet Show," you probably have fond memories of that lovable frog who doesn't have an easy time bein' green. Tucked along the banks of Deer Creek, in Leland, Miss., is where Muppet creator Jim Henson grew up. There, the Jim Henson's Delta Boyhood Exhibit rolls out educational displays, memorabilia and videos at the official birthplace of Kermit the Frog — all for free.
When in Leland, check out the Highway 61 Blues Museum set in the old Montgomery Hotel building. Blues history isn't just contained within museum walls, however. Check out bluesy murals and historic plaques located throughout downtown.
25. Missouri
Although a flooded former lead mine might not sound like a bucket list destination, you'll want to add Bonne Terre Mine to yours. Readers of USA Today 10Best voted the underwater attraction in Bonne Terre, Mo., as the best in the nation. Take a tour of the mine ($27) that includes both walking and boating segments.
Abandoned wooden catwalks hang overhead, and ore carts and other mining equipment are visible through the clear waters. Scuba divers have an opportunity for an even more fascinating perspective diving in now-flooded caverns containing the abandoned mining operation.
26. Montana
Canoeing or hiking in the shadow of Montana's rugged Rocky Mountains make Glacier National Park in West Glacier, Mont., one of the best destinations for summer travel. Admission is $30 per car. More than 700 miles of trails wind through scenic valleys, past alpine vistas and to crystal clear lakes just right for paddling.
When your feet need a rest, take a drive over the Continental Divide on the Going-to-the-Sun Road. Head up to Goat Haunt in the remote northern area of the park. Take a scenic boat in the shadow of Mount Olson. Then, hike into Canada and back — providing you're a U.S. or Canadian citizen. Just be sure to bring your ID.
Make Your Money Work for You
27. Nebraska
Carhenge in Alliance, Neb., is the best vacation spot to include during your summer travel in the Cornhusker State. Vintage cars painted gray to resemble stone replicate the famous English landmark. At 7 feet wide, the cars are the same width as Stonehenge rocks and are planted trunk-down in the soil to achieve the exact height, too. Admission is free.
Celebrate summer solstice on June 20 or plan to visit during the total solar eclipse on Aug. 21. While you're waiting for the sun to go down, check out the quirky sculptures at the adjacent car art park where everything is made from cars and car parts.
28. Nevada
When the bright lights and one-arm bandits of Las Vegas leave your head ringing, head to a more relaxing bucket list destination. Lake Tahoe is the country's largest alpine lake, with sparkling blue waters and forested shorelines. Its cool climate in the Sierra Nevada mountains make it one of the best vacation spots to beat the summer heat.
Head to Sand Harbor State Park ($12 per vehicle) on the lake's eastern shore. A soft sandy beach and unusual rock formations make this an ideal place to hang out for a day or longer. Kayak, snorkel or scuba dive, or find a shady retreat under the cedars and pines.
29. New Hampshire
Get artsy with a trip to Saint-Gaudens National Historic Site in Cornish, N.H., on the picturesque homestead of famous American sculptor Augustus Saint-Gaudens. Discover more than 100 sculpted works of Saint-Gaudens tucked around the property and exhibited in its galleries. Time your visit to take a sculpting class and get hands-on with the medium. Admission is $10 per person, and good for seven days.
Visit the spacious family home, Aspet, with rooms filled with original furnishings. Hike to a beaver village along the two-mile Blow Me Down Trails or discover Saint-Gaudens' favorite swimming hole along the quarter-mile Ravine Trail. Visit on Sunday afternoons for free concerts with your paid admission.
30. New Jersey
Today's kids never knew a world without smartphones, computers or electricity. But without the inventions of Thomas Edison from 1868 to 1931, they wouldn't be possible. With more than 1,000 U.S. patents, Edison's contributions touched phonographs, electric lights and power, batteries, mining, motion pictures, telephones and even cement.
Spend a day strolling through Thomas Edison National Historical Park for $10, and watch the kids' astonishment as they imagine a world without him. Browse through Edison's laboratory complex, and see a silent movie from 1903 and the movie studio where he shot early films.
Make Your Money Work for You
31. New Mexico
It's easy to miss the small city of Tucumcari when you're speeding down Interstate 40 through the New Mexico desert. But put on your blinker, get off the highway and discover why it deserves a reputation as a bucket list destination. Tucumcari's downtown, along Old Route 66, boasts building-sized murals that depict the city's history as a ranching town and Route 66 destination.
At night, neon lights blaze to life along the famous highway. Stop by Watson's BBQ ($6 and up) at Tucumcari Ranch Supply to taste local delights from baked goods to beef. Get a selfie with a skeletal Torvosaurus, T-Rex's cousin, at Mesalands Community College's Dinosaur Museum ($6.50), or explore oddities and antiques at Tucumcari Historical Museum for free.
32. New York
A vacation-inspiring blend of nature, history, architecture and modern culture, the Hudson River Valley makes the best vacation spot for families with diverse interests. Revolutionary War history buffs delight in working their way up the valley revisiting battlefields, historic homes of the founding fathers and museums preserving the era's history.
The Hudson River Valley Greenway offers miles of trails to hike or bike, spanning 14 counties. Or you can rent a kayak and paddle the 256-mile Hudson River Greenway Water Trail, with rental costs starting at $20 from Mountain Tops Outfitters in Beacon, N.Y. Travel the Hudson River School art trail to see the vistas that inspired many famous 19th-century artists. And make time to taste the local vintages along the Hudson Valley wine trail — a Hudson Valley Wine Tasting Passport costs $43.20 per person.
Book a package trip through Expedia that includes your rental car, flight and a room at The Roundhouse in Beacon, and save up to $150.
33. North Carolina
Enjoy splashy summer fun at Sliding Rock in the Pisgah National Forest, near Brevard, N.C., for a $2 entrance fee. The 60-foot natural waterslide culminates with a splash into an 8-foot deep pool. Observation platforms make it easy to watch the fun and snap photos of family members sliding.
If you've ever watched the Andy Griffith show and wondered if such an idyllic place as Mayberry really exists, it does. Put Mount Airy, N.C., on your summer travel itinerary when you're in the Tar Heel State. Griffith's hometown inspired Mayberry in the TV series. Visit Goober's filling station, Floyd's barbershop and the old courthouse. You can even take a guided tour in Barney Fife's police car for $35 per carload.
34. North Dakota
You don't have to worry about the kids asking "Are we there yet?" as you drive along the Enchanted Highway between Regent and Gladstone, N.D. Towering metal sculptures along the 32-mile route will keep their attention and provide opportunities for unique vacation photos. Start at Gladstone just off Interstate 94 and head south for the best views of the north-facing statues.
Pose with your family below a giant tin family, or snap selfies with fanciful prairie creatures like pheasants, deer and a grasshopper. The stagecoach and horses titled "Teddy Roosevelt Rides Again" will get you warmed up for a visit at Theodore Roosevelt National Park ($25 per vehicle), 48 miles due west of Gladstone. Get panoramic views of the North Dakota badlands, see buffalo and explore historic buildings.
Make Your Money Work for You
35. Ohio
Colorful and unique signage is a natural part of any summer travel. If you find yourself stopping to take pictures or watch unusual signs, include a trip to the American Sign Museum in Cincinnati as a bucket list destination. Walk through rooms alight with neons, Burma-Shave sequences, Mail Pouch barn signs and more. The $15 adult entry cost includes free admission for up to three kids 12 and under, making this a great vacation spot for stretching your budget.
36. Oklahoma
Plan time in Bartlesville, Okla., for the best vacation spot to explore Great Plains history. See buffalo roam at the Woolaroc Museum and Wildlife Preserve ($12). More than 30 species of animals call the preserve home, including elk and longhorn cattle. In the museum, browse displays of Native American beads, baskets, blankets and pottery, and marvel at one of the nation's most complete collections of Colt firearms.
Discover the local roots of one of the largest gas and oil companies at the Phillips Petroleum Museum for free. You can also step back into frontier times at Silver Lake Farm and Garden ($7).
37. Oregon
Feel minuscule as you hike through a towering old-growth rain forest, replete with magical waterfalls, in Siuslaw National Forest. There, you can meander trails in the Drift Creek Wilderness, 7 miles north of Waldport, Ore., to enter a world ruled by towering spruce, big leaf maple and western hemlock trees that can reach 7 feet in diameter.
No vehicles or bikes are allowed, so the songs of nature are interrupted only by your footfalls along the mossy and fern-lined trails. You can save money on lodging at low-cost camping sites. Site and camping fees start at $5.
38. Pennsylvania
Float along a lazy river through the Delaware Water Gap in Delaware Township, Pa., or hike forested trails leading to hidden waterfalls. Pack a picnic and take the kids on an easy to moderate hike along the 1.4-mile George W. Childs Park trail.
Meander along Dingmans Creek to discover three waterfalls and ruins of an old woolen mill. Stop for your picnic midway at Fulmer Falls where a Civilian Conservation Corps picnic pavilion overlooks the rushing waters.
Make Your Money Work for You
39. Rhode Island
With history dating back to 1636, Providence is a must-see bucket list destination for history buffs. Explore sights like the Providence Athenaeum, an 18th-century library frequented by Edgar Allan Poe. Or walk the wild trails through the 88-acre Neutaconkanut Hill Park, which formed the town's border in its early days.
Try to time your visit to the city to coincide with a WaterFire event. Taking place on various Saturdays and sometimes other evenings, it involves the lighting of 100 giant fire sculptures along the city's three rivers. Torchlit boats travel the river, fire tenders entertain crowds and keep the fires burning, and international music adds some ambiance.
40. South Carolina
Hike or camp out in the largest old-growth forest in the southeastern U.S. at Congaree National Park — for free. Anyone can enjoy the park's boardwalk trail that loops 2.4 miles through cypress, oak, maples and loblolly pine.
Rent a canoe or kayak in Columbia from Palmetto Outdoors for $50 and up, or look for ranger-guided canoe tours, which are free plus a $1.50 reservation fee. The park is also home to synchronized fireflies that light up the park at night, typically during May and June. Book a campsite at the Bluff Campground for $5 per night, and enjoy seeing them right from the camp.
41. South Dakota
If you're headed to South Dakota to see Mount Rushmore, plan a few extra days in your schedule to explore nearby bucket list sights. An even larger memorial is emerging from the hills in Crazy Horse, S.D.
Begun by the same sculptor as the famous mountain of presidential faces, the Crazy Horse Memorial ($28 per car), a still-in-progress tribute to the local Lakota Indians, has been a work in progress since 1948. When it's completed, it will be the world's largest mountain carving at 563 feet tall. The head of the Crazy Horse statue is 27 feet taller in size than the heads of Mount Rushmore.
Afterward, head to Rapid City to see more American presidents. Look for life-size bronze statues along city sidewalks in downtown.
42. Tennessee
Even if you've been to America's most visited national park before, you'll want to include it among your bucket list destinations. There's no fee to visit Great Smoky Mountains National Park, and its 800 square miles offer an enticing array of fun, free things to do.
Visit preserved churches, farmhouses, barns, cabins and ancient graveyards. Take a scenic drive to Clingmans Dome, through the Newfound Gap or along the Roaring Fork. Stretch your legs and take a hike to one of the park's many waterfalls. The tallest in the park is Ramsey Cascades, which plummets 100 feet at the end of a 4-mile uphill hike.
Make Your Money Work for You
43. Texas
With a motto like "Keep Austin Weird," you have to add this out-of-the-ordinary city to your bucket list destinations. Case in point: the Cathedral of Junk ($10 per group donation). The work of art spans three stories, with bicycle wheels and an array of oddities making up the cathedral's walls. Walk through more weirdness at the Museum of the Weird for $12 or the Uncommon Objects shop.
Even nature gets in on Austin's weirdness. The Sometimes Islands were a peninsula in the 1960s when the water levels of Lake Travis were low. As water levels rise, the Sometimes Islands become islands until they disappear barely beneath the surface. Now you see 'em, now you don't. You can reach the Sometimes Islands from Mansfield Dam Park by walking when they are a peninsula.
44. Utah
Some of America's best bucket list destinations are just a short drive off the beaten path — like Fantasy Canyon. The Bureau of Land Management sight shows off some of the strangest natural geologic formations in the world. Two dozen of these natural, windswept-into-Swiss-cheese formations are named, but there are many that are not.
About an hour south of Vernal, Utah, you'll see Dumbo, a flying porpoise, yawning lady, coyote and more along a .6-mile loop trail. The canyon makes an ideal side trip if you're visiting Dinosaur National Monument from the Utah side, 40 miles away.
45. Vermont
Take a summer swim in a scenic stone quarry for an unforgettable vacation experience. Dorset Marble Quarry formerly provided marble for buildings that include Harvard Medical School and the New York Public Library. Today, the privately owned quarry is open to visitors to swim at no charge, although there's a $10 per-carload parking fee.
On your way, check out scenic covered bridges in the area: Vermont has more than 100. The Chiselville Covered Bridge rises 40 feet above the Roaring Branch of the Battenkill River 13 miles south of the quarry. Watch out for high winds at the West Arlington Covered Bridge — cables keep the scenic red bridge from getting blown over by strong gusts.
46. Virginia
Take a drive along the Blue Ridge Parkway in Virginia for a slice of Americana filled with bucket list destinations. Visit the one-stoplight town of Floyd for the Friday Night Jamboree, for $5, to enjoy music and dancing at the Floyd Country Store. Stay over for the Americana Afternoon on Saturday and the Sunday Music Jam, both of which are free.
Venture out to other nearby attractions. Take a hike at Rocky Knob Recreation Area, which covers more than 4,000 acres, or ponder the picturesque setting of historic Mabry Mill, an old gristmill that's one of the most photographed spots on the Blue Ridge Parkway.
Make Your Money Work for You
47. Washington
When you head to Washington, beautiful forests and snowcapped mountains are just half the adventure. Some of the state's best bucket list destinations rest below the earth's surface. The Mount St. Helens Ape Cave Lava Tube ($5) is the longest lava tube in the continental U.S. It's named for the Sasquatch sightings in the area.
Start with the easy lower Ape Cave, which is .75 miles long. Marvel at "Meatball," a lava ball wedged above the cave floor. For a more strenuous adventure, challenge yourself in the upper Ape Cave. As you travel the 1.5-mile tube, you'll scramble over 27 boulder piles and climb up an 8-foot lava fall.
48. West Virginia
If the internet and social media keep interrupting your vacation bliss, head to the National Radio Quiet Zone in Green Bank, W.V. The countryside, dotted with farmhouses and cabins, doesn't look out of the ordinary. But there's one thing missing: the heaping helping of electromagnetic devices broadcasting radio waves that dominate our everyday world.
The reason: There's a giant radio telescope at the Green Bank Observatory that listens for sounds from space that emit less energy than a single falling snowflake. Visit the Green Bank Science Center to get up close to the telescope on a tour, and engage with hands-on exhibits. Admission is free, but special lab and telescope tours cost $5 and up.
49. Wisconsin
Make Wisconsin Dells your bucket list destination to spend time enjoying unique natural surroundings, kitschy museums and theme parks. It's known as the Waterpark Capital of the World, but there are 100 attractions to capture your imagination.
Mr. Marvel's Wondertorium ($9) has oddities as diverse as a Mexican walking fish, the world's largest egg and shrunken heads. Explore the 100 or so oddities in the establishment and sit back and enjoy a circus stunt show.
When it's time to slow down, head to Mirror Lake State Park to fish, kayak or hike ($28 per car for in-state license plates, $38 for out-of-state license plates). Or you can kick back with a picnic, blanket and bottle of wine at Baraboo Bluff Winery.
50. Wyoming
Yellowstone National Park is a natural bucket list destination when you visit Wyoming, and there are places in the park you won't want to miss. Old Faithful Geyser will be on your itinerary, but you'll want to see Grand Prismatic Spring, too.
The geyser has a bright blue center with rings of color in reds and green circling outward. The show is due to a combination of pigmented heat-loving bacteria and light reflection. It's also the third largest geyser in the world: It's wider than a football field and is deep enough to swallow a 10-story building.
Take a trip up to Isa Lake while you're there. Perched astride the Continental Divide, the mountain lake drains into both the Gulf of Mexico and the Pacific Ocean.