As Summer Travel Intensifies, Avoid These Airports Known for Delays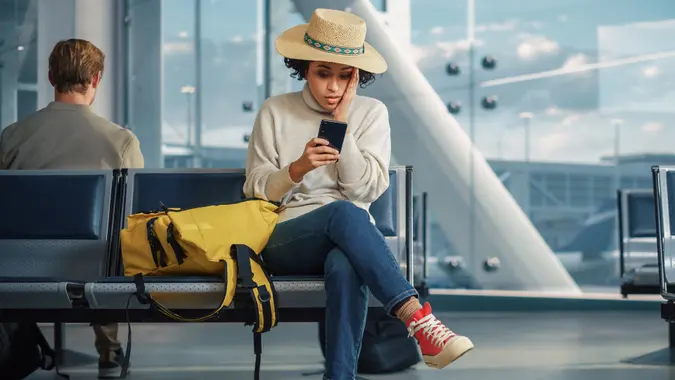 gorodenkoff / iStock.com
If Memorial Day weekend was any indication, experts are predicting one of the busiest summer travel seasons ever this year. While the number of travelers surpassed 2019 levels for Memorial Day weekend 2023 by 5%, airlines and airports were plagued with staffing shortages, fewer flights and aging technology systems.
Add in the wildcards of storms and the start of hurricane season, Fourth of July weekend could prove to be equally stressful for travelers.
"Summer always features lines of thunderstorms moving across the national airspace disrupting air traffic, and this summer may include more of the higher energy weather we increasingly see daily," airline industry analyst Bob Mann told CNN.
Lack of Air Traffic Controllers Could Cause Additional Delays
The biggest problem plaguing airlines this year, however, is the lack of air traffic controllers, according to experts. The shortage has caused airlines to trim the number of flights and may also lead flight delays.
"Full flights, hot cabins, everyone sharing an armrest, fewer flights than 2019 and even fewer flights in the Northeast due to FAA constraints mean limited options to re-accommodate passengers from delayed and canceled flights, meaning more passenger trip interruptions and disruptions," Mann told CNN.
CNN specifically mentioned New York-area airports, John F Kennedy International, LaGuardia and Newark as especially problematic this summer travel season due to lack of air traffic controllers, but no region is immune.
Make Your Money Work for You
10 Worst Airports for Summer Travel, According to Forbes
Forbes Advisor recently analyzed 100 of the busiest airports in the U.S. for on-time arrivals, cancellations, and a variety of other factors.
Which airports should you avoid or at least try to book a direct flight to avoid missing a connection? If you can't fly direct or out of a different airport, try to leave extra time on both sides of your trip to minimize stress.
Orlando Sanford International Airport, Orlando, Florida
St. Pete-Clearwater International Airport, St. Petersburg, Florida
Asheville Regional Airport, Asheville, North Carolina
Orlando International Airport, Orlando, Florida
Bradley International Airport, Hartford, Connecticut
Cincinnati/Northern Kentucky International Airport, Cincinnati, Ohio
Dallas Love Field Airport, Dallas, Texas
Colorado Springs Airport, Colorado Springs, Colorado
McGhee Tyson Airport, Knoxville, Tennessee
El Paso International Airport, El Paso, Texas
More From GOBankingRates