The Most Beautiful Natural Hot Springs in America and Your Cost to Visit

8 min Read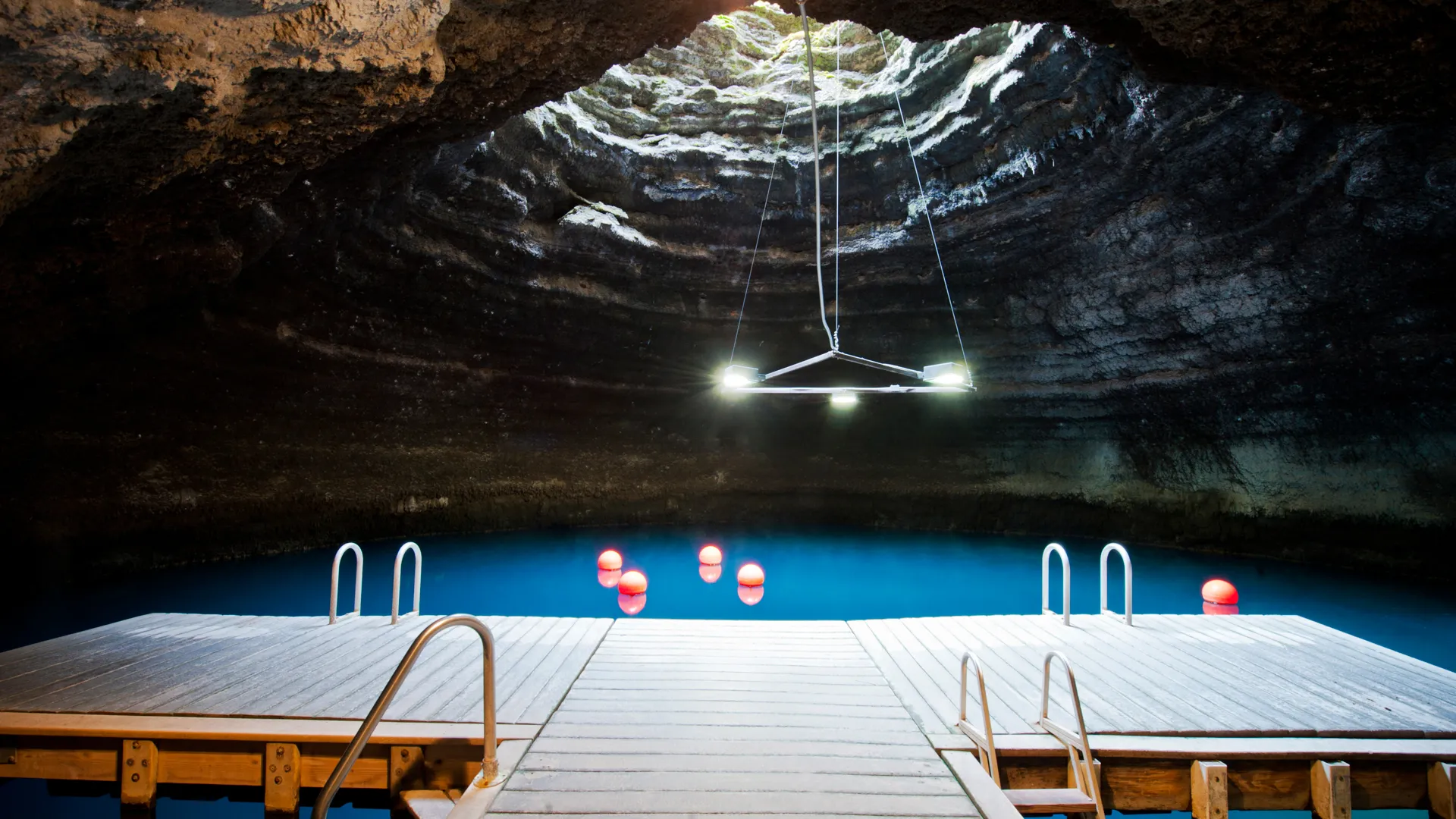 Often caused by volcanic activity, hot springs — in layman's terms — are a naturally formed Jacuzzi-type pool that's a gift from Mother Nature. Choosing the perfect hot springs getaway comes down to personal preference, as no two are exactly alike. Some are left au naturel, while others have had extravagant spas and resort facilities developed around them. Some are easily accessible, while others require a bit of effort to indulge in their spoils.
Located in virtually every corner of America, soak your cares away at one of these relaxing retreats.
Make Your Money Work for You
Travertine Hot Springs — Bridgeport, Calif.
This is one of the easiest natural hot springs to get to, and Travertine's beauty is not limited by its accessibility. A great pit stop for Angelenos en route to Lake Tahoe or Mammoth Mountain, this free roadside attraction is perfect for travelers to get a much-needed reprieve from the California traffic or for visitors to get one last parting glance of the Sierra Mountains.
Strawberry Park Hot Springs — Steamboat Springs, Colo.
The state of Colorado is a natural hot springs haven, but the crème de la crème is Strawberry Park. Ideal for the winter visits, the 104-degree mineral water is perfect for soothing your aching bones after a long day on the slopes.
Strawberry Park is adults only and clothing optional after dark. If you'd like to spend the night in the area, there are rustic cabins, train cabooses and even covered wagons to rent for a truly one-of-a-kind glamping experience. Adult admission is $15; youth (3-17) admission is $8.
The Esalen Hot Springs — Big Sur, Calif.
Clinging to a cliffside, the Esalen Hot Springs have been used by natives in ritual healing for more than 6,000 years. It was actually the very first tourist attraction in Big Sur in the early 1880s and to this day, people are drawn to the European-style health spa.
The baths overlook the ocean and are clothing optional. Public night bathing is sometimes permitted by reservation for $35. But currently, the only way to experience the facilities is through their all-inclusive, multi-day healing workshops, which start at $420 for the weekend.
Chena Hot Springs — Fairbanks, Alaska
The Chena geothermal system is fed by water deep underground going back thousands of years. The resort is over 100 years old and boasts a number of attractions beyond the healing waters.
One of the best places to see the northern lights, Chena also is home to the largest year-round ice environment in the world, the Aurora Ice Museum. Admission to the adults-only hot springs lake costs just $15 per day, making it a great option for an affordable romantic getaway.
Make Your Money Work for You
Dunton Hot Springs — Dunton, Colo.
One of the most isolated resorts in the world and described as a "romantic ghost town in an extraordinary alpine valley," Dunton Hot Springs and its unique setting reflect the early mining days of the Rocky Mountains.
Visible from the highest point in town, the area is home to Colorado's only geyser and offers a host of other included activities from mountain biking and nature walks to cross-country skiing and snowshoeing.
The hot springs are only accessible for overnight guests, with luxurious and all-inclusive cabin rentals starting at $1,000 a night.
Breitenbush Hot Springs — Detroit, Ore.
A remote retreat and conference center where the WiFi is weak, Breitenbush is the place to go for a digital detox.
The three clothing-optional pools and steam sauna each have varying temperatures with views of glacier-fed rivers, lush forests and towering mountains. In short? It's the place to find your zen surrounded by a beautiful backdrop of nature.
Reservations are required, with admission ranging from $23 to $39 for adults.
Kirkham Hot Springs — Lowman, Idaho
Nestled on the South Fork of the Payette River, Kirkham Hot Springs is one of the best undeveloped hot springs in the U.S.
Accessible via a short hike along the Ponderosa Pine Scenic Byway, a number of naturally formed geothermal pools can be found running alongside the highway. Park yourself under the waterfall for a free heated shower.
The springs themselves are free, but there are fees for camping and parking.
Hot Springs State Park — Thermopolis, Wyo.
Boasting a completely free bathhouse with 104-degree waters, hot water cascades down the colorful and naturally formed Rainbow Terraces at an impressive rate of 8,000 gallons a day. Formerly home to a medical community studying their unique healing properties, the waters have been used for centuries — even by dinosaurs.
Beyond soaking your cares away, the park is also a place to see majestic free-range bison roaming in the wild.
Make Your Money Work for You
Riverbend Hot Springs — Truth or Consequences, N.M.
A mineral spa located on the banks of the Rio Grande River, Riverbend Hot Springs was frequented by Geronimo and Apache warriors for decades. It's known as a place for both pain relief and detoxification.
You can buy a facilities pass for $12 an hour, or you can opt to spend the night under the starry New Mexico sky. Private soak pools are also available.
Hot Springs Resort & Spa — Hot Springs, N.C.
At the 100-acre resort and spa, modern Jacuzzi-type tubs pipe in mineral water from deep below the earth. Set along the banks of Spring Creek and the French Broad River, Hot Springs was a major stop along the Appalachian Trail for weary explorers to rejuvenate their tired muscles. Private baths range from $25 to $60 per hour.
Homestead Crater & Hot Spring — Midway, Utah
One of the most amazing underground wonders, this 55-foot spring is concealed within a beehive-shaped limestone rock. Over 10,000 years in the making, the hole in the dome keeps the heat inside, shielding it from the elements.
In addition to providing relaxation, the crater is the only warm-water scuba and snorkeling destination in the continental U.S., making it a draw for adventure enthusiasts, especially in the winter.
Reservations are required, with soaks costing $13, an additional $5 to rent snorkel equipment or $18 for a scuba dive.
Radium Springs Gardens — Albany, Ga.
Admission to these beautiful botanic gardens — one of Georgia's seven natural wonders — is free. Fed by an underground cave, the area was formerly home to a casino, which has been turned into a courtyard outfitted with exotic flora and fauna, as well as gazebos that overlook the ethereal turquoise springs.
The Springs Resort and Spa — Pagosa Springs, Colo.
A premier hot springs retreat in Southern Colorado, Pagosa Springs boasts 23 naturally occurring therapeutic pools and a mineral lap pool fed by the world's deepest geothermal hot spring. It actually extends to an unknown depth, according to the Guinness Book of World Records. Admission starts at $32 per person.
Make Your Money Work for You
Goldbug Hot Spring — Salmon, Idaho
This is one of those hot springs you have to work for. A 2-mile trek in with a steep elevation gain, the free pool is a sought-after reprieve for ambitious hikers.
Many opt to spend the night, as there is almost zero light pollution, making it a great place to camp under the stars as the night sky opens up before your eyes.
Fifth Water Hot Springs — Diamond Fork Canyon, Utah
Another natural, free hot springs only accessible via hiking, several soaking pools and a series of photogenic, cascading waterfalls are located along a tributary by the Diamond Fork River. There are a few different trail options to get you there, but the Rays Valley route is about 2.5 miles, easy and well-maintained.
Sierra Hot Springs — Sierraville, Calif.
Native Americans have regarded Sierraville as a sacred place for healing for centuries. It has been a resort for more than 150 years.
The Temple Dome is the main pool area, which features an enclosed stained-glass structure with skylights and mosaic tiling. Membership fees are required to use the facilities ($5 a month or $20 per year), in addition to a $20 to $25 daily soak rate.
Quapaw Baths and Spa — Hot Springs, Ark.
The newest addition to historic bathhouse row in Hot Springs National Park, Quapaw is a luxuriously modern spa retreat in Arkansas. The water has been carbon-dated to 4,000 years old and is high in silica, calcium, magnesium, free carbon dioxide, bicarbonate and sulfate, originally used by Native Americans for their natural healing properties.
You can take a dip in the thermal pools for just $20 a person, and add a visit to the highly concentrated steam cave for an extra 10-spot. If you're looking for affordable lodging options, check out this cozy bed-and-breakfast.
Make Your Money Work for You
The Omni Homestead Resort — Hot Springs, Va.
Legend has it that Native Americans discovered these crystal springs and bathing has taken place in the spa waters for at least 9,000 years. The Gentleman's Pool is actually the oldest spa structure in the U.S., with a female pool added later.
The area was a vacation destination for 23 past presidents, and two major hot springs flow directly through the high-end Southern resort and waterpark. History buffs will love soaking in the same waters as American icons such as Thomas Jefferson.
A day pass to the adults-only Serenity Gardens and outdoor spa pool is available for $75 and is included with the purchase of any spa treatment at least 50 minutes in length.
El Dorado Hot Springs — Tonopah, Ariz.
An oasis in the Arizona desert, El Dorado Hot Springs and its waters have been described as "bathing in liquid silk." Private soaking areas are available for $15 per hour, which includes both hot and cool tubs, as well as showers and lounges.
Peacocks wander the grounds, as do a number of other birds from roosters and quails to hens, turkeys and ducks.
About the Author