15 Best Affordable Family Vacation Spots for Labor Day Weekend 2023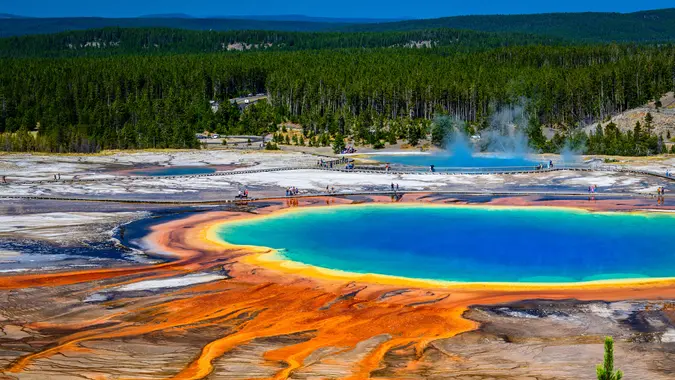 tiny-al / Getty Images/iStockphoto
It's easy to take the path of least resistance when traveling with kids and just head to the same spot with kid-friendly activities year after year. So, if you want to find the best family holiday destinations, consider venturing throughout America to see more of what the country has to offer. Whether you are seeking out some natural beauty or want the thrill of a theme park, this Labor Day make sure to research all of your family fun options.
Read: How To Get Cash Back on Your Everyday Purchases
15 Great Labor Day Family Vacation Destinations
Planning a trip for all ages that everyone will enjoy can seem complicated. If you are looking to take advantage of the upcoming long Labor Day weekend and want to get out of town, but don't want to spend a lot of money, be sure to consider one of these amazing family vacation destinations throughout the United States:
Yellowstone National Park
Cedar Point
Freedom Trail
U.S. Space and Rocket Center
Grand Canyon National Park
Musical Instrument Museum
Yosemite National Park
Arches National Park
Alcatraz Island
National Air and Space Museum
Georgia Aquarium
Sleeping Bear Dunes
San Diego Zoo
Mammoth Cave National Park
Dinasour Valley State Park
1. Yellowstone National Park
It's hard not to be impressed by all of the incredible natural wonders the world's first national park has to offer. Because an active volcano lies beneath Yellowstone National Park, the site has more than 10,000 hydrothermal features such as mud pots, hot springs and geysers — including the famous "Old Faithful." Plus, there are nearly 300 waterfalls and an incredible array of wildlife — including elk, moose, bison and bears — in this 3,472-square-mile park that straddles Wyoming, Montana and Idaho.
Although there are some hidden expenses to watch out for when visiting, it costs only $35 for a seven-day vehicle pass. There are a few times during the year when entrance fees to all national parks are waived, however. Currently, all fourth graders can visit national parks for free as part of the Every Kid Outdoors program, making it a great family vacation idea.
Make Your Money Work for You
2. Cedar Point
If you want to go on a thrilling family vacation, head to the roller coaster capital of the world, Cedar Point in Sandusky, Ohio. With 18 roller coasters, it consistently ranks as one of the top amusement parks in the world. For those who don't want the adrenaline rush, Cedar Point also offers tame family rides, kids' rides and live entertainment. 
3. Freedom Trail
Families can walk into history along Boston's Freedom Trail, a 2.5-mile stretch of 16 historic sites that tell the story of the American Revolution. Sites include the Old State House, which was the center of events that sparked the American Revolution, and the USS Constitution, the warship known as "Old Ironsides."
4. U.S. Space & Rocket Center
The U.S. Space & Rocket Center in Huntsville, Ala., is the largest spaceflight museum in the world and home to several science-related camps for kids, including Space Camp. But anyone can tour this center to see its collection of rockets and ride simulators that recreate the feeling of a rocket launch (there are height restrictions).
5. Grand Canyon National Park
The Grand Canyon National Park should be on every family's travel itinerary because it will make such a big impression on both kids and adults. The awe-inspiring 277-mile-long, 1-mile-deep canyon carved by the Colorado River is one of the most popular national parks — so expect big crowds during spring, summer and fall. You can make it a day trip or camp there which is a great way to check this item off the bucket list.
Make Your Money Work for You
6. Musical Instrument Museum
A visit to the Musical Instrument Museum in Phoenix is like taking a musical tour of the world. The museum has a collection of more than 13,000 instruments — including Eric Clapton's guitar and John Lennon's piano — from 200 countries and territories. Visitors can wear wireless headsets to hear the instruments being played and listen to live performances which is great for younger or older kids alike. 
7. Yosemite National Park
This national park in California is not only home to the tallest waterfall in North America but also giant sequoia trees. Yosemite also has spectacular rock formations, including the often-photographed Half Dome and El Capitan. This is a wonderful way to take in beautiful scenery and enjoy outdoor activities with the family. 
8. Arches National Park
A trip to Arches National Park near Moab, Utah, is almost like visiting another planet because the landscape of more than 2,000 natural stone arches and red rock formations is truly other-worldly. While there, you can also visit nearby Canyonlands National Park to see spectacular buttes, canyons and sandstone spires that are hundreds of feet tall throughout the many hiking trails.
9. Alcatraz Island
Give your kids a lesson in history with a tour of Alcatraz Island off the coast of San Francisco. It's best known for the years it operated as a U.S. penitentiary that housed infamous inmates such as Al Capone. But Alcatraz also was the first lighthouse on the West Coast, a Civil War fortress and the birthplace of the American Indian Red Power movement.
Make Your Money Work for You
10. National Air and Space Museum
A family trip to Washington, D.C., isn't complete without a visit to the National Air and Space Museum. Kids and parents will marvel at thousands of aviation and space artifacts, including the airplane the Wright brothers flew during the world's first successful powered flight and the Apollo 11 Command Module from the first manned lunar landing mission.
The best part is that it's free, as is admission to most of the other 18 museums and galleries that are part of the Smithsonian Institute.
11. Georgia Aquarium
Not only is the Georgia Aquarium in Atlanta one of the largest aquariums in the world, but it also has one of the most diverse assortments of aquatic animals — from harbor seals and penguins to manta rays and beluga whales. Visitors can even interact with several of the animals, including dolphins and sea otters. The Georgia Aquarium is also the only place in the world where you can swim with whale sharks, making it one of the best family vacation spots around.
12. Sleeping Bear Dunes
You can hike, hang out on the beach on Lake Michigan or climb the massive dunes that give this national lakeshore its name. You also can float down the rivers by boat or inner tube, view wildlife along the lakeshore or ride your bike along paved trails in this Michigan park.
13. San Diego Zoo
A trip to Southern California should include a visit to the San Diego Zoo, which features more than 3,700 animals in their natural habitats. You can take a guided bus tour, ride the tram and see animal shows to put you in the cool kids club with your family. The San Diego Zoo also offers special experiences, such as animal interactions and behind-the-scenes views.
Make Your Money Work for You
14. Mammoth Cave National Park
This national park in Kentucky is home to the world's longest cave system. You'll see dramatic formations on all tours that let visitors explore the various parts of the cave, including the more "wild" areas for those who don't mind tight, dark spaces.
15. Dinosaur Valley State Park
If your kids love dinosaurs, they can see where they once roamed at Dinosaur Valley State Park. You can find dinosaur tracks in the riverbed, watch the wildlife that still roams the area or go geocaching — a treasure hunt — in this park near Fort Worth, Texas.
Final Take To GO 
This Labor Day, pack up the van and hit the road to one of the many great American national parks, museums, zoo or aquariums. You can find many beautifully scenic areas filled with fun activities that both the young and young at heart can enjoy. There are no excuses for not taking advantage of a nice long, and hopefully relaxing, weekend all across the country. 
Cameron Huddleston contributed to the reporting for this article.