Scenic Fall Road Trip Ideas for a Small Budget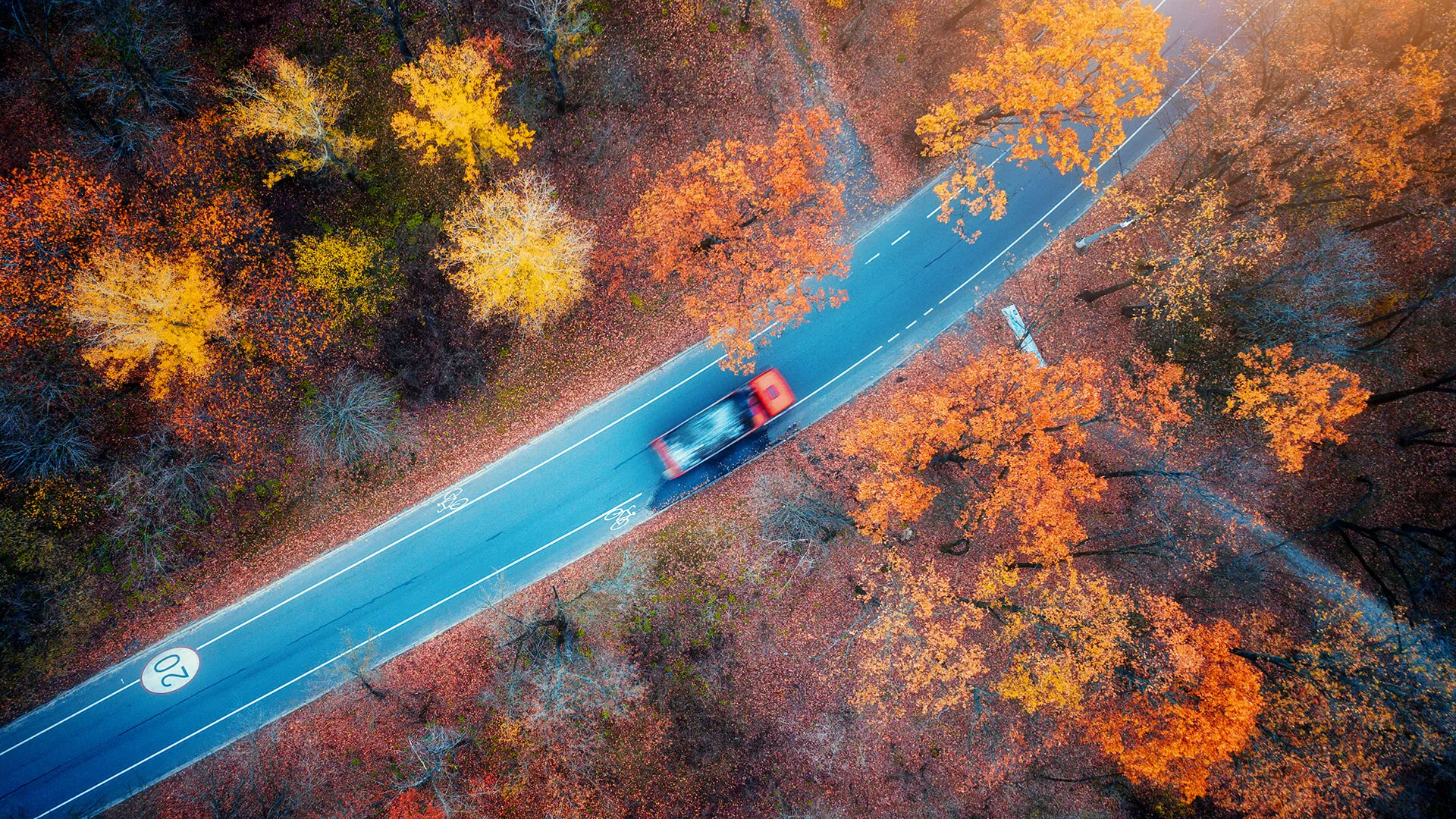 No season seems to beckon a road trip quite like the fall. The weather starts cooling down, the sun sets a little earlier and the leaves change color, which makes it a perfect time to pack up the car, head off the beaten path and do a little sightseeing.
Let's Go: 
Save: 
Before heading out, it's a good idea to do some research on where you're planning on going and what restrictions may be in place due to the pandemic. In addition to possible mask requirements, keeping a stash of hand sanitizer and disinfecting wipes on hand isn't a bad idea, either.
With that in mind, here are 25 road trips that are ideal to take in the fall, no matter where you are in the country.
Last updated: Sept. 2, 2021
Parkway Road Trip
Starting point: Charlottesville, Virginia
Ending point: Asheville, North Carolina
Distance: 469 miles
Named 'America's Favorite Drive,' the Blue Ridge Parkway winds through the Blue Ridge Mountains, offering stunning views and connecting Shenandoah National Park in Virginia to the Great Smoky Mountains National Park in North Carolina. Its popularity has even made it the most-visited parts of the national park system.
As the road winds through so many forested areas, it makes it an ideal road trip to see the changing colors of the leaves. However, the Parkway is not maintained during the winter months and may be closed in late fall.
You can get a room at the Pisgah Inn, which offers the highest elevation lodging on the Blue Ridge Parkway and starts at $180 per night during the week.
Find Out: 
Make Your Money Work for You
Kancamagus Highway Road Trip
Starting point: Lincoln, New Hampshire
Ending point: Conway, New Hampshire
Distance: 34.5 miles
New Hampshire's Scenic Byway winds through White Mountain National Forest and offers breathtaking views — among them the White Mountain and Swift River. Known affectionately as "The Kanc," it's a well-known favorite during the autumn months.
It should be noted that this stretch of New Hampshire Route 112 has no gas stations, restaurants or hotels. Their only option is the Radeke Cabin, which served as a summer camp for U.S. Forestry students until the mid-1960s. It costs $65 per day plus a $9 reservation fee. 
Read: 
Big Bend Scenic Loop Road Trip
Starting point: Panther Junction Visitor Center, Big Bend National Park, Texas
Ending point: Panther Junction Visitor Center, Big Bend National Park, Texas
Distance: 100 miles
A vast and isolated park out in west Texas, Big Bend offers stunning views of massive canyons, vistas, desert expanses and the Rio Grande River.
It's important to keep to the 45 mph speed limit and watch for wildlife along the road — especially at night. Anyone who wants to drive through the park's backcountry on dirt roads need to make sure they have a high-clearance vehicle with four-wheel drive.
At this time, Big Bend National Park is operating at a limited capacity due to COVID-19, so you'll want to make any reservations you may need ahead of time. You can make reservations for the Chisos Basin campground for $16 per night ($8 with a Senior or Access Pass) if you want to sleep under the stars.  The entrance fee to get into Big Bend National Park is $30 for a seven-day pass.
Did You Know?: 
High Road to Taos Road Trip
Starting point: Santa Fe, New Mexico
Ending point: Taos, New Mexico
Distance: 105 miles
A captivating drive through the American Southwest, the High Road to Taos is one of those road trips that could take anywhere between a few hours to all day. It all depends on how often you feel like stopping along the way.
The twists and turns through the scenic Sangre de Cristo mountain range, passing artist colonies and villages with well-preserved Spanish colonial architecture along the way are all worthwhile distractions. You can find lodging at the Taos Inn with rooms starting around $168 per night.
Million Dollar Highway Road Trip
Starting point: Montrose, Colorado
Ending point: Durango, Colorado
Distance: 105 miles
If you drive from Montrose to Durango on U.S. Route 550, you'll pass through a beautiful 25-mile stretch from Ouray to Silverton known as the Million Dollar Highway. It's also considered one of the most dangerous roads in the U.S. There are no guardrails or shoulders, the drop-offs are steep and the curves are sharp. But there are stunning views of Uncompahgre Gorge and the San Juan Mountains along the way. Weather and road closures can be unpredictable, so always check road conditions ahead of time.
At the end of the drive, you can find accommodations in Durango like Best Western Durango Inn & Suites, which has rooms from roughly $190 per night. 
Make Your Money Work for You
Columbia River Highway Road Trip
Starting point: Troutdale, Oregon
Ending point: The Dalles, Oregon
Distance: 80 miles
Not only will you get views of Oregon's beautiful fall foliage along the Columbia River Highway Scenic Byway on this road trip, you'll also see spectacular waterfalls in the Columbia River Gorge. With the Columbia River at its base, the route is marked by sheer cliffs, forests and mountain views.
You'll find various lodging options along this scenic byway, including the Columbia Gorge Hotel & Spa that has rooms starting under $200
Travel Prep: 
Tail of the Dragon Road Trip
Starting point: Deals Gap, North Carolina
Ending point: Tabcat Creek Bridge, Tennessee
Distance: 11 miles
Driving enthusiasts flock to this portion of U.S. Route 129 along the Tennessee/North Carolina state line boasting 318 curves in 11 miles. You'll need to stick to the 30 mph speed limit (or less) to handle the curves and enjoy the scenery of the Great Smoky Mountains, which will include an abundance of colorful autumnal leaves.
There are various lodging options in the area, including motels, resorts, lodges and vacation homes. Rooms at Fontana Village Resort and Marina — which is just 7 miles from the Tail of the Dragon — starting at $139 per night. 
Black River Scenic Byway Road Trip
Starting point: Bessemer, Michigan
Ending point: Black River Harbor, Michigan
Distance: 11 miles
Highway 513, designated as National Forest Scenic Byway, winds through Ottawa National Forest in Michigan along the Black River and includes Great Conglomerate Falls, Potawatomi, Gorge, Sandstone and Rainbow Falls. Not to mention the countless hardwood trees bursting with fall colors. You can find lodging in nearby Ironwood, like the Black River Lodge with rooms starting around $200 per night.
Scenic Byway 12 Road Trip
Starting point: U.S. Highway 89, near Panguitch, Utah
Ending point: Torrey, Utah
Distance: 124 miles
Scenic Byway 12 will provide travelers with a spectacular fall road trip winding through some of the most remote and awe-inspiring landscapes throughout Utah. Along the route, the scenery ranges from alpine meadows and aspen trees in Dixie National Forest to towering red rock formations called hoodoos in Bryce Canyon National Park.
The road has sharp curves and narrow shoulders in parts, and cell phone service isn't available through most of it. Camping in the parks is available, however. As is lodging in motels like the Bryce Canyon Pines Motel, which has rooms with rates from $145 a night.
Make Your Money Work for You
Pacific Coast Highway Road Trip
Starting point: Monterey, California
Ending point: Pismo Beach, California
Distance: 155 miles
The Pacific Coast Highway is considered one of the best American road trips, and one of the most popular drives in the world. As it winds along the Central California coast, this highway offers stunning views of the Pacific Ocean, quaint beach towns and roadside attractions to explore. Fall is the perfect time to check out the Pismo State Beach Monarch Butterfly Grove, where you can observe tons of migrating monarch butterflies from November to February each year.
Lodging options include the Shore Cliff Hotel in Pismo Beach, where room rates start at $189 per night in November.
Route 6 Massachusetts Road Trip
Starting point: Sagamore, Massachusetts
Ending point: Woods Hole, Massachusetts
Distance: 160 miles
You can easily make the road trip to Cape Cod in a day, but spreading it out over several days gives you the chance to stop and explore some America's oldest towns. Peek leaf time starts around mid-October, and while you're there you can also Cape Cod National Seashore, featuring beaches, marshes and ponds.
You can find a variety of accommodations on the way, such as the Hyannis Travel Inn, which has rooms starting at $277 per night.
Bourbon Trail Road Trip
Starting point: Stanton, Kentucky
Ending point: Bardstown, Kentucky
Distance: 116 miles
If you start this trip off in Stanton, you can see some of the best fall colors in Kentucky at the Red River Gorge. Then, continue your travel across the Bluegrass State to Bourbon Trail and see how "America's Official Native Spirit" is crafted at the nine distilleries, including Jack Daniels and Maker's Mark. Along the way, you'll also see some of the state's most beautiful horse farms. Obviously, you don't want to drink and drive, so plan accordingly.
There are numerous lodging options, including Bourbon Manor Bed & Breakfast Inn in Bardstown that has rooms starting at $260 per night.
Good To Know: 
Make Your Money Work for You
Park Loop Road, Acadia National Park Road Trip
Starting point: Hulls Cove Visitor Center, Acadia National Park, Maine
Ending point: Hulls Cove Visitor Center, Acadia National Park, Maine
Distance: 27 miles
You can see the mountains, forests and a rocky shoreline — as well as the fall foliage — at Acadia National Park on Maine's Mount Desert Island. As you drive along Park Loop Road, you'll want to do so slowly, because there is lots of wildlife.
The park's campgrounds are open, but several features are currently off-limits due to storms and construction. The nearby town of Bar Harbor on Mount Desert Island has accommodations like the Bar Harbor Grand Hotel, where rates start at $220 per night.
Sandhills Journey Scenic Byway Road Trip
Starting point: Grand Island, Nebraska
Ending point: Alliance, Nebraska
Distance: 272 miles
This stretch of Highway 2 defies expectations of Nebraska by taking you through the state's Sandhills, along with wetlands, marshes and rivers, where millions of birds stop along their migration routes. You can learn about pioneer life at the Stuhr Museum of the Prairie Pioneer in Grand Island, see the largest hand-planted forest in the world at Nebraska National Forest, and check out Car Henge. 
You can find a variety of lodging, such as the Alliance Hotel and Suites, where rooms start at $80 per night.
Lake Erie and Lake Ontario Shorelines Drive
Starting point: Dunkirk, New York
Ending point: Cape Vincent, New York
Distance: 276 miles
Lake Erie and Lake Ontario border New York, and you can see them both on this long stretch of road. If you're going to check out the leaves, you'll want to travel from Dunkirk to Cape Vincent. Along the way, take a short detour so you can check out breathtaking Niagara Falls.
Find lodging at the end of the trip near Cape Vincent, where a stay at the Harbor House Inn will run you $275 a night.
Make Your Money Work for You
Pacific Northwest Wine Country Road Trip
Starting point: Salem, Oregon
Ending point: Walla Walla, Washington
Distance: 288 miles
Wine lovers can get their fill as they drive from Salem, Oregon, to Walla Walla, Washington. Salem lies within Willamette Valley, which is Oregon's largest wine-making region and home to more than 100 wineries. You'll also enjoy fantastic fall foliage during October on this drive.
From RV parks to hotels, there's a range of lodging options. For example, rates for rooms at A Room with a View Bed and Breakfast start at $140 per night with a two-night minimum.
Great River Road Trip
Starting point: Minnesota
Ending point: Louisiana
Distance: 3,000 miles
This massive road trip has you follow the Mississippi River from its origin in Minnesota to where it meets the Gulf of Mexico in Louisiana. As you pass through 10 states, the Great River Road Trip features both small and large cities like Minneapolis, St. Louis and the Big Easy. In the northern areas, you'll also take in the beauty of brilliant red, yellow and gold leaves.
Depending on where you decide to start and end your trip, you will need lodging for several nights. Rates will vary depending on the property and city, but you can stay right on the riverfront for $90 per night at Alma Home Style Lodging in Alma, Wisconsin.
Big Island Loop Road Trip
Starting point: Kailua-Kona, Hawaii
Ending point: Mauna Kea, Hawaii
Distance: 300 miles
Although Hawaii may not seem like a fall destination, it is if you want to save money, given it's not a peak season for the popular locale. If you want to make the most of your drive on Hawaii's Big Island, this series of connecting highways takes you past jungles, beaches, mountains and active lava flows. You can start at sea level in Kailua-Kona, then make your way to the 13,796-foot summit of Mauna Kea. And if you're interested in seeing the annual humpback whale migration, visit the islands of Maui or Kaua'i in November.
You can get a room at the Old Hawaiian B&B in Hilo, Hawaii, for $144 a night.
Make Your Money Work for You
Southern Colorado Loop Road Trip
Starting point: Durango, Colorado
Ending point: Durango, Colorado
Distance: 500 miles
Take a roundabout tour of Southern Colorado as you drive from Durango to Great Sand Dunes National Park — the tallest dunes in North America. From there, you can head from Dunnison through the Red Mountain Pass back to Durango, which features peak fall colors throughout starting in September. You can stop along the way in Almont at Three Rivers Resort, which has lodge rooms and cabins starting at around $150 per day.
Blues Highway Road Trip
Starting point: Nashville, Tennessee
Ending point: New Orleans
Distance: 657 miles
Known as Blues Highway, Route 61 offers music lovers the chance to listen to live music, explore famous recording studios, visit Graceland, the home of Elvis Presley, and ending in The Big Easy. The trip could take several days, and there are various lodging options along the way, including the Peabody Hotel in Memphis, Tennessee, which has rooms starting at $245 per night.  It also has ducks — yes, ducks — that march to the lobby fountain twice a day.
National Parks Tour Road Trip
Starting point: Jackson, Wyoming
Ending point: Yellowstone National Park, Wyoming
Distance: 180 miles
A fall road trip in these Wyoming national parks will help you avoid the busier summer crowds, though some park campgrounds may be closed in September or early October.  Start in Jackson and head north through Grand Teton National Park, where you'll see wildlife, beautiful lakes and the spectacular Teton Range.
Then continue north to Yellowstone National Park, the world's first national park and home to Old Faithful, where peak fall foliage times are September through the first week in October. 
Yellowstone offers a variety of campgrounds on which to pitch your tent or park your RV, starting at $15 per night. Though like most national parks, it's operating on a reserve system, so be sure to check ahead of time.
Make Your Money Work for You
Southwest National Parks Road Trip
Starting point: Grand Canyon National Park (North Rim), Arizona
Ending point: Moab, Utah
Distance: 862 miles
Starting with the North Rim of Grand Canyon National Park in Arizona, the Southwest National Parks road trip offers another stunning view of America's park system.
From there, head north to Utah's Zion National Park's massive sandstone cliffs and deep, narrow canyons. Nearby Bryce Canyon National Park boasts the world's largest collection of hoodoos, which is soft rock topped by harder rock, turning it into dramatic spires. Continue driving north through Canyonlands National Park, then finish your trip at Arches National Park near Moab, which has more than 2,000 natural stone arches.
You will need to make multiple lodging stops on this trip. The national parks have campgrounds with varying fees. For example, camping fees for individuals at Arches National Park are $25 per night.
New Mexico-Texas Road Trip
Starting point: Las Cruces, New Mexico
Ending point: Las Cruces, New Mexico
Distance: 950 miles
Take the lonely highways of Southern New Mexico and West Texas to a number of fall-friendly attractions. There's the world's largest gypsum dune field at White Sands National Monument, the spectacular caves of Carlsbad Caverns National Park, the Rio Grande in Big Bend Ranch State Park and the artsy desert town of Marfa, Texas. As you head back to Las Cruces, make sure to take a detour to Roswell, New Mexico to visit the International UFO Museum.
Plan to make several stops during this trip. You can find lodging at spots such as Hotel Encanto de Las Cruces for $136 per night.
Make Your Money Work for You
Mohawk Trail Road Trip
Starting point: Williamstown, Massachusetts
Ending point: Athol, Massachusetts
Distance: 69 miles
One of the first auto-touring roads, the Mohawk Trail (also known as Route 2) passes through forests and historic towns, as well as the Hairpin Turn, where you can view four states at once. This drive is considered one of the most spectacular for viewing fall foliage in New England. As far as lodging, you can stay at the mountain-top Whitcomb Summit Retreat in Florida, Massachusetts, for $119 and up per night.
Look: 
Hana Highway Road Trip
Starting point: Kahului, Hawaii
Ending point: Hana, Hawaii
Distance: 52 miles
Hana Highway will take you along Maui's eastern coast — where you'll get beautiful views of the Pacific Ocean on one side of the road and cliffs, jungles and waterfalls on the other. You'll want to take your time not only to enjoy the spectacular scenery but also to safely navigate the highway's 600 curves. As far as lodging, nearby spots like Little Slice of Paradise have rooms available for as low as $189 per night.
Cynthia Measom and Christian Long contributed to the reporting for this article.