Save Money on Your Next Trip to Hawaii by Visiting These Uncommon Sightseeing Spots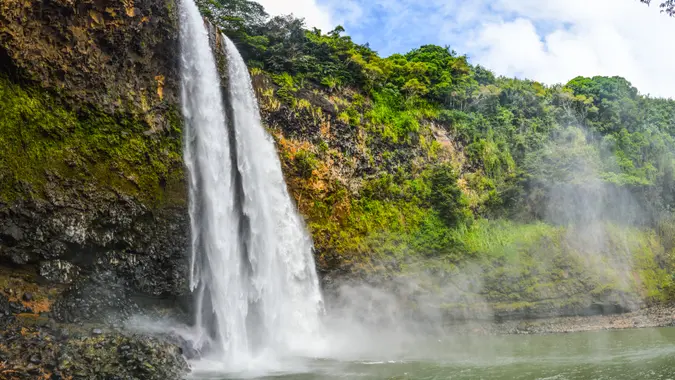 ©Shutterstock.com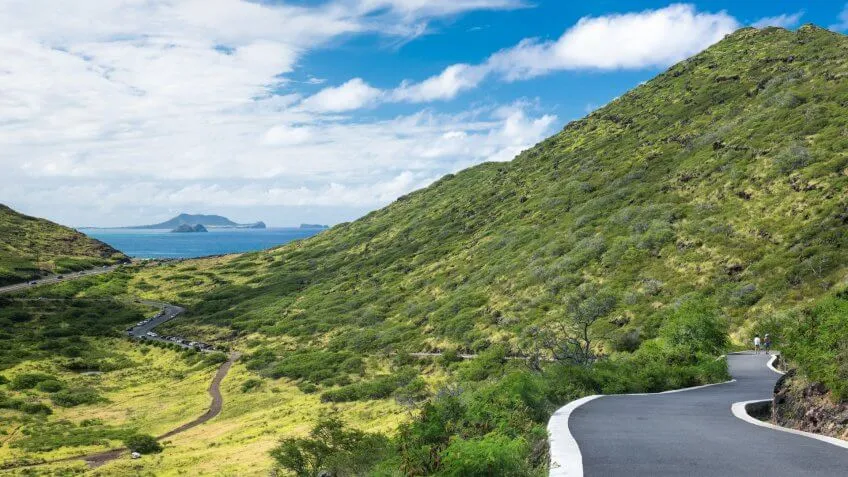 ©Shutterstock.com
Relaxing on a sunny beach is no doubt one of the best free things to do in Hawaii. But palm tree-lined white sand beaches are just one of many natural wonders visitors can experience on a Hawaiian vacation.
Travelers interested in seeing more of what Hawaii has to offer will be glad to know there are plenty of picturesque destinations they can visit that don't come with hidden vacation fees. From tropical jungles to snow-capped peaks, these are the best free sightseeing spots in Hawaii.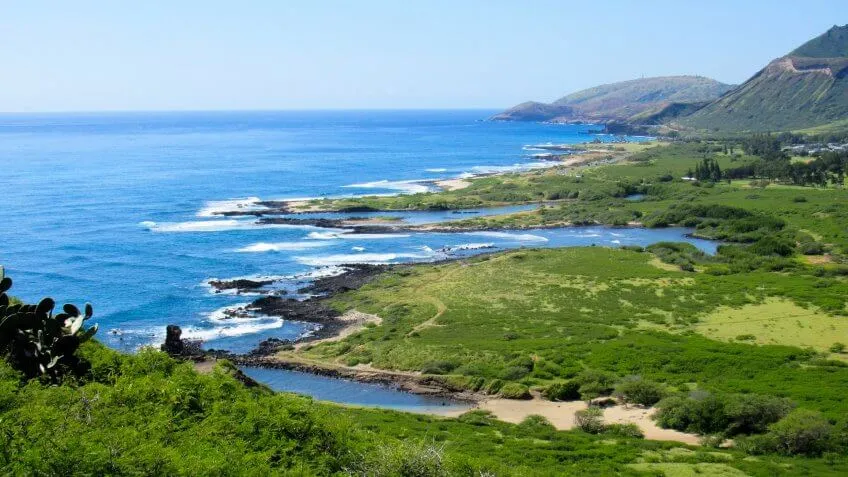 Farragutful / Wikimedia Commons
Kaiwi State Scenic Shoreline
Location: Oahu
Oahu is Hawaii's most-visited island, attracting twice as many tourists as any other. Visitors will find some of the best free things to do in Hawaii on Oahu, including visiting Pearl Harbor. To break away from the tourist crowds, visit Kaiwi (meaning bone) State Scenic Shoreline on the island's southern tip.
At Kaiwi State Scenic Shoreline, you can strike out on the Makapu'u (meaning bulging eyes) Point Lighthouse Trail. The paved one-mile trail offers views of Koko Crater and Koko Head, offshore islets and expansive views of Windward (meaning Eastern) Oahu. Bring your binoculars to enjoy these sights and to look for whales that migrate to the area from November through May.
The trail also offers views of Makapu'u Lighthouse. Below the lighthouse lies Makapu'u Beach, which features tide pools and a "blowhole" formation that expels water into the air.
Before heading to the Makapu'u Point Lighthouse Trail, be sure to bring plenty of water and sun protection, as there is no shade on the trail. There are no restrooms, either, but nearby Makapu'u Beach Park has facilities and great spots to enjoy a picnic overlooking the ocean.
For a different adventure, head away from the lighthouse on the Kaiwi Shoreline Trail. The trail takes you to the volcanic formation known as Pele's Chair, which is believed to be the last place the Goddess of Fire sat before departing Oahu to create Molokai and Lanai. A protected cove with a white-sand beach and tide pools lies just below.
Check Out: 7 Tricks to Upgrade Your Vacation for Less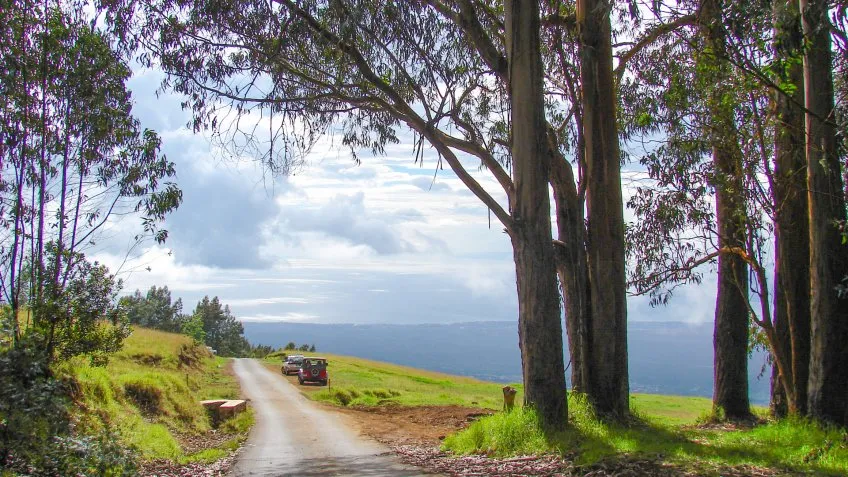 Forest and Kim Starr / Wikimedia Commons
Location: Maui
The second largest and second-most visited island in the state, Maui has some of the best free things to do in Hawaii. Among these is Polipoli (meaning soft, porous rock) Spring State Recreation Area.
Shade is in abundance at Polipoli Spring State Recreation Area, which consists of four trails that create a 3.5-mile loop leading through forests and wooded areas to scenic vistas. Start at the old Civilian Conservation Corps camp area in Polipoli Springs State Park and head out on the Plum Trail. Springtime flowers and summer fruit cover the plum trees along the way. The trail loop follows the Redwood, Haleakala (meaning house of the sun) Ridge and Polipoli trails, where you'll see redwood trees, conifers and sweeping views from the crest of a ridge.
If you plan to visit Polipoli Spring, be sure to bring a jacket, as the 6,200-foot elevation and shady terrain can feel quite cold. Temperatures are known to sometimes reach freezing at night.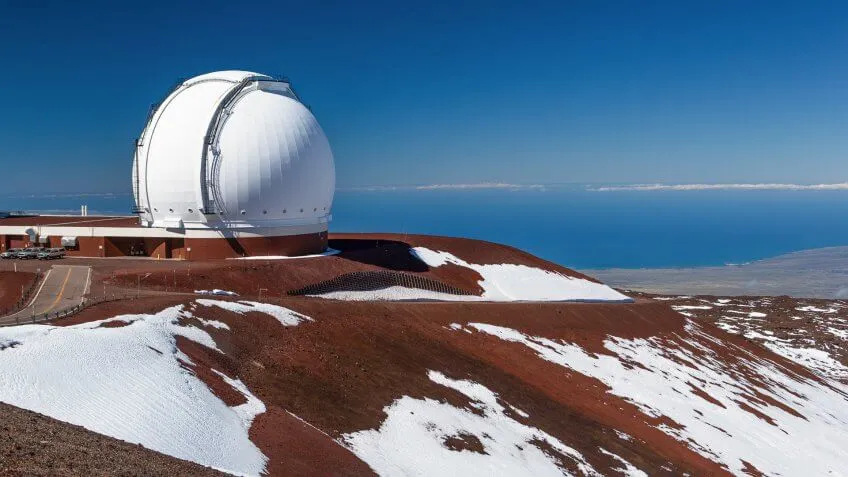 Semisatch / Shutterstock.com
Mauna Kea Summit
Location: Island of Hawaii
At 4,028 square miles, Hawaii is the largest island in the state, which explains its nickname "the Big Island." The island of Hawaii brims with scenic natural beauty and an abundance of free things to do, including driving or hiking to the top of the snow-capped Mauna Kea (White Mountain) Summit. Visitors can also check out Mauna Kea's sister volcano, Mauna Loa (Long Mountain), which is home to Kilauea — an active lava flow.
Native Hawaiians honor Mauna Kea Summit as the dwelling place of divine deities and ancestors. Tradition marks this as the meeting place of the Earth Mother and Sky Father, who created human life. Also at the summit is Lake Waiau (meaning water to swim in), the sixth highest lake in the U.S.
At 13,796 feet above sea level, the Mauna Kea Summit is an ideal location for astronomical study. In fact, more than a dozen private observatories share the landscape with sacred shrines to take advantage of the typically cloud-free sky.
Should you want to gaze at stars, visitors are welcome to peer through telescopes between 6 and 10 p.m. on certain evenings at the visitor center, which is located at 9,200 feet. During daylight hours, you can get a look at the sun through the center's solar telescope.
Also See: 10 Best and Worst Deals in Hawaii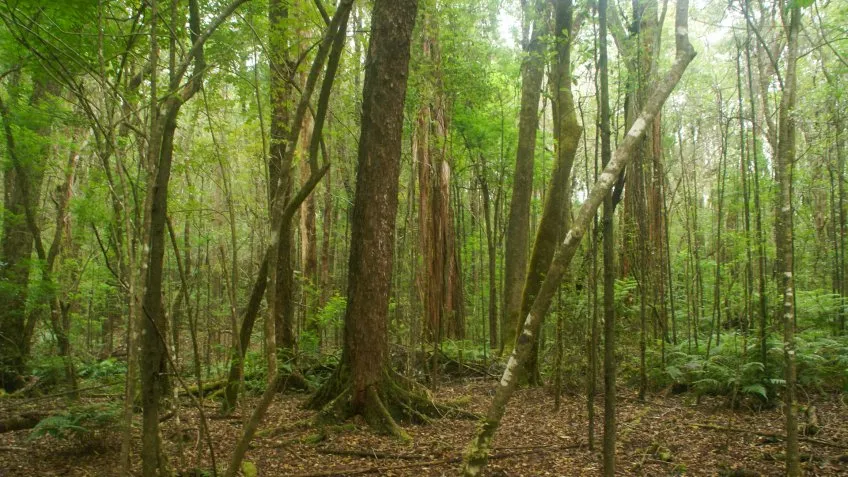 David Baron / Flickr.com
Kalopa Native Forest
Location: Island of Hawaii
Those looking to experience natural beauty without scaling the Mauna Kea Summit should explore the old-growth rain forest at Kalopa (meaning commoner) State Recreation Area on the island of Hawaii.
Wander the sun-dappled nature trail and familiarize yourself with native plants that have lived on the island from its ancient beginnings. The loop meanders 0.7 miles beneath a canopy of towering 'ohi'a trees. Their bases spread up to 3 feet in diameter in an understory filled with ferns, shrubs and smaller native trees.
There are approximately four miles of other trails in the forest. Hiking these trails, you will uncover a Polynesian garden with some of the original canoe plants introduced to the island for medicine, food and clothing. You can also trek your way down the overgrown Arboretum Trail or discover breathtaking views overlooking the 200-foot-deep Kalopa Gulch.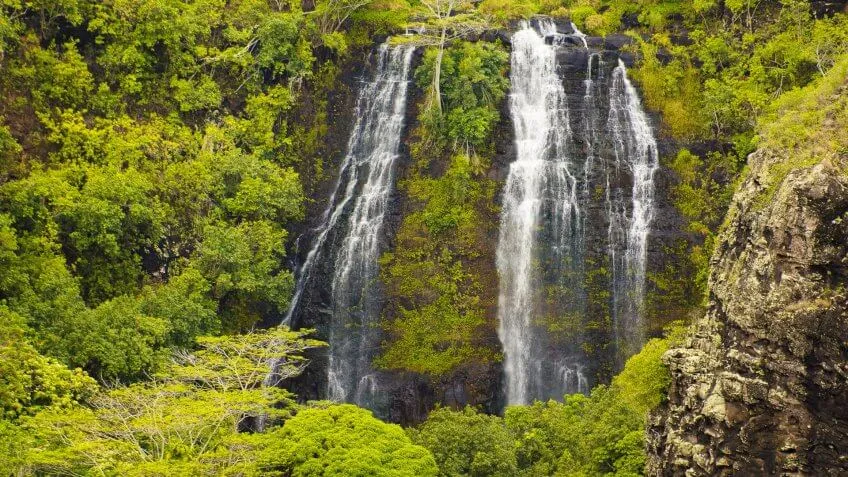 cleanfotos / Shutterstock.com
Wailua River State Park
Location: Kauai
Nicknamed the "Garden Island," Kauai's tropical climate is home to lush vegetation and scenic natural beauty that attracts rich and famous vacationers like Facebook CEO Mark Zuckerberg. Kauai is the only island in the state with a navigable river, and it's home to stunning waterfalls. It's also where you'll find fun, free things to do.
The Wailua (meaning two waters) River State Park is an ideal spot to enjoy nature's wonders. Tucked along the river, the park encompasses two tumbling waterfalls, lush vegetation, ancient places of worship, petroglyphs and more.
Opaekaa (meaning rolling shrimp) Falls tumbles 151 feet and makes a scenic spot to enjoy a picnic. A roadside pullout has abundant parking and restrooms. The park's other waterfall, Wailua Falls, is also easy to see from a roadside viewing area. If the falls look familiar, it's because they were featured in the opening credits of the show "Fantasy Island."
Some of the park's other highlights include the Wailua Complex of Heiaus, a national historic landmark that was once the seat of chiefly power and Hawaiian worship. Picnic in a coconut grove, discover ancient inscriptions on riverside boulders and wrap up the day with shopping at Wailua Marina.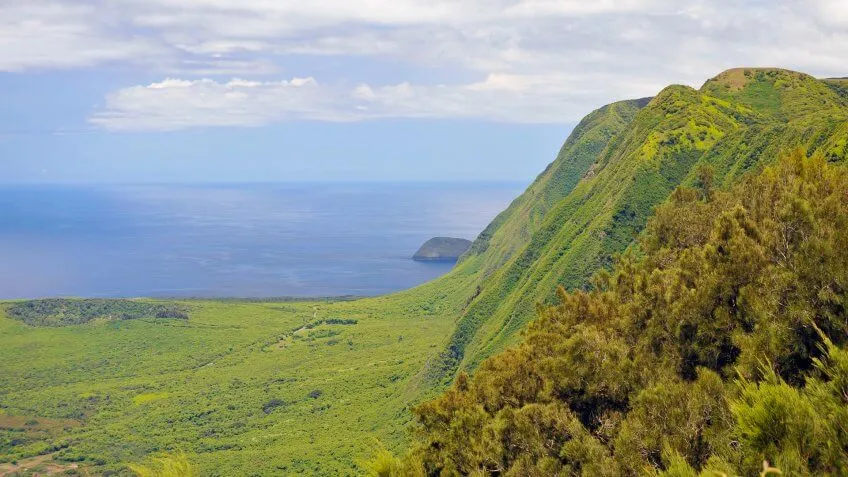 norinori303 / Shutterstock.com
Kalaupapa Lookout
Location: Molokai
The Kalaupapa (meaning flat leaf land) Lookout is one of the best free things to do in Molokai. The lookout is more than 1,000 feet above the Kalaupapa National Historical Park. Surrounded by water on three sides and with 3,315-foot sea cliffs at its back, the park was once home to a forced leper settlement. More than a dozen residents live there today.
Kalaupapa National Historical Park can only be reached by air, boat, mule or foot. Kalaupapa National Historical Park is free to visit — just like many U.S. national parks. However, transportation companies do charge fees for their services. Visitors are also required to obtain a permit prior to entering the park.
Visitors who don't venture into Kalaupapa National Historical Park can still enjoy the stunning views offered by the Kalaupapa Lookout. In the winter months, look for humpback whales off the coast. Continue your hike to visit the Kaule o Nanahoa sacred fertility site, which translates to...actually, just Google that one. The site is home to the impressive Phallic Rock.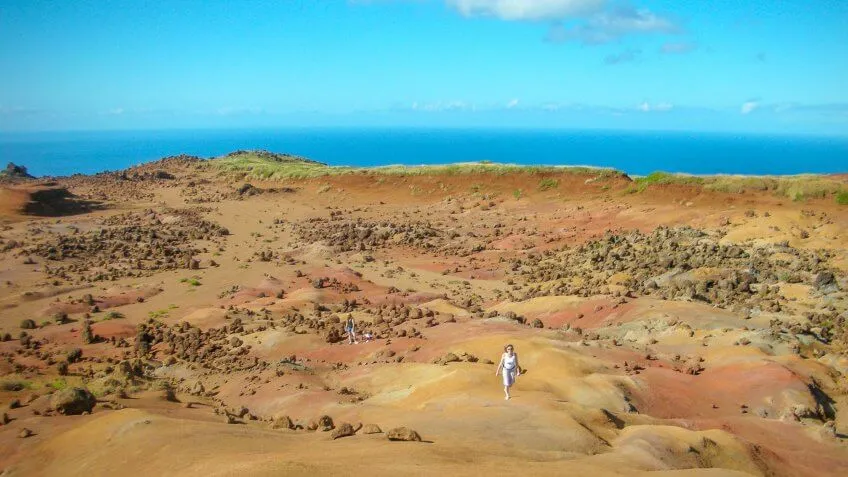 Halibut Thyme / Wikimedia Commons
Garden of the Gods
Location: Lanai
Lanai is the smallest of Hawaii's inhabited islands — the two smaller islands are Niihau, which is private and Kahoolawe, which is uninhabited. With a population just over 3,000, Lanai gives visitors that away-from-it-all feeling. The 140-square-mile island has only 30 miles of paved road. Visiting the Garden of the Gods is among the best free things to do in Lanai.
Located just seven miles north of Lanai City, the Garden of the Gods is a lunar-like landscape filled with boulders that seem to be artistically placed by a giant hand. The rocky landscape blazes shades of red and purple at dusk and dawn.
Continue north another six or so miles and you'll find yourself at Polihua (meaning egg nest) Beach. Chances are you'll have a good piece of white sand to yourself at this remote but so-worth-the-trip paradise. The waters are prone to rip tides, but the beach is a lovely spot to soak up the sun, whale watch and gaze across the deep blue waters.
Up Next: How to Book Last-Minute Travel Plans on the Cheap
Hawaiian translations included in this article are according to Ulukau, a dictionary of Hawaiian language.