How To Book Last-Minute Travel Plans on the Cheap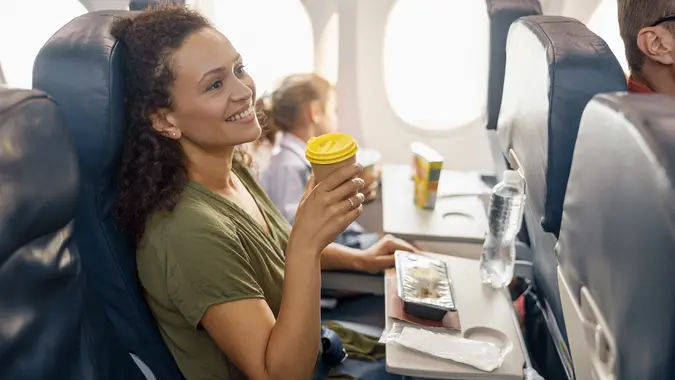 Yaroslav Astakhov / iStock.com
Got the travel bug? The start of summer is here and you might be itching for a spontaneous weekend getaway. But airfare on last-minute bookings is sky-high, and you'll be pressed to find hotels offering competitive rates — or so you think.
Here are some of the best ways to save big on last-minute travel.
Although booking through travel sites sounds like a good idea, you might be losing out on some perks that can save you money later. For example, many hotels offer loyalty points, which can help you get free room upgrades and even free stays. With travel sites, you can't always count on these types of rewards. 
Another reason to book direct is that comparison sites generate at least some of their revenue through bookings. So, you might be paying extra for the convenience of using those sites. Some hotels even actively encourage direct bookings. For example, The Portola Hotel & Spa in Monterey, Calif. offers a best-rate guarantee for guests booking through its website.
Meanwhile, airlines can help you book vacation packages. United Vacations offers an online portal for vacationers and over-the-phone booking. The service will help you book airfare, accommodations, and a car rental. It offers a best-price guarantee to ensure your vacation is the cheapest available.
1. Search for Last-Minute Offers
Specific travel sites offer limited-time specials and last-minute deals for spontaneous travelers. You can even find deals for a low-cost vacation getaway.
Make Your Money Work for You
Travelocity, for example, dedicates a segment of its site to last-minute getaways. The site recently offered round-trip airfare from New York's JFK airport to the Bahamas for $302 for the weekend of June 9. That's much cheaper than booking directly through American Airlines, where a round-trip ticket for the same weekend will cost $646. 
TravelZoo offers last-minute deals that offer low prices on getaways. For example, one that was offered was an all-inclusive trip to Punta Cana with airfare starting at $519 a person.
For vacation packages, start your search on Expedia and Travelocity. Even if you don't find the perfect travel deal, you can get inspiration for a weekend getaway, such as to Las Vegas or Boston. One all-inclusive Expedia package to Cancun costs $487 a person. 
For car rentals, Alamo has a section dedicated to last-minute specials. Simply enter your pickup location and dates of travel, and you'll see rates on different categories of vehicles. These specials are available in as little as one hour's notice.
2. Check Groupon and Costco Travel
Costco is notorious for deals on bulk items, and Groupon is famous for deals on tourist attractions and local services, like massages and fitness classes. But, don't overlook these offline and online resources for booking cheap travel.
While Groupon offers vacation deals across the U.S., its international vacation packages are top-notch. One deal to Tuscany costs $699 a person and includes hotels and airfare. 
Although Sam's Club suspended its travel services starting in 2017, Costco offers cruise and vacation packages. A three-night cruise from Sydney starts at $204 a person.
Make Your Money Work for You
The Costco site even has a section dedicated to last-minute cruise deals. You can find Carnival, Celebrity, Disney and Royal Caribbean cruises, with travelers receiving Costco Cash cards following their vacations.
3. Use Mobile Apps
You might be used to making travel plans on your home computer, but you might be paying more on reservations if you're neglecting to use mobile apps.
Although research from Skyscanner debunked the travel myth that sites raise pricing based on your browser's cookies, mobile apps, and email newsletters offer exclusive deals to subscribers — and these resources give you greater access to potential deals to your dream vacation spot.
Mahesh Chaddah, co-founder of hotel reservations website Reservations.com, agreed with the sentiment. He recommended using apps because "many hotels offer limited discount rates to mobile users only." After all, these brands want to encourage you to use their apps whenever you research pricing — and good deals are one way to keep you an active user.
Not sure which apps to download? Travelocity and Orbitz are good options. Each offers mobile-exclusive deals through their apps.
4. Comparison Shop Dates and Airports
The best way to plan a trip is to allow for some flexibility in your schedule. Not having exact dates in mind can help you find the best deal. 
A round-trip Spirit Airlines flight from Los Angeles to Seattle on Friday, Jun. 2 and returning Monday, Jun. 5 costs $226 round trip, but you'll save $28 if you leave Saturday instead. 
Similarly, if you are flying to or from a big city, you can find cheaper airfare to nearby airports. A weekend trip to Miami from Dallas costs $728 round-trip on American Airlines for the same dates listed above. However, if you fly out of Fort Lauderdale (a 30-minute drive from Miami), it only costs $238. 
5. Travel to Lesser-Known Destinations
If it's Monday and you can hardly wait until the weekend to scratch that travel itch, there's no reason you can't be a little flexible about where you travel.
Airfare to Las Vegas can be tough to beat. You'll find fares from Los Angeles to Reno, Nev., and Atlantic City, N.J., costing hundreds more for the last weekend in February. But who says you have to fly to Vegas to gamble? The iconic city is great for photo ops, but if you're looking for a wild weekend gambling, drinking and dancing the night away, nothing's stopping you from booking a room at a local casino and clubbing downtown.
But if you need to get out of town, look for lesser-known destinations. Going to Los Angeles from Salt Lake City to hit the beach will cost you about $150 from Jun. 9-12. It'll only cost you $115 to go to San Diego from Salt Lake City, and you still get to visit the beach. 
No matter when and where you plan to travel, you can find plenty of ways to save on bookings. Use online comparison sites to find good deals, and then call hotels and airlines directly for even better pricing. Look to lesser-known travel destinations and use mobile apps to find exclusive deals. That way, you can vacation knowing you got the best deal possible.
More From GOBankingRates
Sabah Karimi and Sam DiSalvo contributed to the reporting for this article.